https://gds.blog.gov.uk/story-2015/
This is one part of "A GDS story". Please read the introduction and the blog post that explains this project. 
More of the story: 2010, 2011, 2012, 2013, 2014, 2016, 2017, 2018, 2019, 2020, 2021
January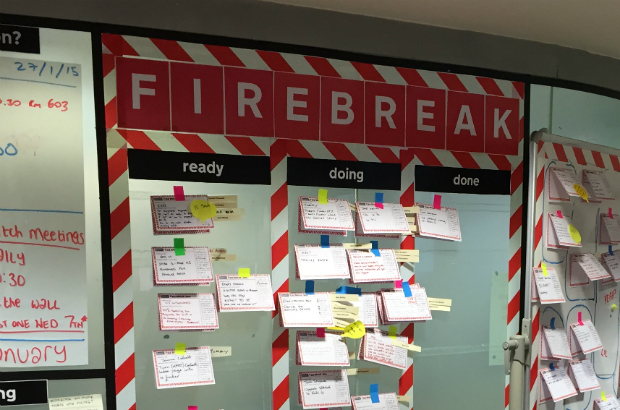 Firebreak: during January, the GOV.UK team were given time to work on "anything they liked, so long as it was good for GOV.UK".
Neil Williams wrote:
Problems we'd been putting up with for months (in some cases years) got fixed; big and bold ideas were explored including one which will have a huge impact on how we improve our content and navigation; we learned from a failed experiment about improving site search; and we made a whole heap of immediate, tactical changes which will speed up our delivery and reduce human error in future.
The Firebreak resulted in the GOV.UK random page generator, created by developer Isabell Long.
25 January
Australia set up its GDS-like team, the Digital Transformation Office (later renamed the Digital Transformation Agency).
3 February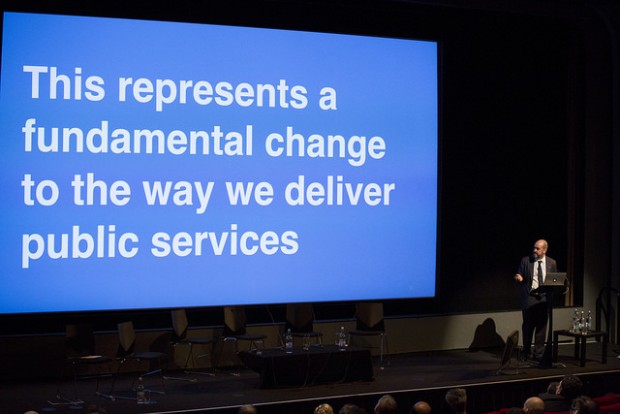 GDS hosted Sprint 15 on the theme "Government as a platform". We celebrated in words and pictures the day after.
Mike Bracken summed up the progress made during 2013 and 2015 in a follow-up post:
It's important to understand that the "we" I'm talking about throughout this post isn't just GDS. It isn't just Cabinet Office, of which GDS is one small part. It's all of us, everyone working in government. Change is happening faster in some places than in others, but it is happening: I see it on the walls and the desks everywhere I go in Whitehall and beyond. It's visible and tangible. We're changing how we do our work and how we think about the people we're here for: the users.
We made a film to open the event: Users first. And another, summing it up afterwards.
6 February
Janet Hughes announced a successful conclusion to the GOV.UK Verify trial for users of HMRC's Self-Assessment service:
Through the trial, 11,000 people filed their self-assessment returns using GOV.UK Verify, including about 3,300 people who had not used the self-assessment service before. This saved them having to call the HMRC call centre or wait for new Government Gateway credentials to arrive in the post.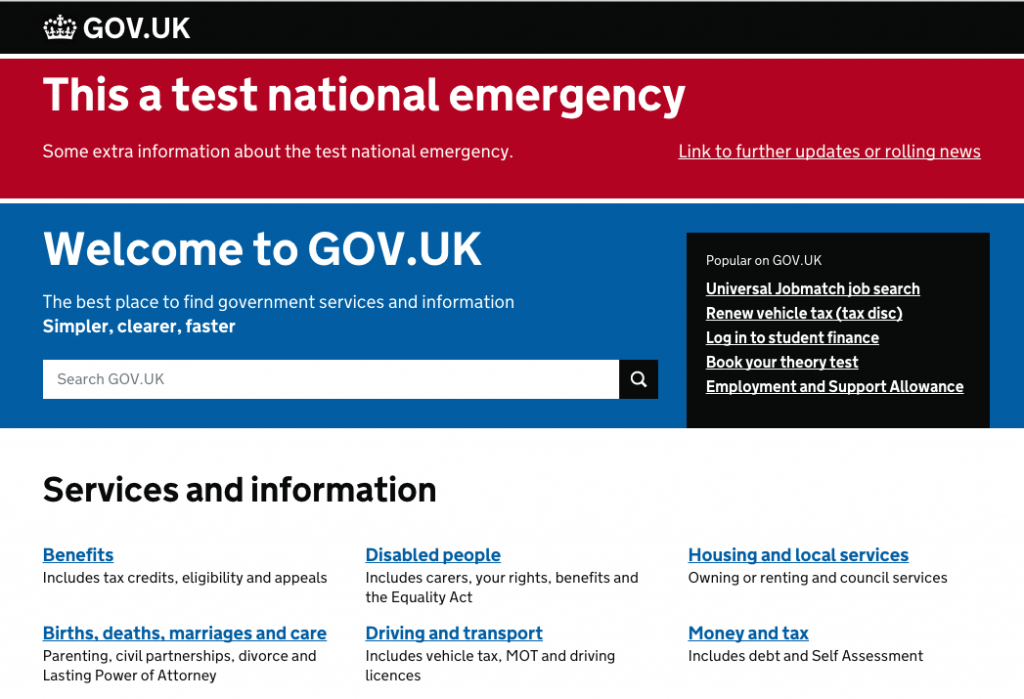 On the same day, the team wrote up a game day they'd held to test how well GOV.UK might cope in times of serious emergency.
12 February
Success for the Cabinet Office Technology Transformation project:
We have now deployed the new technology services to more than 2,200 users across the Cabinet Office, the Department for Culture, Media and Sport and Crown Commercial Service, with another 800 or so still to come.
13 February
The GOV.UK Verify dashboard was added to the Performance Platform.
17 February
Another transformation exemplar, the Registered Traveller service, went live.
18 February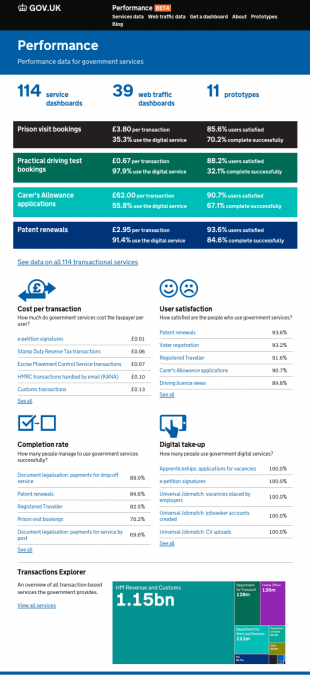 The Performance Platform homepage was refreshed with a new look.
19 February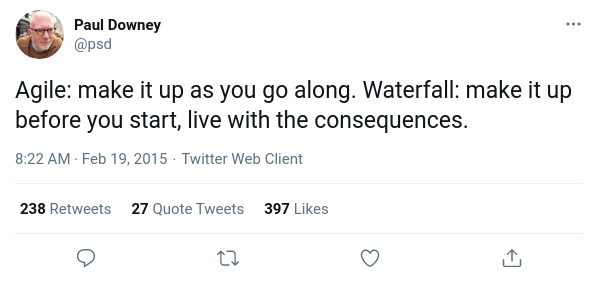 Another classic tweet from developer Paul Downey: "Agile: make it up as you go along. Waterfall: make it up before you start, live with the consequences."
25 February
The Digital and technology skills guidance was launched on GOV.UK:
...identifying what skills we need is key to any digital transformation. Technology can be seen as a tool and digital as a channel. It's about enabling the people to use those tools and channels. The first step to this is establishing the baseline of skills needed.
On the same day, work began on the GOV.UK Pay alpha.
5 March
First version of the content strategy principles for government published.
9 March
A series of transformation exemplar projects went live during the spring of 2015. The first of them was "Make a claim to an employment tribunal" service, which went live on this day.
16 March
The "Apply for a visit visa from China" service went live.
23 March
History mode introduced for GOV.UK, so that content from previous governments isn't lost.
24 March
The "Find an Apprenticeship" service went live.
25 March
"Digital Self-assessment" went live.
27 March
Mike Bracken praised the Office of the Public Guardian for "doing transformation right":
There's an alchemy that makes great teams better than the sum of their parts. When you talk to the digital team at OPG, you can see that dynamic at work.
On the same day, Mike Beaven summed up the work of the Transformation Programme as it came to its end:
Of the 25 services, 20 are publicly accessible. Fifteen of those are fully live and the rest are in beta – safe to use, but we're still tweaking the user journey. This is a huge achievement and we've done it by putting user needs first.
29 March
Mike Bracken announced the next phase of GDS work, government as a platform (GaaP):
The Corporate Management Board of the Civil Service and HM Treasury have asked us to explore the concept further. We're working with departments to unpick what platforms will have the most impact, both for users and in terms of the cost to government.
On the same day, Liam Maxwell summed up progress to date on government technology:
We can't rest on our laurels though; we've made a good start. Government computing is getting reduced to the right size — the compute required is remarkably small; we had just made it very complex. Government computing is now more open, more flexible… We actually have a centre that understands where it all is and how much of it links together. Government technology will, in the next couple of years, start to link together departments, functions and services to meet even more of our users' needs.
22 April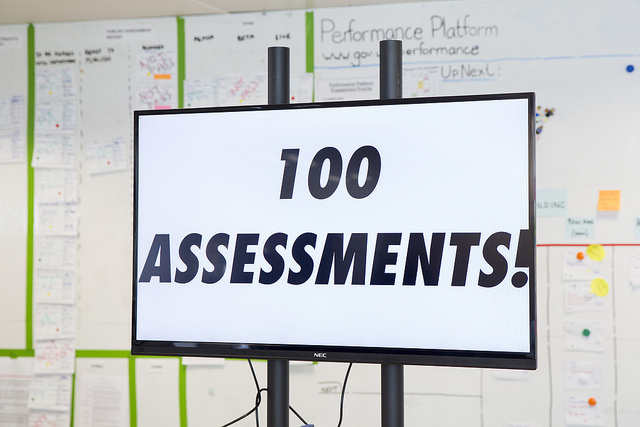 100 assessments against the Service Standard completed. Olivia Neal wrote:
To me, having about 70% of services pass their assessment seems about right. Not passing an assessment isn't the end of a service – it's a chance for a team to take on board the recommendations and use them to improve the service, making it better for users. In fact, maybe the most satisfying thing about working on the service standard is seeing that in action.
7 May
A team in GDS began working on a new version of the Parliamentary petitions website.
19 May
Mike Bracken welcomed the new Cabinet Office ministerial team, particularly Matt Hancock who became new Minister for the Cabinet Office, directly responsible for the work of GDS.
29 May
We iterated the Service Standard to make it shorter and better. The number of criteria was reduced from 26 to 18.
16 June
17 June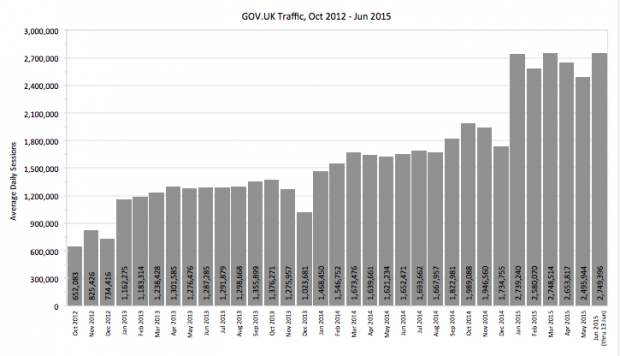 This is the beginning of a new phase for GOV.UK: our plans are no longer determined by the timetable of organisations transitioning onto the platform. Instead, we have to support an unprecedented number of users. Growth has been extraordinary - at around 80 million per month, GOV.UK now has more visits in a single month than there are people in the UK.
18 June
Felicity Singleton outlined the "government as a platform" (GaaP) preparation work that had begun:
We're laying the groundwork for government as a platform, making sure we have an excellent understanding of what's needed, where, and to what extent.
This work focused on small discovery projects and prototypes. It laid the ground for the GaaP projects that emerged later in the year.
24 June
Responding to newly discovered security threats, the GOV.UK team completed 54 deployments in 1 day.
22 June
Mike Bracken congratulated Companies House for launching its online information service into public beta.
22 June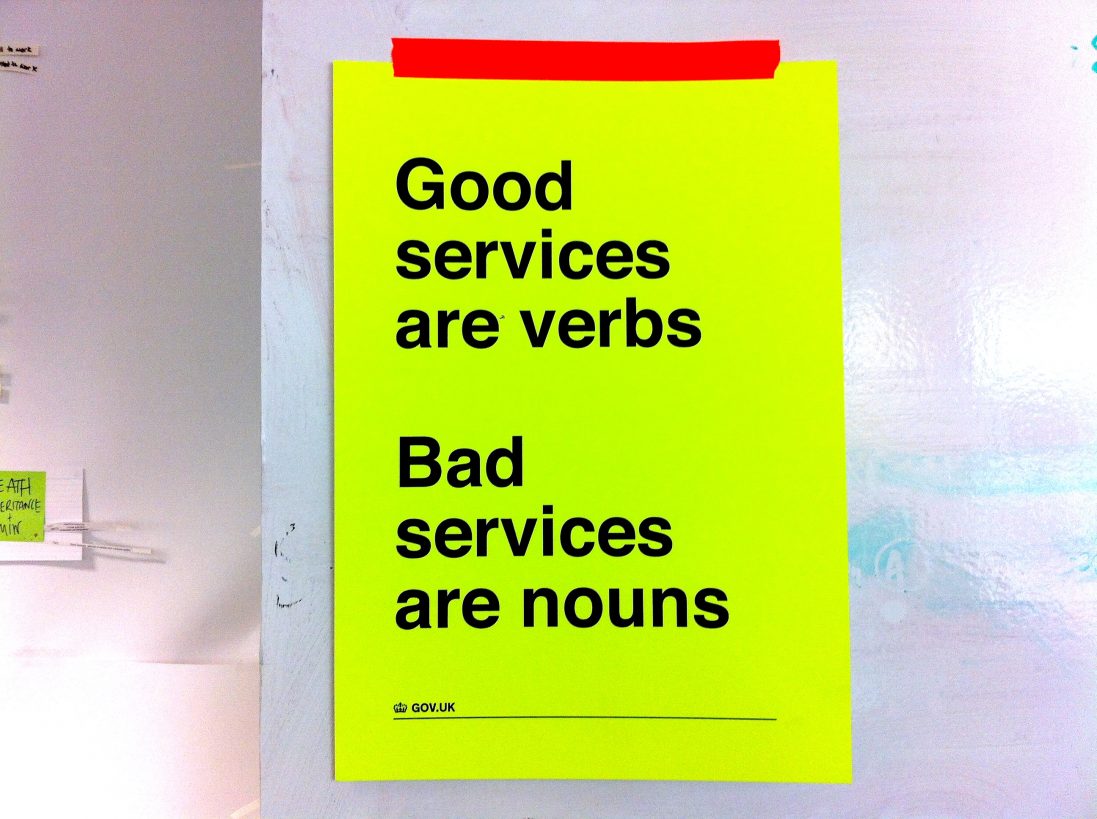 Head of Design Louise Downe: Good services are verbs, bad services are nouns.
29 June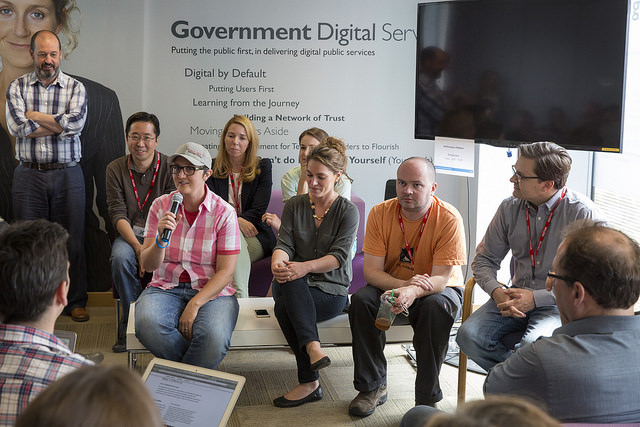 Representatives from the US Digital Service and 18F came over to visit GDS for a few days.
Mike Bracken wrote about it a few weeks later:
That's what our work is all about, on both sides of the Atlantic and around the world. We exist to make sure government is as clued up about technology as its citizens are… Today's public services must be designed with today's technology, to meet today's user needs. Like the digital services we build, government should be responsive.
As part of the GDS Agile Week on social media, Lindsey Keighley explained succinctly what the GDS approach to agile is all about.
Also on this day:
3 July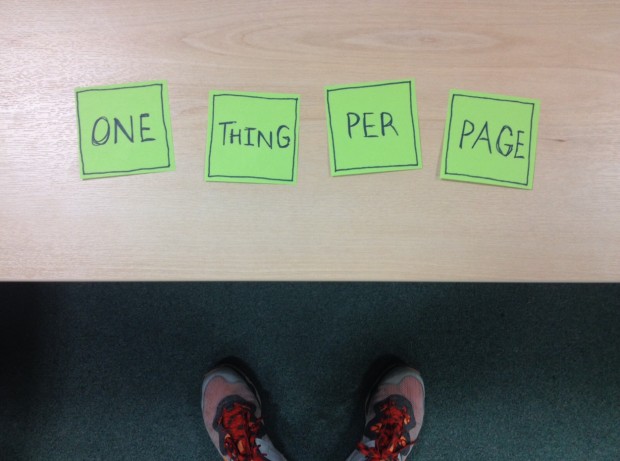 Designer Tim Paul wrote about designing forms for GOV.UK: "One thing per page."
6 July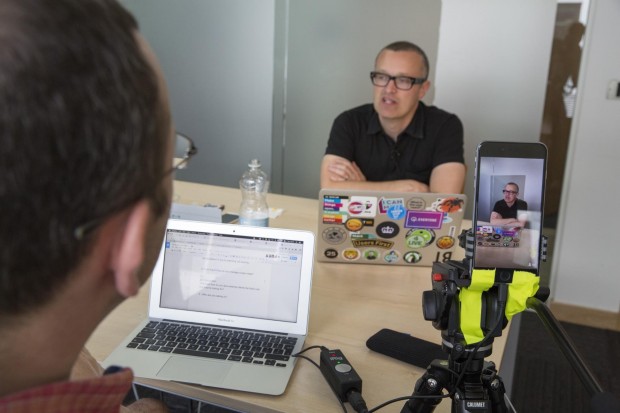 The digital engagement team experimented with live online broadcasts via Periscope.
10 July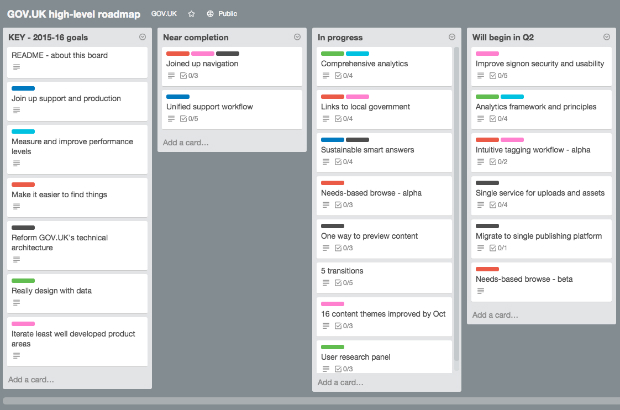 The GOV.UK team roadmap for 2015 to 2016 was published as a public Trello board.
July
The Chancellor's summer budget was published entirely in HTML for the first time.
Also, the Digital, Data and Technology Profession team was established.
20 July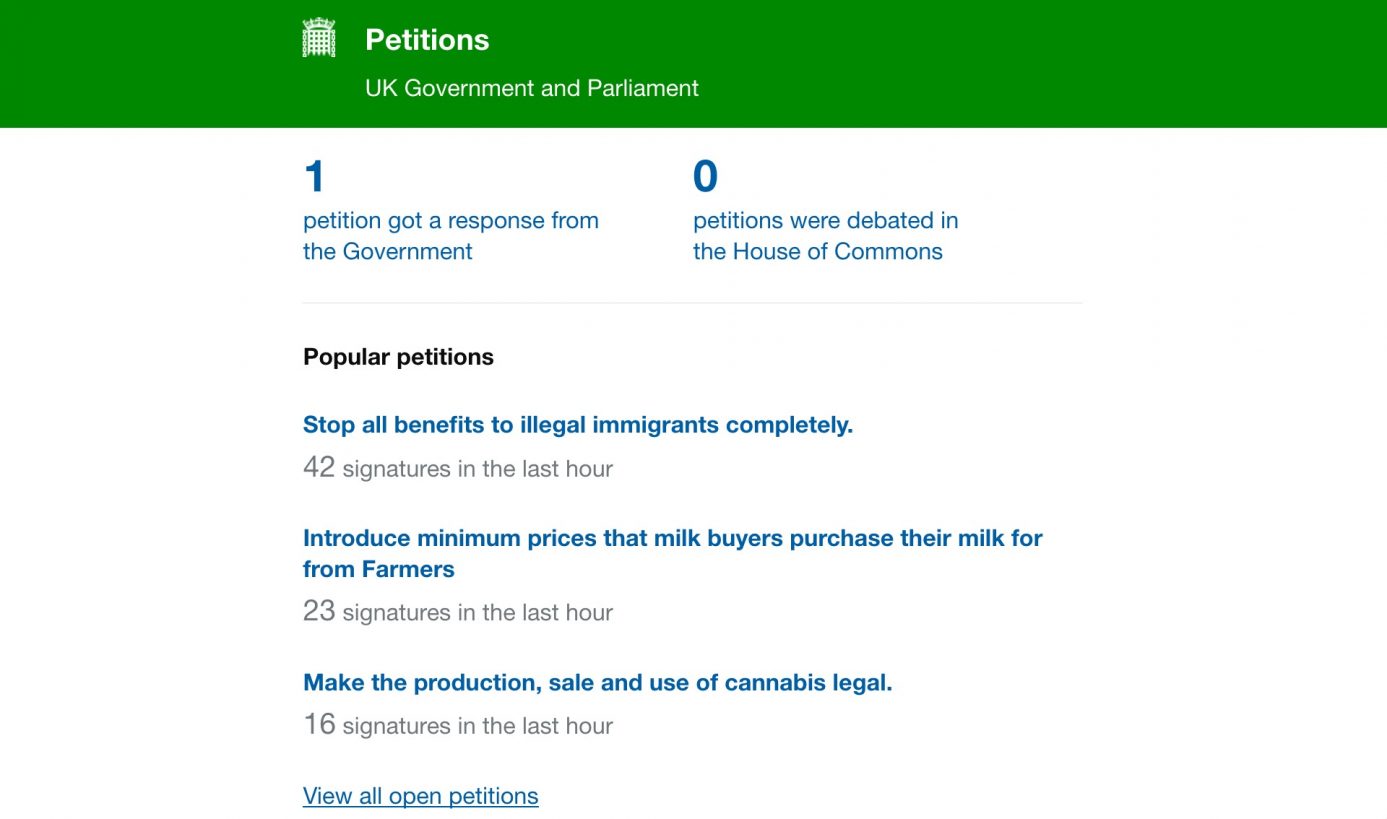 The newly refreshed Parliamentary petitions website went live, built in collaboration with GDS. An announcement was made by the Commons Select Committee.
23 July
GOV.UK Pay moved from alpha to beta. Till Wirth wrote about progress to date:
Most people have to pay government money at some point or another. For example, when you pay tax, or renew your passport, or get a new driver's licence, or buy an environmental permit. But at the moment, different government organisations collect money from people in different ways. It's not a good user experience, and it's not very efficient. So, in the last few months, a team at GDS has developed a prototype cross-government platform that will improve the way government takes these payments.
24 July
Mike Bracken wrote about building senior capability in the civil service:
In total, we've appointed over 120 senior digital and technology professionals. We've also brought in 90 senior interims who have worked on digital transformation. In the same way that GDS itself has benefited greatly from strong ministerial support, having senior staff in departments who really "get" digital means that the people on the front line know that they have the backing they need. Hire the head and the rest will follow.
2 August
3 August
Mike Bracken announced his departure from government and GDS to start a new role in the private sector. He was replaced by Chief Operating Officer Stephen Foreshew-Cain.
7 August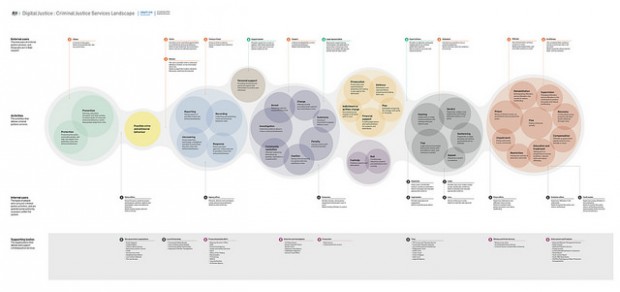 A post about one of the GaaP discovery projects, exploring ways to digitise the justice system:
The Digital Justice discovery was a 12-week project led by Mark O'Neill here at GDS, and supported by Natalie Ceeney from HM Courts and Tribunals Service, and Matthew Coats and Indra Morris from Ministry of Justice. They were looking for answers to questions like: what could happen if all the different parts of the criminal justice system were better interconnected, if everything worked with everything else? If we dismantled all the silos and incentivised departments and agencies to take a cross-government view, and talk to one another?
Another discovery project (in collaboration with colleagues from HMRC, Home Office, BIS, Defra, DFT, DCMS, Border Force, Animal and Plant Health Agency, Port Health, Trading Standards, Environment Agency, Food Standards Agency, and Arts Council England) looked at the process for importing and exporting goods across the UK border:
Among many other things, we discovered that business users often lack confidence when it comes to organising international trade. The complexity of the system puts people off, particularly small and medium sized businesses. Simply making the whole process easier to understand would boost their confidence, and in turn boost trade, innovation and ambition. There's similar complexity in the computer systems being used by all the different agencies and departments involved. Data gets gathered more than once, then duplicated and stored in different places and in different ways. There's a clear need for a more joined-up approach.
25 August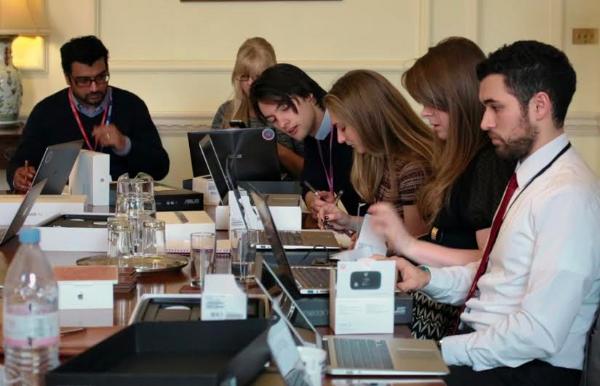 The launch of Common Technology Services (CTS), a new team within GDS.
Deputy Chief Technology Officer Magnus Falk wrote:
CTS helps government departments provide their staff with better value technology, technology that helps meet user needs, makes cross-government collaboration easier and costs less. This should help civil servants work more flexibly and efficiently.
26 August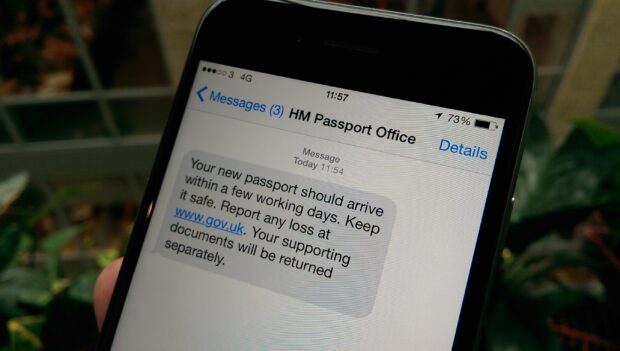 Work began on the GaaP project that would later become GOV.UK Notify. Pete Herlihy wrote:
We want to see how platforms can improve the way people communicate with government. As part of this, we're starting discovery work on status tracking and notifications. Put simply, we want to improve how we keep people updated when they've asked government for something.
1 September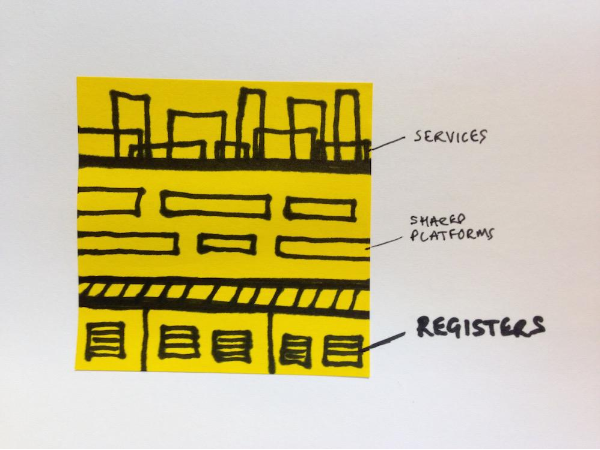 Paul Downey wrote about early discovery work on registers:
A register is an authoritative list of information you can trust. A canonical source of truth… We've spent a lot of time looking at a large number of such lists, and what's become apparent is that they're all held and maintained quite differently. That causes problems.
3 September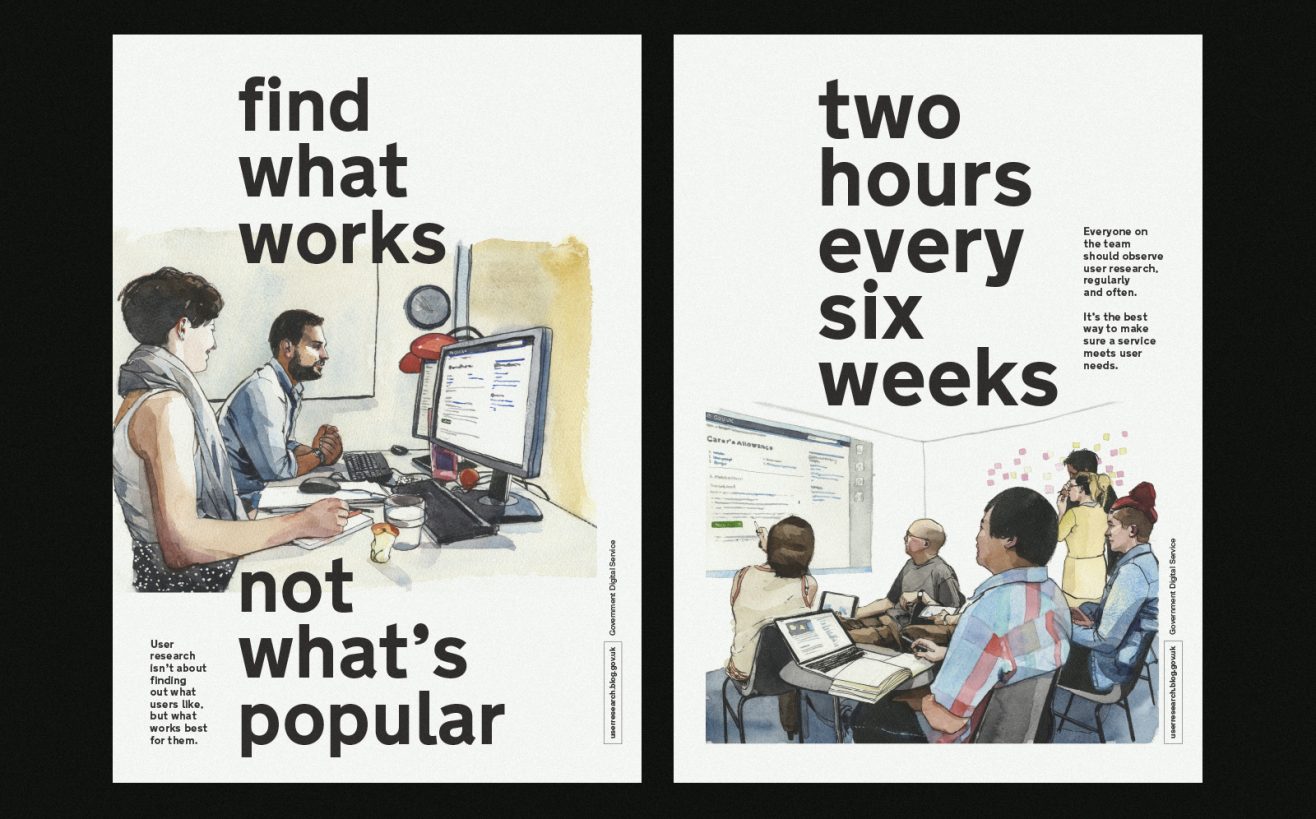 GDS celebrated #userresearchweek.
8 September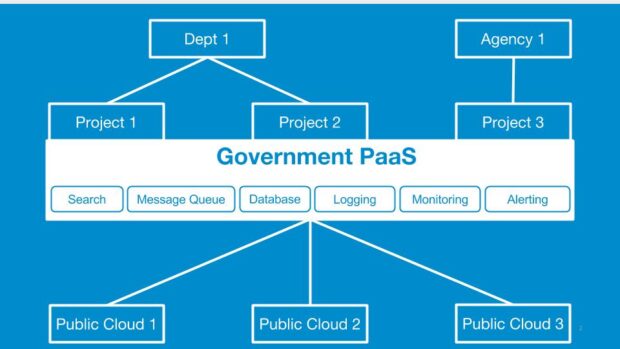 Technical Architect Anna Shipman and then Head of Infrastructure Carl Massa explained early alpha work for another GaaP project and common component for government: Platform as a Service.
We've spent a couple of months exploring what a Government PaaS might look like and how it could help teams running digital services across government. We've spoken to many potential users, and we've worked closely with our colleagues in other departments who are working to address similar problems, and we've found that no existing departmental solution meets all the needs we've identified.
8 September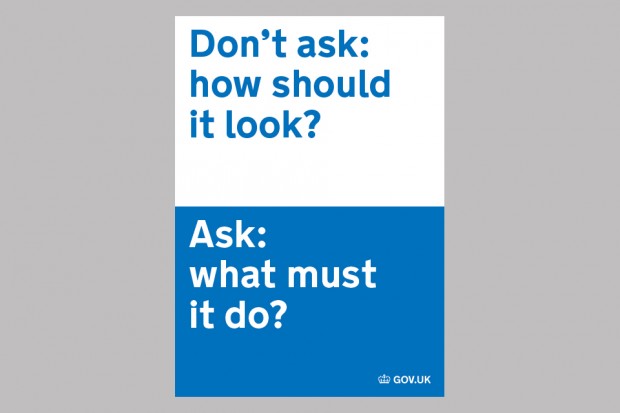 Don't ask: how should it look. Ask: what must it do?
11 September
In a speech, then-Prime Minister David Cameron said:
I believe the creation of the Government Digital Service is one of the great unsung triumphs of the last Parliament.
23 September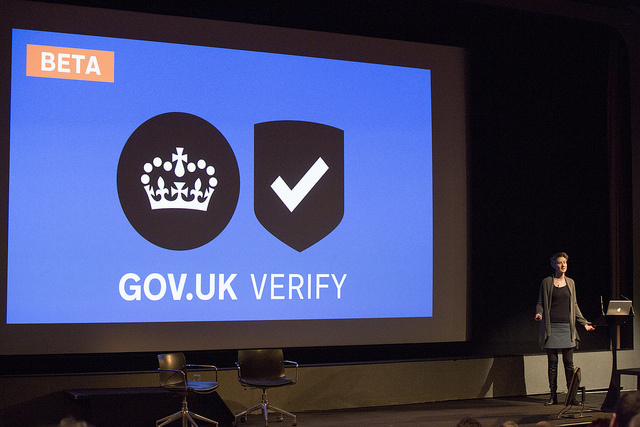 Mike Bracken wrote about why GOV.UK Verify matters:
GOV.UK Verify is straightforward to use, but its market-based approach and technological sophistication make it one of the most forward-thinking examples of digital transformation I've seen anywhere. Other governments around the world are watching its growth carefully, and preparing to copy its template. It's a fantastic success and over the next year or so, as it moves from beta to live, it's going to have a huge impact.
24 September
A new Data Group was established in GDS, heading up the Government Data Programme. Director of Data Paul Maltby spelled out the scope of the work, which fell into three categories:
Making use of data for public benefit

Modernising data infrastructure

Data policy and governance
25 September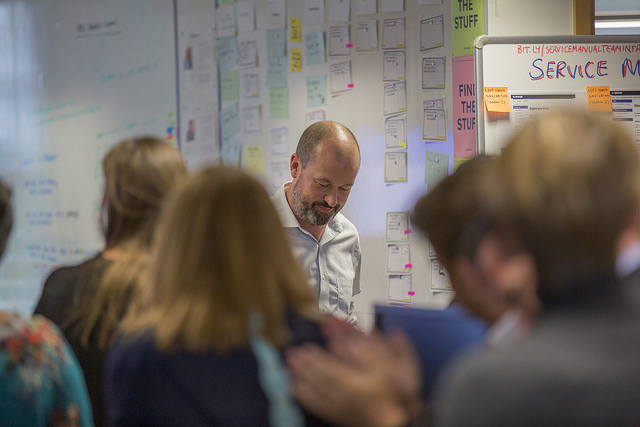 Mike Bracken's last day. His successor, Stephen Foreshew-Cain, wrote:
I always liked your catchphrase. In a single word, you acknowledged the path we were treading, the work done to date and our ambitions for what's yet to come: "onwards". That's the direction we're all heading; not so much parting ways, more like just forking the repository.
Later in 2015, Mike received a letter from President Barack Obama, saying:
I want to thank you for the support you showed my Administration as we launched the United States Digital Service.
2 October
The team at DVLA successfully brought all its technology in-house. Stephen Foreshew-Cain celebrated their work:
The fact that no-one outside DVLA noticed it happening, and that their services continued to work without a hitch is a testament to the success of the switchover. It's a remarkable achievement, and one that shows what digital transformation really means. We've been saying it for years: it's more than just websites. It goes so much deeper.
On the same day, the Digital Marketplace team announced that the Digital Services 2 framework would be replaced by a new framework called "Digital Outcomes and Specialists".
5 October
Official announcement of the GOV.UK Notify alpha project.
7 October
Felicity Singleton explained what "government as a platform means for the rest of us":
In a world of platforms, you find out what users need earlier in the process, so you know sooner whether or not you're building the right thing. When it's so simple to create services, you can create them as experiments. They can be almost disposable. Platforms give us a digital infrastructure to build services on: an ecosystem of components that's not closed and locked away inside a proprietary stack of technology and processes, but based on standards and open to all. The entire public sector can use it.
9 October
Head of Agile Delivery Adam Maddison wrote up his advice for working in an agile way in a non-agile environment:
Once your colleagues and management working in the wider organisation start to see that happening, and see the results that working agile brings, they'll start to see things from a different perspective. That's when the real change starts happening.
14 October
The UK handed over D5 presidency to Estonia.
15 October
GOV.UK Pay got its new name, and moved from alpha to beta.
17 October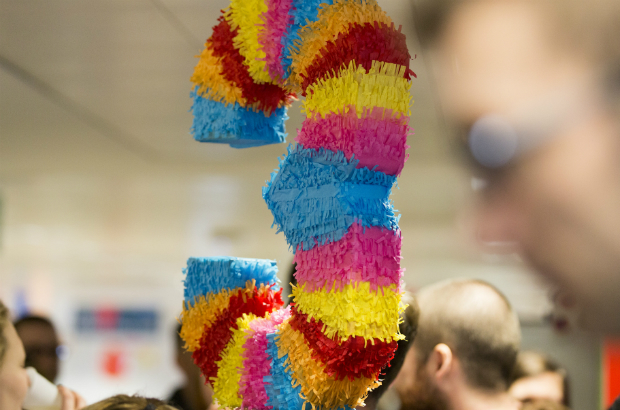 GOV.UK turned 3. Neil Williams wrote:
And now, aged 3, GOV.UK is a mature operation, a trusted brand, and an important part of our national infrastructure. Around 12 million visitors use GOV.UK every week to access services and information which can affect their homes, businesses, jobs, families - even lives. Our job could not be more important: to make sure those 12 million users can rely on GOV.UK being available, clear, accurate, fast and secure at all times.
23 October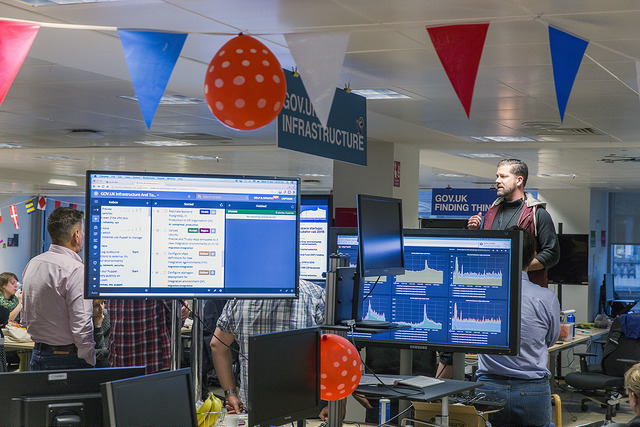 More news about savings in government spending: Stephen Foreshew-Cain explained how digital and technology transformation helped save £1.7 billion in 2014 to 2015. The official figures were published and audited by Cabinet Office, the Efficiency and Reform Group, and HM Treasury.

3 November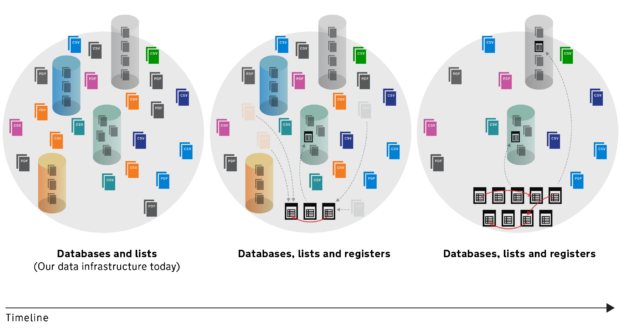 Head of Data Infrastructure Ade Adewunmi wrote about data infrastructure:
The simple truth is that much of government's current data access and storage infrastructure can't support the emerging needs of its users. The work we're doing on digital registers is one of the ways that we're looking to better meet some of those needs and provide accurate, authoritative sources of data ... Not all government's data will need to be stored in registers ... Registers should replace many published lists of things as the recognised canonical sources of data wherever possible. But we won't get there overnight.
6 November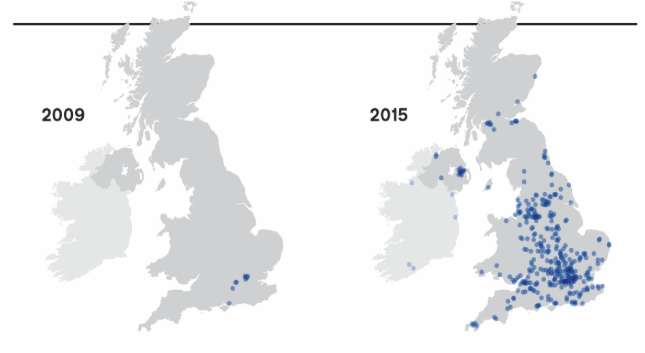 The Digital Marketplace celebrated its 1st birthday. Total spend on the Marketplace since it began reached £836 million.
19 November
GDS attended the D5 summit in Tallinn.
20 November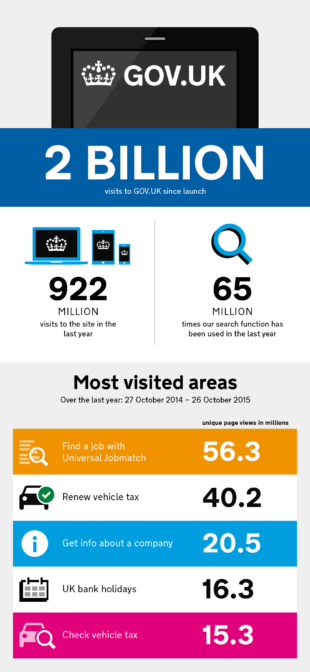 GOV.UK passed 2 billion visits. Neil Williams published some figures.
4 December
Lee Croucher from DVLA wrote about joining GOV.UK Verify from a department's perspective: "It's all about the engagement."
7 December
The Digital Outcomes and Specialists Framework went live on the Digital Marketplace.
22 December
Janet Hughes looked back over a year of progress for GOV.UK Verify:
Service used 793,000 times

330,000 identities verified

14,727 code commits

11,000 HMRC Self-Assessment users avoided a 10-day wait

192 hours of user research in the lab

14 services connected

9 contracts signed with certified companies