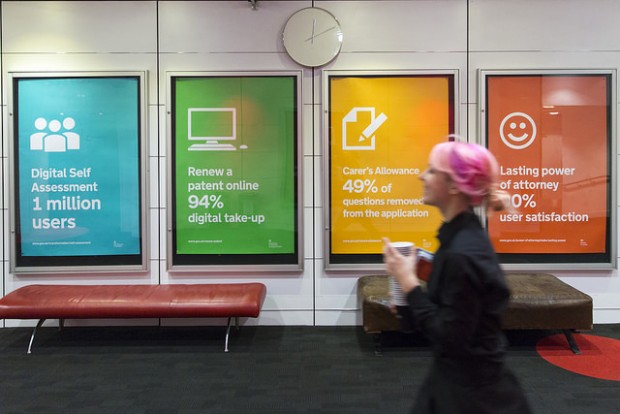 Two years ago, we set out to change government. We gave ourselves 400 working days to transform 25 major public services, building digital "exemplars" so good that people would prefer to use them. Those 400 days are up. Here's how we did.
Of the 25 services, 20 are publicly accessible. Fifteen of those are fully live and the rest are in beta – safe to use, but we're still tweaking the user journey. This is a huge achievement and we've done it by putting user needs first.
These transformed services are an unending source of big numbers. Register to Vote has seen 4.3 million registrations. Your tax account has 1.5 million users. More than 70,000 drivers view their licence information online each month. Renew a patent online has seen a digital take-up of 94%.
But behind all those big numbers, these services are really helping people. They've made it much much easier to do important things like applying for Carer's Allowance, booking a visit to see someone in prison, or making a lasting power of attorney.
These 20 services in public really are success stories – and the departments deserve the credit for them. With the exception of Register to Vote, which we developed at GDS, the exemplars were designed and built by digital teams in their respective departments. Our involvement with many of them has ended, but teams around the country will be improving them for a long time to come.
Learning as we go
As we've said before, GOV.UK isn't finished, and the same goes for the exemplars. As government, we will continue to iterate and improve our digital services.
In the past, projects like these have been launched with a big bang, and glitches and problems weren't discovered until the service was live and started to fail.
As we tested the Rural Payments service, for instance, we found issues that stopped us scaling the service up in time for this round of applications which had a fixed deadline.
Building these services in agile, iterative ways allows us to do the right thing; improve services if they aren't ready, before they have an impact on users. We'll continue to work with the RPA and others to improve these exemplars over the year.
Digital transformation continues
The programme has ended but transformation goes farther and deeper than the exemplars. GDS is working with Home Office, Ministry of Justice, and Department for Transport to find ways to improve and expand more services, and we're working with departments to bring the benefits of digital technology to civil servants.
We used the transformation page on GOV.UK to track the progress of the exemplars. Now the programme's ended we're archiving that. The GDS blog is now the place to keep track of the digital transformation of government. We're only just beginning.
Join the conversation on Twitter, and don't forget to sign up for email alerts.
---