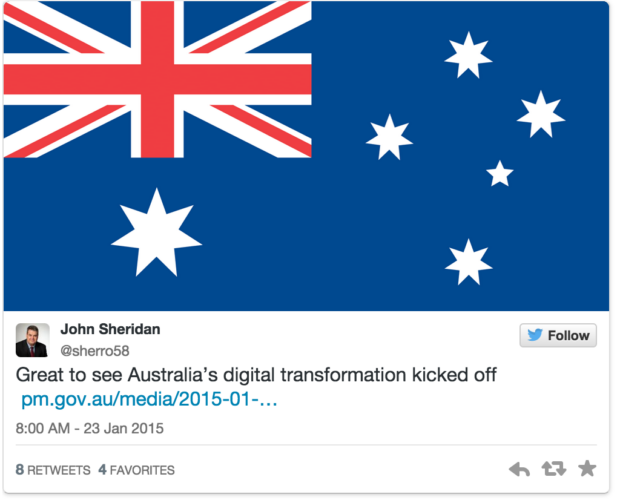 Terrific news from Australia: the government there has announced a new Digital Transformation Office and tasked it with "using technology to make services simpler, clearer and faster for Australian families and businesses."
The emphasis there is on transformation, this is about changing the government to better serve citizens.
One of the first items on the DTO's todo list will be a Verify-style identity service "to ensure people no longer have to complete separate log on processes for each government service."
It will be a multi-disciplinary of designers, developers, researchers and content specialists.
It all sounds familiar, doesn't it?
Huge congratulations to all involved. Needless to say, you have our heartfelt support. If you need input from us, we'll be happy to provide it. And if any of your team find yourselves visiting the UK, you'll be made welcome at our office in Holborn. It will be the least we can do to repay the hospitality shown to Ben Terrett and Liam Maxwell when they visited Australia last summer at the invitation of Minister for Communications Malcolm Turnbull.
Digital transformation is fast becoming an international effort, something we saw clearly at the D5 summit we hosted in London last December. The Australian team joins others in Mexico, Israel, the USA, Estonia, Singapore, South Korea and New Zealand - together, we're building an amazing community of knowledge and experience. The pace of momentum is striking.
Just over a week ago, the Prime Minister and President Obama announced a digital government partnership between the US and the UK. Then Mikey Dickerson of the USDS asked technologists there to join his new team:
I don't blame you if you are skeptical that we can fix the biggest problems in government. I used to be, too. But every day, I am reminded of a quote by President Kennedy that is sewn into the Oval Office rug: "No problem of human destiny is beyond human beings." We have found the problems. We need the human beings.
This is exciting stuff. Onwards indeed.
Follow Mike on Twitter, and don't forget to sign up for email alerts.
---