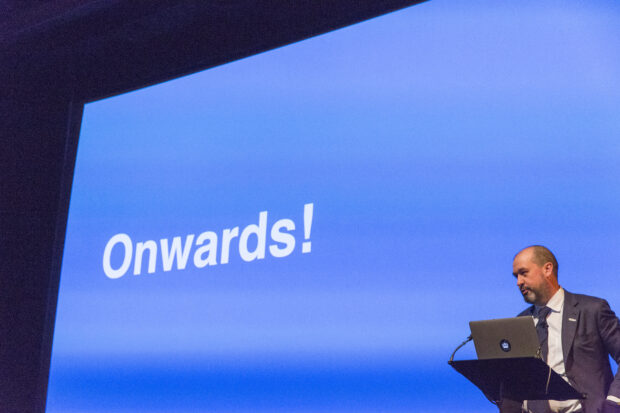 At the end of last week I went to see my boss, John Manzoni to tell him I'm leaving government.
I wanted to take a moment here to thank everyone for the tremendous help I've been given in the last five years.
I have to start with Martha Lane Fox and Francis Maude for making the conditions to bring me, and those of the Internet generation, into the very centre of government, and setting such an incredible challenge and offering unwavering support along the way. Chris Chant was my guide around Whitehall and showed me what unacceptable services really look like. I also have to acknowledge all the digital government pioneers who were here long before the advent of GDS, doing dedicated, important work, largely unheralded. We started off standing on the shoulders of giants. They know who they are. Most of them are at OpenTech each year. And before them, if it wasn't for Tom Steinberg and his work with Rohan Silva, I don't think GDS would have existed. They and the many other early pioneers, have my utmost respect.
There has been advice, support and hard work all across government. Digital Leaders and Tech Leaders, to the hundreds of digital people we've helped to hire, to the front-line staff who've been generous with their time as I poked around their services, to the digital teams in departments and agencies who've knuckled down and redesigned their services around their users.
There's been kindness and encouragement from outside government too, our early conversations with Tim O'Reilly and Jen Pahlka in the US have blossomed into shared practices and mutual support with the USDS and 18F. Governments across the world have acknowledged the pioneering work we've been doing and have decided to join us on the journey. Our Digital Advisory Board has listened, advised and nudged us forward. The wider government technology/digital/open data community has been a fantastic critical friend, holding us to account and helping us improve.
And, as we always say - The Unit of Delivery is the Team. Leadership is a total privilege, one can only lead with the consent and support of a team and I'll say right here and now that the team at GDS is the best digital delivery group in the world. It has been an honour and a pleasure to work with them all, whether they are here now or spent just a short period with us in the last 5 years. They are dedicated, determined, talented and funny. I will miss them more than I can possibly explain. Government doesn't know how lucky it is.
Which means I'm leaving government's digital delivery in capable hands – especially with the support we are getting for the future of digital transformation from the new Minister for the Cabinet Office, Matt Hancock. The GDS leadership is strong, our plans are clear and focused, our people - and digital teams across government - are rolling up their sleeves to continue the work of transformation. One particular pleasure has been seeing new leaders emerging, and I can confidently say within GDS and departments we have many inspiring digital leaders from a range of disciplines, and many of them are women. I wish them every continuing success.
And, finally, of course, I have to thank our users. Whenever this job has been difficult it's been remembering people like Ann, applying for her Lasting Power of Attorney, that's kept me going. On the many occasions when this job has been an absolute pleasure it's normally been because someone's just shown me a digital product that will make some user's life a little easier. I'll write more about where I am going - and the future I see for digital generally - on my own blog at mikebracken.com.
Onwards!