Congratulations to the team at Companies House for taking their new free information service into public beta today.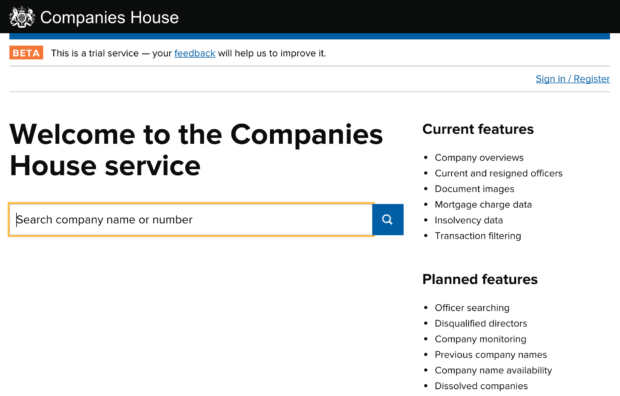 Their Chief Executive Tim Moss has just published a blog post, saying:
From today you can now access all digital data free of charge … some 170 million company records. This makes the UK register one of the most open in the world and the UK economy one of the most transparent.
I urge you to try it out for yourself. It's fast, it's free (in the past, you had to pay - but that's all changed now) and is a pleasure to use. Enter any company name, and you can get your hands on a pile of public data about that company: documents filed, company officers present and past. All of this is public data, it's all been in the public domain for years. But it's never been so simple and straightforward to actually see it.
The team at Companies House have done this project the right way. They went through an iterative design process, with discover, alpha and beta phases. They did lots of user research (in their own in-house lab). They iterated in response to feedback (for example, enabling legislative changes to ensure that dates of birth stored as part of the dataset can't be misused).
It's more than  just a website: it's also an API. A register of data open to humans and computers. That's crucial. That means that third parties (consumers and technology providers) can get access to real-time updates from the registry.
Stop for a moment and think about that: real-time access to reliable, dependable government data, via a standardised digital interface. This is what registers are for. This is the model for registers of the future.
Tim and his team deserve our respect and support because it's taken them a long time (almost a decade) and a lot of hard graft to change their business model and their processes. They're laying the groundwork for not just their own future - as the organisation best placed to become central holder of the UK business register - but for many others across the public sector to follow in their footsteps. One day, all registers will be like this.
Tim completely understands what it means to be a registrar and what it means to provide a register in the digital age. It's all about the data. It's all about finding ways to make that data available to others - so that a new ecosystem of services and products can be created on top of it.
Data is the foundation of that ecosystem. Stored separately, but open to all. It's another strand to our vision of Government as a Platform: small pieces, loosely joined. This is one small piece that I'm very pleased to see.
Follow Mike on Twitter, and don't forget to sign up for email alerts.
---