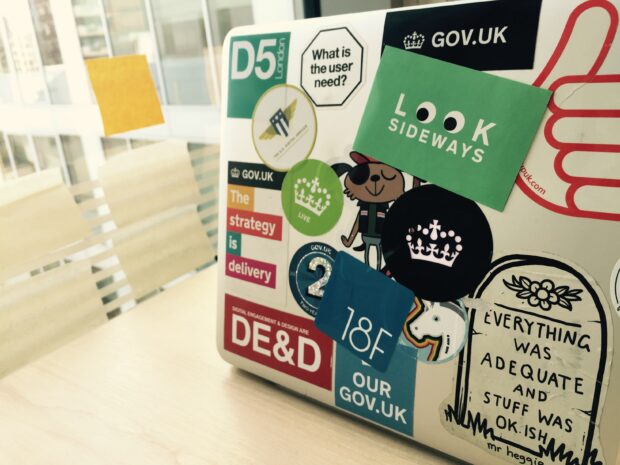 A few years ago, I stood up at the first GDS all-staff meeting and told everyone there to "look sideways", by which I meant: don't get stuck in silos of your own making. Talk to people, look at other teams' walls, ask questions, seek help, seek feedback. The unit of delivery is the team, and a good team is one that communicates well.
I think the same can be said for the whole of government. Right up to senior levels, even departments themselves, we all need to be looking sideways. Collaboration is key to doing the work we have to do, and good collaboration comes from good communication.
Collaborate both ways
Digital transformation isn't just service design, it's organisation design. It's as much about people as it is about pixels and processors. And it's hard. Re-thinking digital services means re-thinking how your organisation does things and why it does them in a particular way. It means challenging the status quo and constantly asking "Why?" and "What is the user need?"
The simple truth is: the best work happens when there's collaboration between departments and the centre. Everyone looking sideways, seeking help. All of our successes have been a direct result of collaboration with departmental teams, working together to build brand new services, redesign old ones, and reshape departments themselves.
A few examples:
That's just a few examples. There's so much more going on right now, and you'll hear more about it in the coming weeks and months.
It's not about us. It's about collaboration. None of these things would have happened without it. We need a digital centre in government, a team that can build connections and interdependencies where they're needed; but that team cannot know each department's users and user needs well enough to do all the work on its own. Similarly, those departments need help from the centre to build their own digital teams and skills, to understand and meet standards, to get encouragement and support for doing the right thing.
Freedom to do means stuff gets done
Good collaboration is more than just having a meeting with colleagues from other departments. It's more than just working together in the same building or even the same room. It means talking through the issues, communicating them well and making sure everyone on the team understands them. It works best when teams have permission to innovate and experiment. Nobody needs more forms, they just need freedom to explore what's possible. It's harder, and less common, than you might think.
You need people from all levels, from management to front-line operational staff. You need people with all sorts of skills and experience. You need digital expertise but you also need that understanding of the service, the users, and the problems they all face every day. It's only when you get all that knowledge being shared and discussed that you really begin to see the benefits of collaboration.
Learning goes both ways
In my leaving announcement I said thank you to a lot of people, and made only brief mention of all the people in departments that GDS has collaborated with over the last few years. Let me take this opportunity to be more direct: thank you, all of you, for your collaborative spirit, your patience and support. I think we've learned a lot more from you than the other way round.
Join the conversation on Twitter, and don't forget to sign up for email alerts.