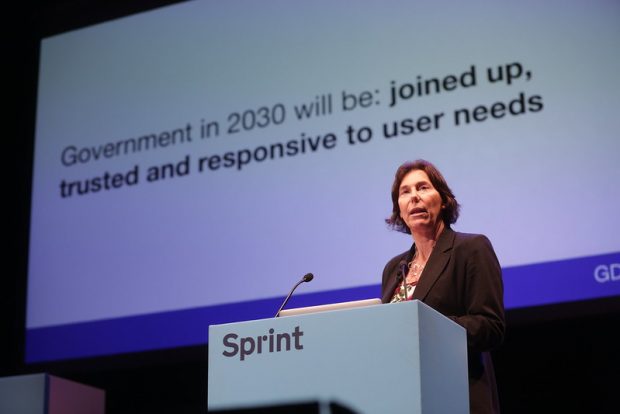 When I accepted the role of Director General at the Government Digital Service (GDS), I knew it would be both rewarding and challenging. I knew GDS was full of incredibly talented people. And, I knew GDS was absolutely committed to using digital to make government work better for users.
However, what I did not know, and could not predict, was quite the nature of the challenges that would test us all during my 13-month tenure as Director General.
Over this extraordinary period of time, from 1 August 2019 to 30 September 2020, GDS stepped up to meet both the expected and the unexpected head-on. We helped tackle coronavirus (COVID-19), supported EU Exit, raised digital accessibility standards, and pivoted to remote working. All whilst leading the Digital, Data and Technology (DDaT) Function and cementing our position at the forefront of digital government.
I am so proud to have led GDS through this time. And, I am delighted to remain in the DDaT family in my new role as Deputy National Statistician and Director General for Data Capability at the Office for National Statistics (ONS).
One blog post is never long enough to list all of GDS's achievements or recognise everyone. But, I hope my words show what a remarkable year it's been under extraordinary and testing circumstances.
GDS at the heart of digital government
GDS's work has cemented the critical role of digital in tackling issues of national importance. People now expect user-centred services with clear and accurate information to be easily accessed online.
Our efforts on GOV.UK are a clear example of this. We launched the Brexit Checker last summer to help people know what they needed to do. The team worked long hours to make sure GOV.UK stood up to record traffic caused by coronavirus, which peaked at 132 million page views in a single week earlier this year (the true figure would be even higher as we only count users who accept cookies that measure website use). The team continues to iterate their work as the pandemic remains a constant in our lives.
The Government as a Platform (GaaP) suite of products again proved their value. By establishing tools such as GOV.UK Notify and GOV.UK Pay, teams could quickly and rapidly create or iterate services to provide vital help needed during coronavirus.
As leaders of the DDaT Function, we responded rapidly and with expertise to the demands placed upon digital government by COVID-19. This meant services like the Vulnerable People Service which involved multiple organisations could be set up giving support to those in most need in a matter of days, not weeks.
Leaving no-one behind
At times of acute need, it is more important than ever to build services that are for everyone. While there are now further accessibility regulations in place, it's also the right thing to do.
We've enshrined accessibility in our design principles; this makes sure accessibility is considered in all aspects of GDS's work. For example, the GOV.UK Design System - a library of GOV.UK styles, components and patterns, means teams can design services at pace with confidence in their accessibility.
We've been preparing for the 23 September compliance deadline for the accessibility regulations. We hosted celebrations for Global Accessibility Awareness Day (GAAD) and helped organisations get ready for the change in law.
Digital transformation across the public sector
It's important that GDS helps make digital transformation happen wherever public services are, whether in central or local government.
One way of doing this is through upskilling people. In May we launched an online 'Introduction to Content Design' course, which had 11,500 people enrolled. We've also trained nearly 3,000 public servants through the GDS Academy since last August, a figure that reflects lockdown restrictions.
July marked the second birthday of the Local Digital Declaration. Since launching, more than 240 organisations have signed up to the set of guiding principles that help local government deliver user-centred digital services.
We've also launched the GDS Location Strategy with 3 hubs in London, Bristol and Manchester, meaning location is less of a barrier when recruiting skilled DDaT professionals. This is aligned with the Cabinet Office's Places for Growth Programme.
Adapting for the future
In my introductory blog post for this job I wrote, "I have a duty to help land permanent leadership of GDS in a way that we don't miss a beat and so we can springboard into the future state for digital government". As I leave GDS, I am pleased at what we've set up.
Alex Chisholm, Chief Operating Officer for the Civil Service and Permanent Secretary for the Cabinet Office, recently blogged about GDS's leadership changes. Since then, we've embarked on recruitment for the Government Chief Digital Officer (GCDO) role at Permanent Secretary level and we have opened recruitment for the future Chief Executive of GDS which will replace my role as Director General.
Joined up, trusted and responsive to user needs
In one of my first public engagements as GDS's Director General I launched the 2030 Vision at Sprint 19 (pictured above) which is that government in 2030 will be joined up, trusted and responsive to user needs.
This remains our vision. All our work this year, including launching the Data Standards Authority and introducing GOV.UK accounts, is working towards this. We will achieve the vision through an ambitious strategy that focuses on product, data and the DDaT function.
Goodbye and thank you
In my decades-long career as a public servant I can safely say there's nowhere quite like GDS. Alongside the impressive achievements listed above, working here saw me greet a minister in front of a stack of toilet rolls in an underground carpark, have my comedic talents reviewed in the press and chair a meeting from my canoe.
Thank you to everyone who I've worked with, all who make this place the unique organisation it is. As I leave GDS, I am confident that whatever expected and unexpected challenges come next, GDS will not be found wanting.
From tomorrow, Fiona Deans, Chief Operating Officer at GDS, is the interim Director General. A key piece of advice I've offered Fiona is to ignore the "interim" bit and - as they say on the X-Factor - own it! With Fiona at the helm and an Executive Team with considerable strength and experience, I know I leave behind a strong leadership team prepared for the future.