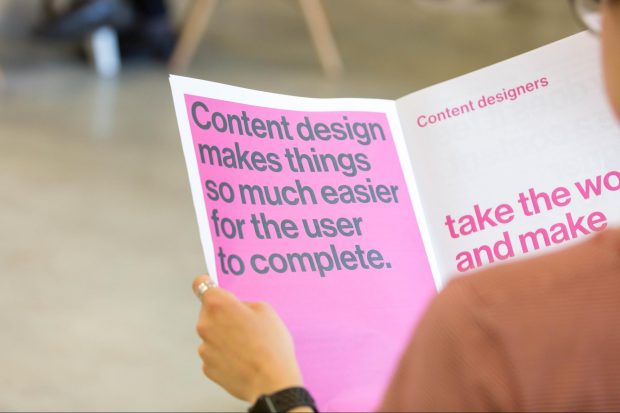 Last year, we piloted an 'Introduction to Content Design' course on FutureLearn with 100 learners from across government and the public sector. 
We learned a lot from the pilot, and we blogged about some of it last year.
Next month, we're launching the second iteration of the course. This time, it will be an open course, which means there will be no limit on the number of spaces. More than 500 people applied for the pilot last year, which showed us there is demand and need for more training in content design skills. 
The 4-week 'Introduction to Content Design' online course starts on 18 May and you can register now. 
Who is the course for?
The 'Introduction to Content Design' course is for new content designers or those who work in other roles that involve content design. 
Our community work has shown us that not all organisations have roles that focus just on content design. For example, you may be working in communications and doing content design as part of your role, alongside other things. If that sounds like you, you can sign up for the course to develop the skills you need to do the content design part of your role. 
What will you learn?
You will learn about a range of topics, including: 
what makes good content, what skills you need as a content designer 

user needs, user research techniques, prototyping 

designing accessible content

writing in plain English 

testing and evaluating the success of your content 
Our aim is to equip you with the knowledge and skills to enable you to design content that's clear, user-centred and accessible to all – content that gives your users the information they need quickly and allows them to reach their goals.
Why online?
We're not delivering this training in person. Our aim is to build learning experiences that are scalable and adaptable. We want to serve the entire community and we want to be able to respond quickly as learning needs evolve. 
Using FutureLearn to create a self-paced course that people can join online and complete in their own time allows us to do that. 
We also want to make sure we're using our time wisely. We're a small team supporting a growing profession across the country. 
You can imagine the impact we can have by delivering an online course that can be taken by thousands of learners at the same time is much bigger than what we could do in person, delivering the training to individual teams.
Social learning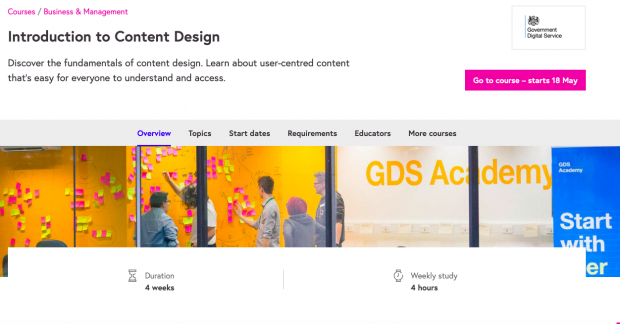 Learning online does not mean learning by yourself. At least that's not how we want it to work. 
FutureLearn, where the course is hosted, is a social learning platform. Interaction between learners is built into the platform's functionality. It's also something that our team of educators, who will be moderating the discussions throughout the duration of the course, strongly encourage. 
When we ran the pilot last year, there were more than 1,000 comments on the course from learners sharing knowledge and ideas with each other. 
Getting learners involved also allows us to get useful insights into what their needs are, what their strengths are and how else we can support them – either with future iterations of this course or with other learning products and programmes our team builds.
We're hoping to get even more insights with this iteration of the course. The pilot only included 100 learners so we're expecting even more feedback and comments this time round.
Our work continues
Last year, we blogged about the work we're doing to develop a new learning approach for the content design profession. 
The 'Introduction to Content Design' course on FutureLearn is only one of many ways in which we're supporting our community. Our work continues – we will keep learning, iterating and creating new opportunities to equip content designers with the skills and knowledge they need.