4:30pm
Thank you for joining us on the #Sprint19 live blog today and getting involved in the conversation on Twitter! We're hoping the exchange of ideas continues beyond today as we continue to work to make government work better for everyone.
4.20pm
We've just heard from Alison Pritchard again, who spoke about the 2030 vision for government, which will be joined up, trusted and responsive to user needs. We will be blogging about this work in the coming weeks so make sure you sign up to our blog updates.
Alison then introduced a panel of 3 senior leaders from GDS, who shared the future vision of digital in government and how we will get there.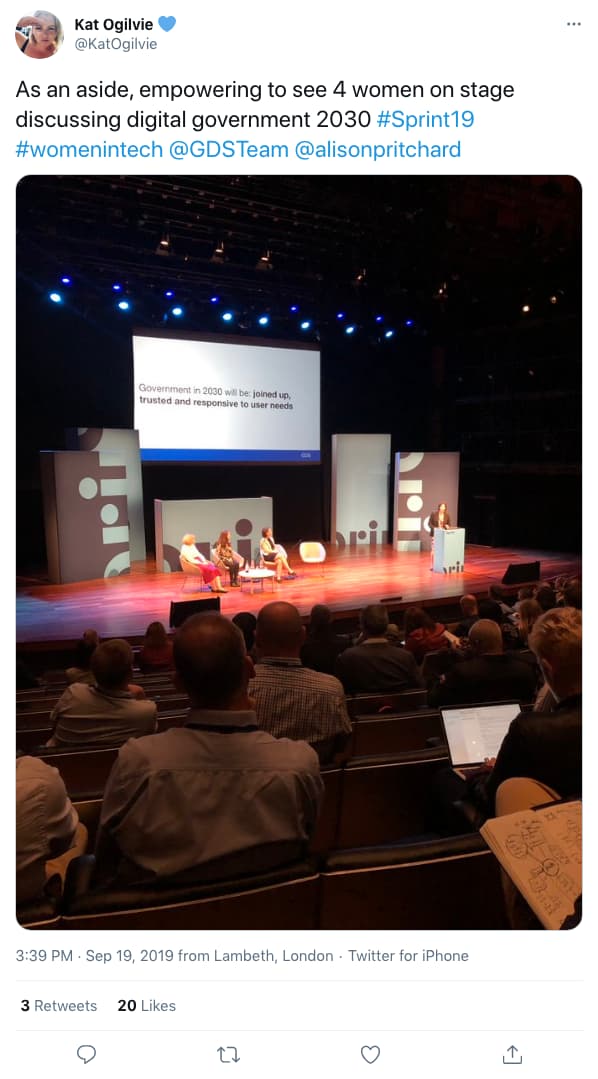 Lisa Barrett, Director of Digital Identity at GDS, spoke first.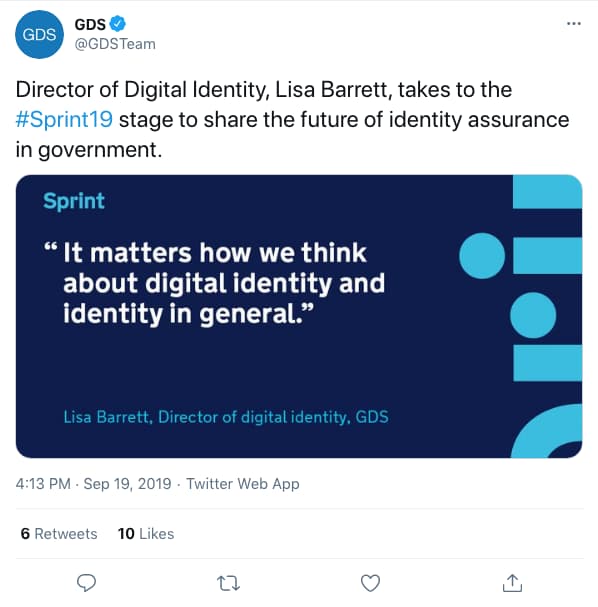 Lisa blogged about the future of digital identity earlier this year, and about what we've been doing to move forward our work on identity assurance.
Sue Bateman, GDS's Deputy Director, Innovation and Policy, spoke about data, innovation and our work in the 2 areas.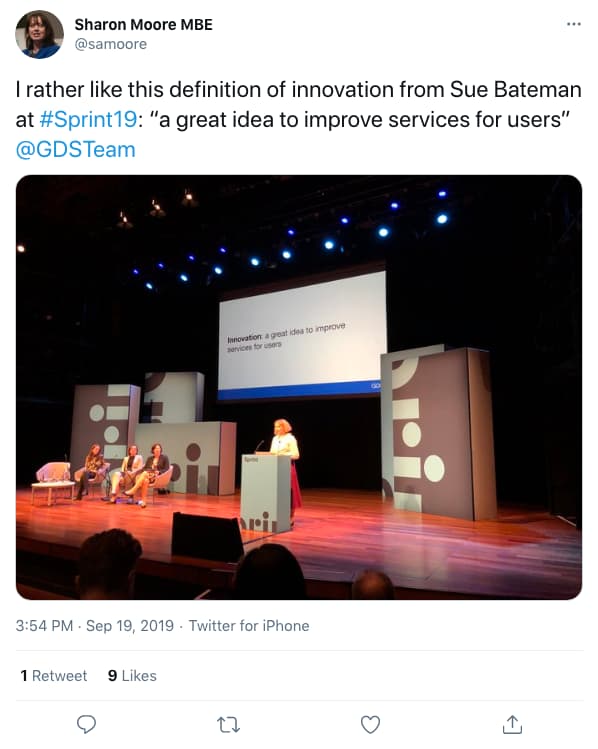 Jen Allum, Deputy Director and Head of GOV.UK, then spoke about the work we've been doing to deliver Brexit-related content and products, and the future of the GOV.UK programme. We will also be blogging about this work in the coming weeks so make sure you keep an eye on our blog.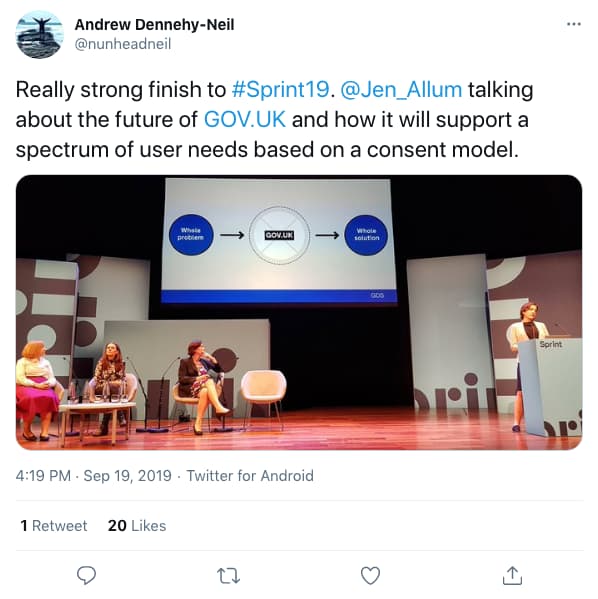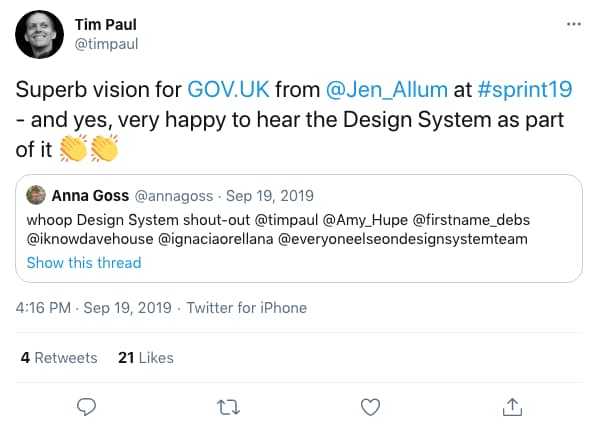 3:30pm
The Head of Accessibility for UK Government, Richard Morton, is on stage now talking about the new public sector website accessibility regulations and what public sector organisations need to do to comply.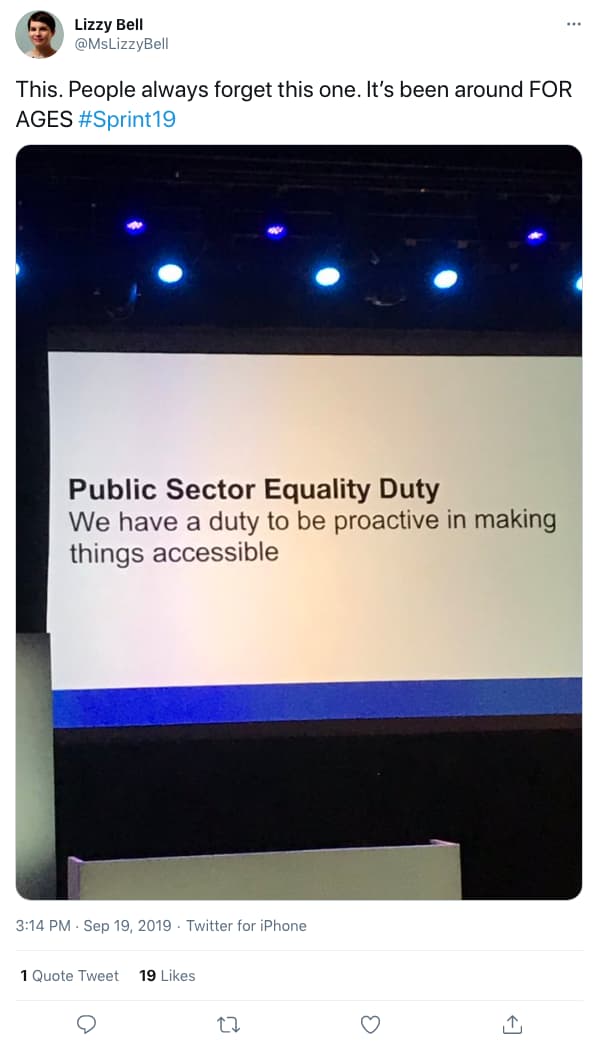 3pm
Behind the scenes at #Sprint19 – GDS staff have been working hard for months to make today's event happen.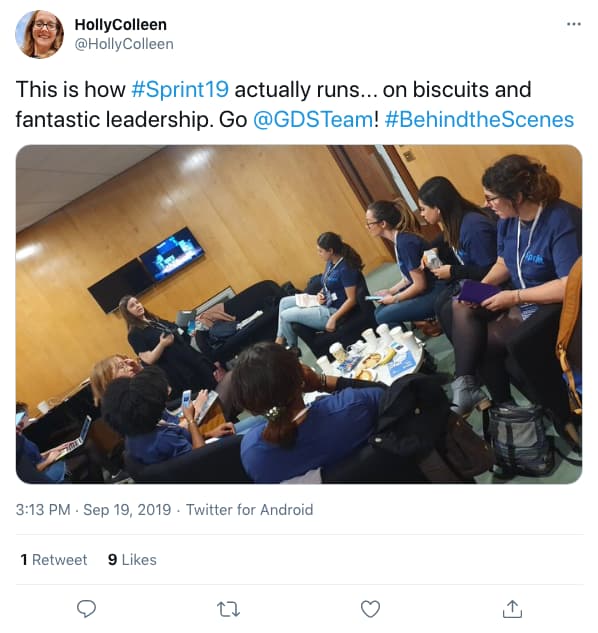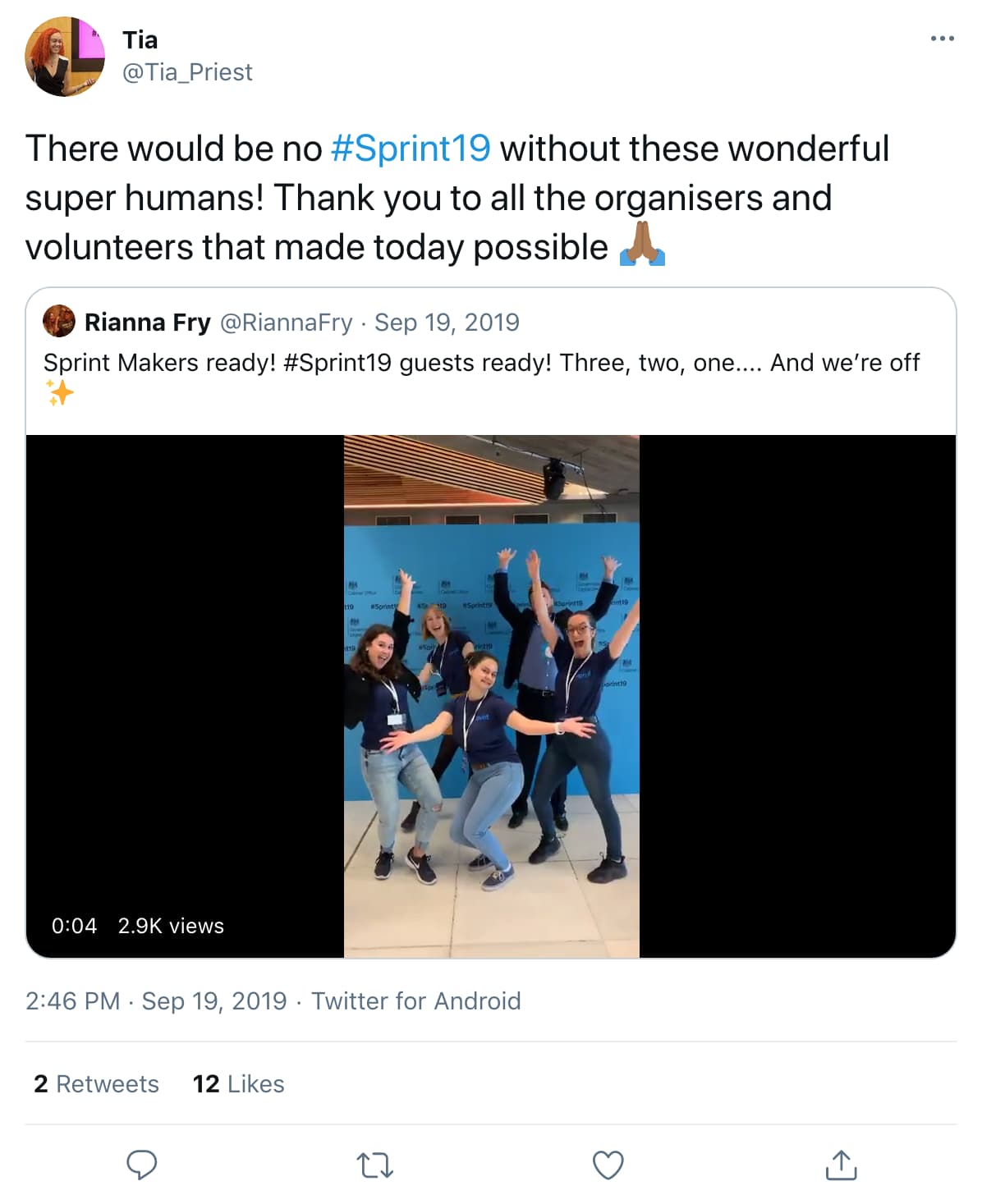 2:20pm
Our delegates have just taken part in breakout sessions, which focused on: GDS common components, the GovTech Catalyst, the GOV.UK Design System, building digital capability, diversity and inclusion, and the service assessment process.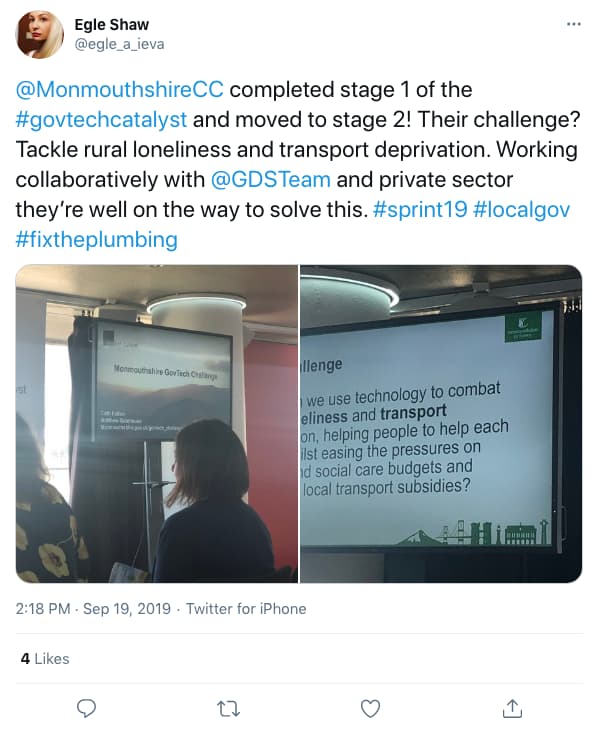 If you're interested in any of the topics covered during the breakout sessions, you can read more about them on our blogs.
GOV.UK Design System
Our GDS colleagues recently blogged about how we made the GOV.UK Design System more accessible. We also had a guest post by a colleague from NHS Digital about how they adapted the GOV.UK Design System for use in their health and care services.
Diversity and inclusion
We blogged about using data to make the Digital, Data and Technology (DDaT) Profession more diverse.
A data scientist from GDS blogged about his experience of taking shared parental leave.
And our 2 colleagues shared their story of starting the 'Muslims at GDS' community.
GovTech Catalyst
We published a 1-year-on blog post about the GovTech Catalyst programme to talk about what the team has learned and what's coming up next.
Digital capability
People and skills, and building capability have featured a lot on our blogs recently.
We blogged about the first round of the Emerging Technology Development Programme.
We celebrated the GDS Academy's 5th birthday and shared stories of how the Academy has impacted its students.
We also shared what our interns learned during their placements at GDS.
Common components
We've been blogging quite a lot about GOV.UK Verify. First, Lisa Barrett set out her vision for the programme. We also blogged about what we're doing to keep GOV.UK Verify secure from identity crime and fraud. And we blogged about our work supporting the HMRC's biggest Self Assessment peak, which was a very popular topic among our audiences.
We also blogged about the benefits of using GOV.UK Pay and what we've done to make it easier for smaller organisations to set it up.
12:30pm
We've heard a lot of interesting talks this morning.
During the lightning talks part of the morning, Aleks Bobrowska from the Department for Work and Pensions (DWP) spoke about how the DWP Digital team are using and sharing data to tailor support for jobseekers in different regions.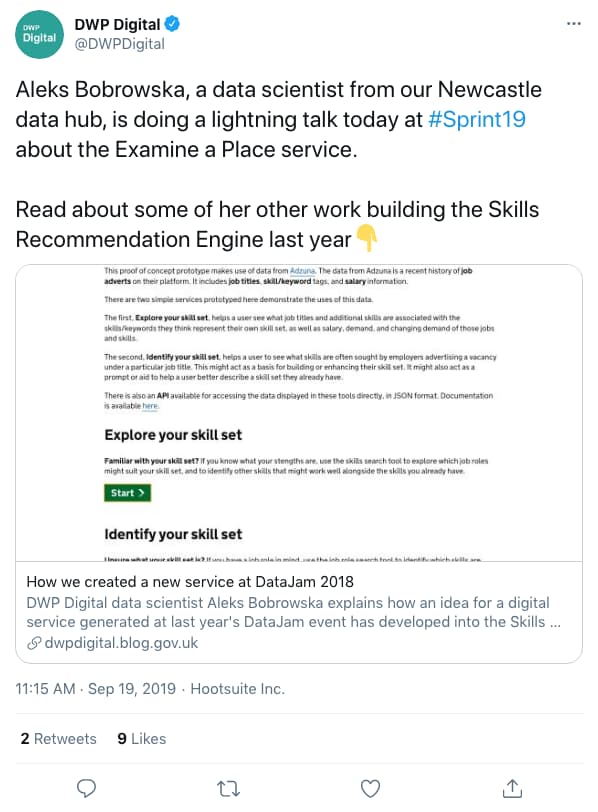 We also heard from Daniel Fyfield from the Department for Transport about the Blue Badge service, which helps you park closer to your destination if you have a disability, including a hidden one.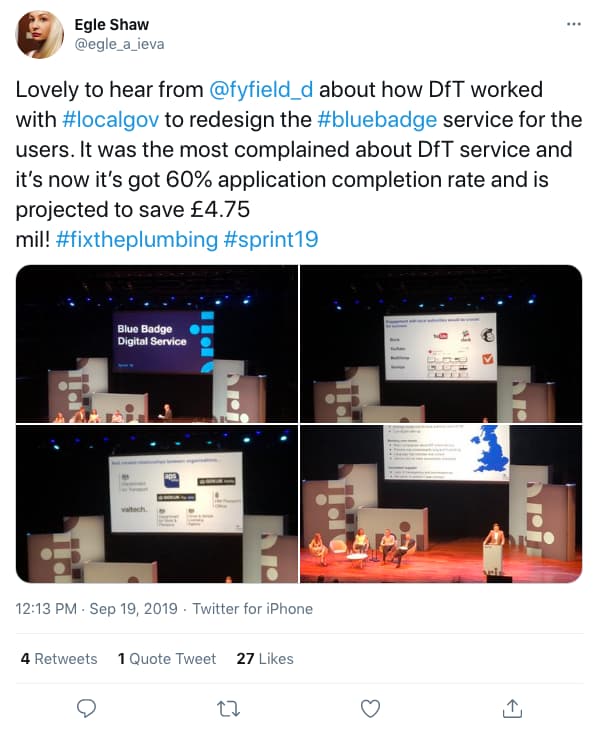 Next, Lyndsay Baker and Jon Sanger from GDS talked about how GOV.UK has worked with departments to prepare for EU Exit.
There was also a panel discussion – the topic was 'strengthening digital partnerships across the UK'. The panellists were: Caron Alexander, Director of Digital Shared Services at the Northern Ireland Civil Service, Colin Cook, Director of Digital at Scottish Government, and Caren Fullerton, Chief Digital Officer at the Welsh Government.
We're now taking a break to have lunch and do some networking. Check back here in an hour for an update on what's been happening in the #Sprint19 breakout sessions.
11:20am
We've just heard from Paymaster General and Minister for the Cabinet Office, The Rt Hon Oliver Dowden CBE MP.
He spoke about the progress we've made and the work we've done in the past year, including our work on the GovTech Catalyst, the publication of the Technology Innovation Strategy and the guide to using artificial intelligence in the public sector, the impact GOV.UK Pay and GOV.UK Notify are having, our work on GOV.UK Verify and digital identity, and the role of the GDS Academy in upskilling civil servants to enable transformation.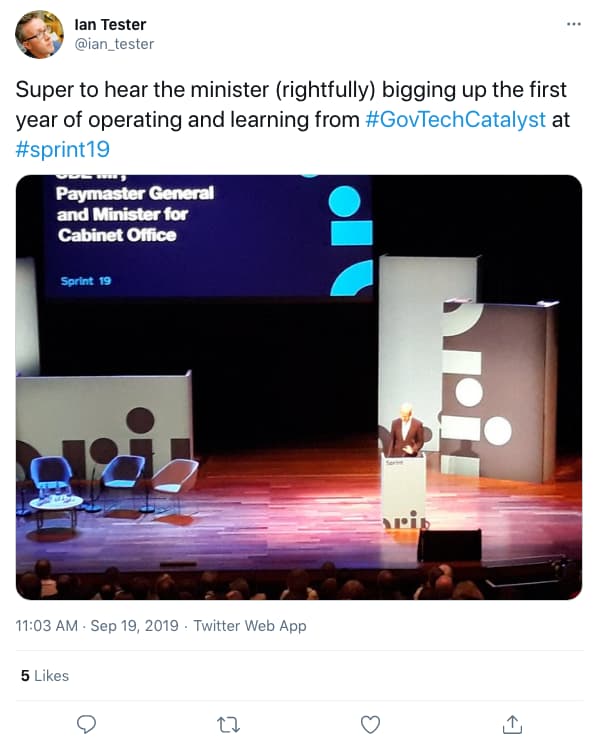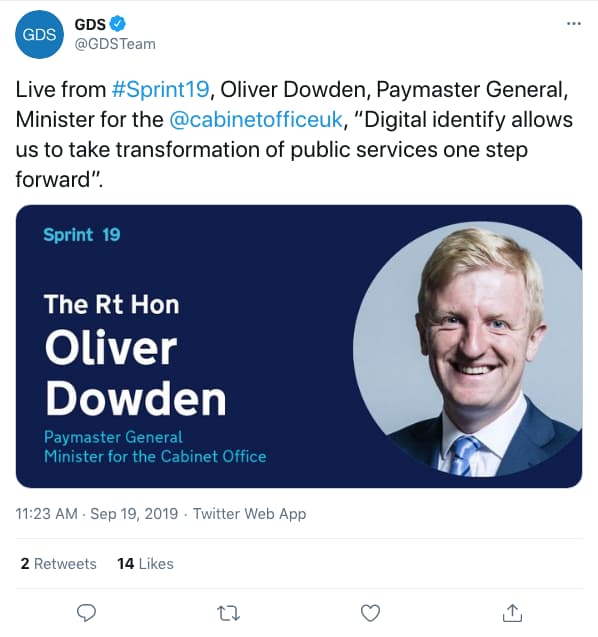 He also spoke about the challenges lying ahead, and about how we can ensure that the pace of innovation and transformation continues.
Then, John Manzoni, Chief Executive of the Civil Service and Permanent Secretary for the Cabinet Office, introduced a showcase on digital collaboration across government.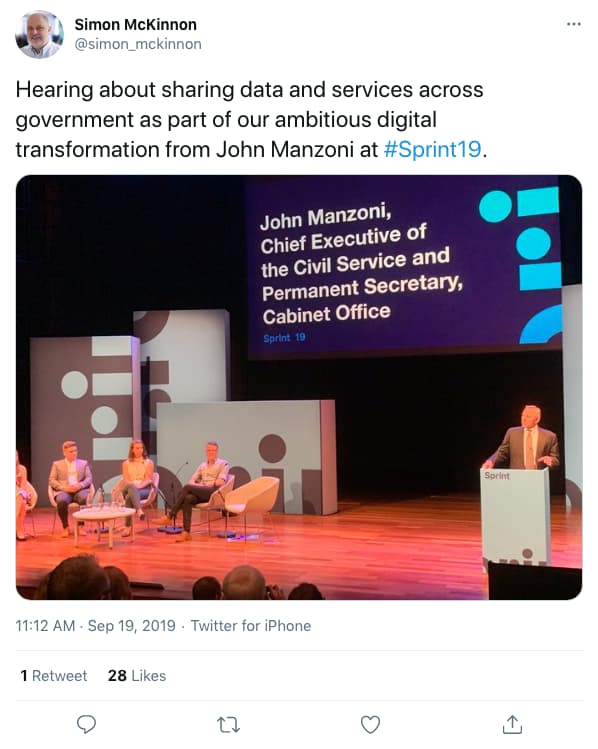 Come back to this blog after midday to read a summary of the lightning talks that are taking place now.
10:45am
GDS's Interim Director General Alison Pritchard has just welcomed everyone to #Sprint19.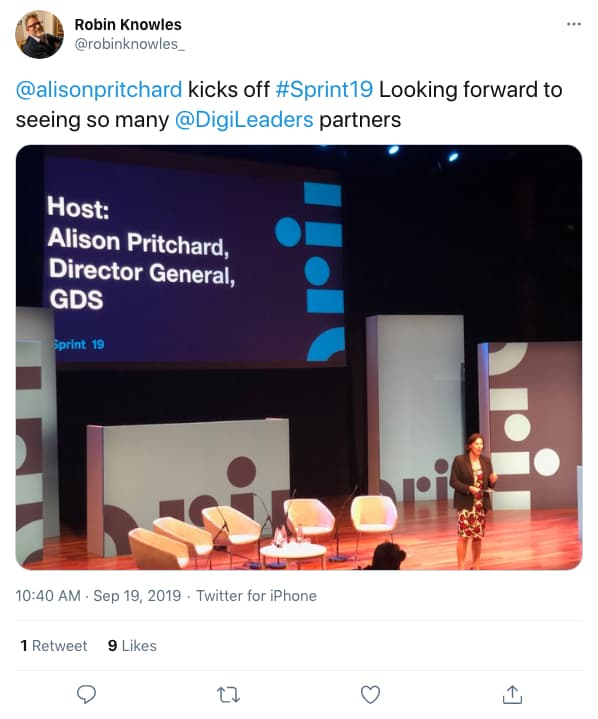 10:15am
While you're waiting for our next update, you can read some recent blog posts about how digital transformation is improving people's lives:
You can also watch our video to find out how Leeds City Council is using GovTech Catalyst funding to develop technology that can help improve the condition of social housing in the city.
9:45am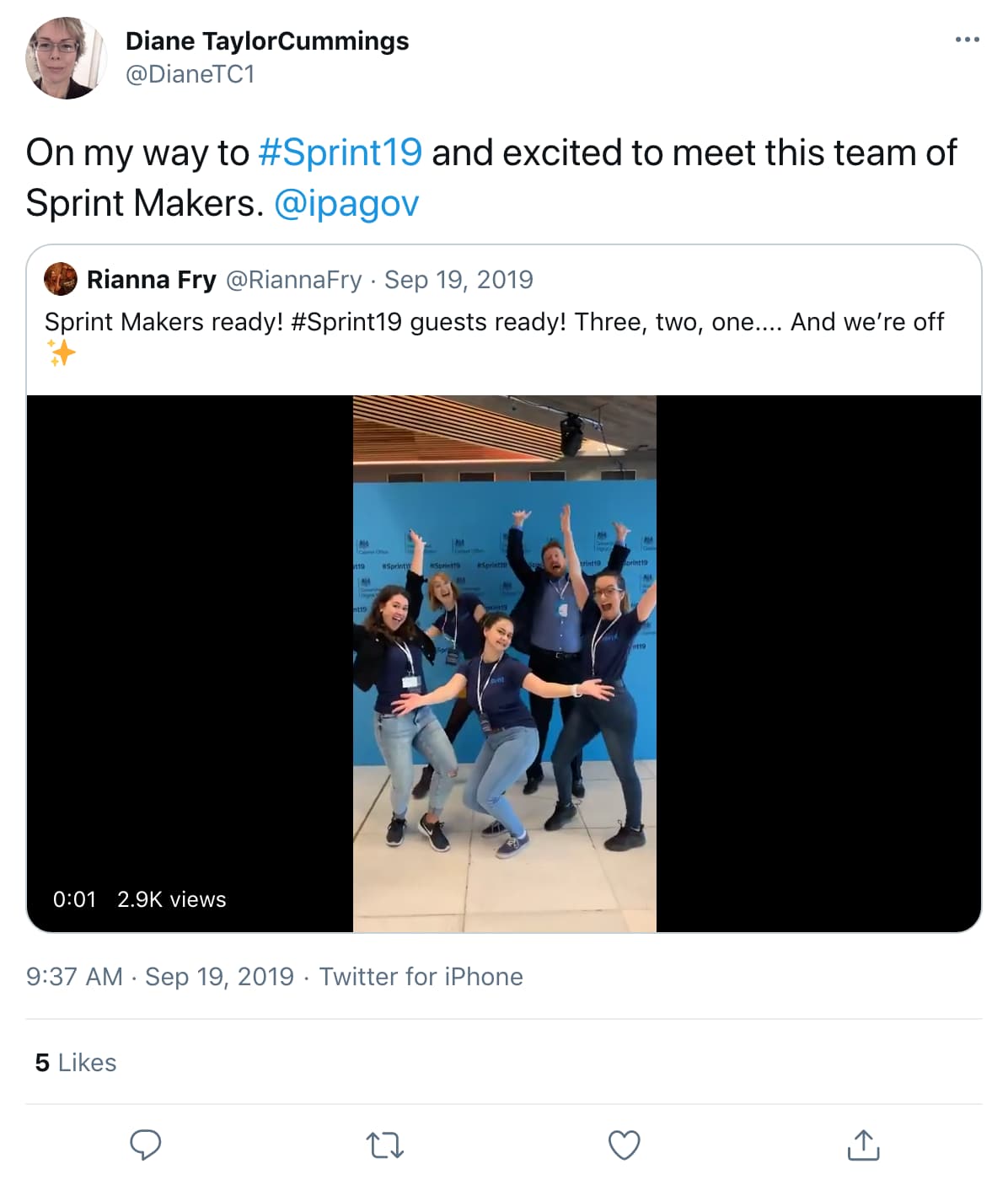 Today's main event is due to start at 10:30am with an opening address from GDS's Interim Director General Alison Pritchard. A couple of weeks ago, Alison blogged about her journey in government so far and what she's looking forward to delivering over the next few months.
Alison's opening talk will be followed by a keynote from Paymaster General and Minister for the Cabinet Office, The Rt Hon Oliver Dowden CBE MP.
Next, John Manzoni, Chief Executive of the Civil Service and Permanent Secretary for the Cabinet Office, will introduce a showcase on digital collaboration across government.
Our attendees will see how we're making it easier for people to find work and live independent lives, and helping citizens and businesses prepare for the UK leaving the European Union.
Come back to this page later to see more updates on what's happening at #Sprint19.
9am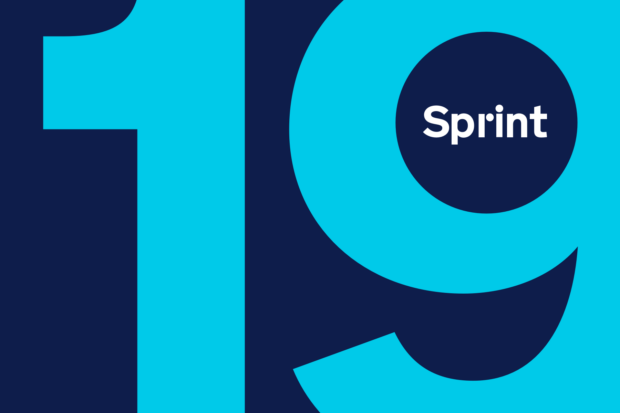 #Sprint19 is about to begin – welcome to our live blog, which we will be updating throughout the day. Make sure you bookmark this page and come back to it to see what's been happening.
Our delegates are already arriving and getting excited about the day. Here's what they've been saying. You can join the conversation by using the hashtag #Sprint19. We're tweeting at @GDSTeam.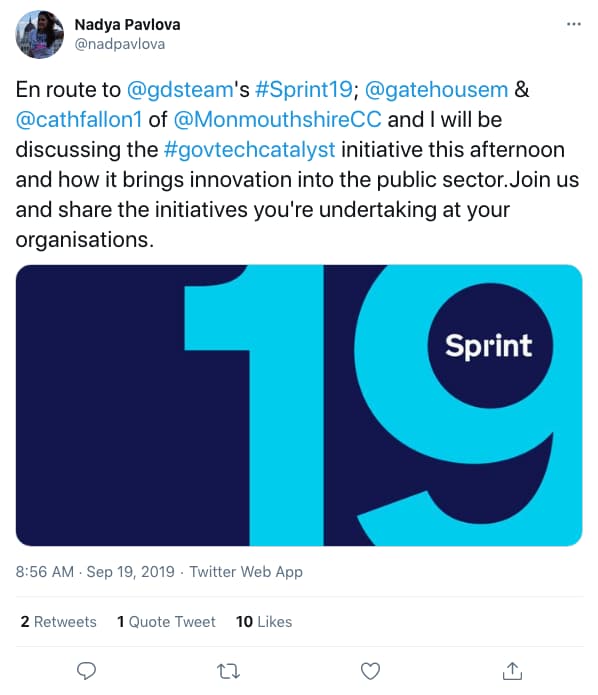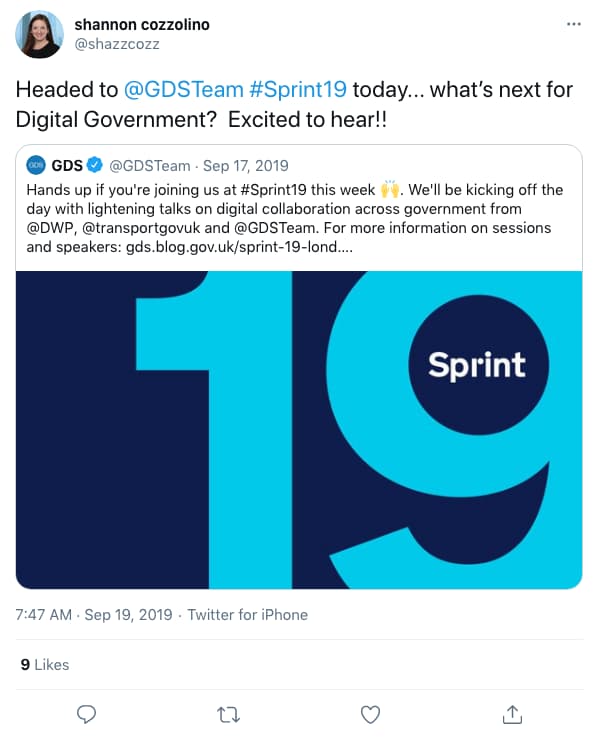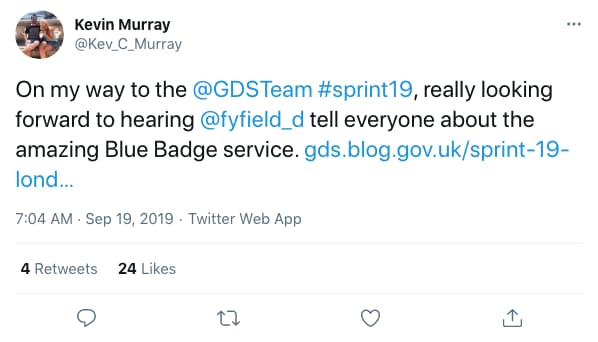 This year's Sprint is different
Last year, we held one big Sprint event in London. This year, we changed things up a little bit. We've already run 4 regional events in addition to the one happening today. You can read our blog post to find out about what we learned from the regional events.
You can also watch our video to see the highlights from the 4 regional events: