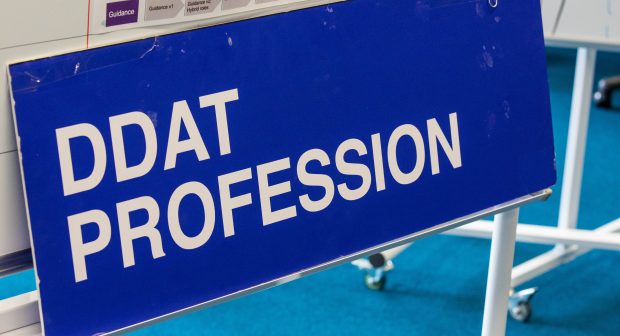 The UK government's rapid digital response to coronavirus (COVID-19) was a result of 10 years of investment in people, governance and technology. The ability to respond quickly and effectively was a result of the existing digital leadership and processes that already existed thanks to the work of the Government Digital Service (GDS).
A function is a priority area across government that requires central leadership, for example human resources, legal, and project management. Our position as function leaders meant GDS had a central role in coordinating the digital response to coronavirus. GDS's work on the pandemic demonstrated that one of the benefits of agile digital government is the ability to respond rapidly and flexibly to meet urgent needs.
Here's what we did, how we were able to do it and what we've learned so far.
Coordinating the DDaT response
In March, GDS set up the DDaT COVID-19 Working Group. It is a single, high-tempo forum to articulate needs, risks and issues. It met twice a week from March to May, and weekly since then. Members are from the devolved administrations, all departments and the Parliamentary Digital Service.
So what did it help solve? Interoperability was a challenge faced across the public sector. Different remote organisations could not talk to one another due to inconsistent rules on video conferencing software. The Working Group solved this through Project Unblock. GDS worked with the Government Security Group (GSG) and National Cyber Security Centre (NCSC), to publish guidance on secure video collaboration and tested how the most widely used tools work across different departments. As well as helping civil servants, our work helped facilitate the first ever virtual Cabinet meeting.
Another shared obstacle was the increase in remote working. To tackle this, the Working Group shared GSG and NCSC approved Bring Your Own Device (BYOD) policies. The group also facilitated hardware supplies making sure laptops were available to those in government that needed them most.
Alongside the Working Group, GDS created the COVID-19 Resource Hub. The hub dealt with more than 300 requests for assistance and provided information or deployed experts where they were needed most. The hub placed 250 DDaT specialists into critical roles, many who created services to help some of the most vulnerable in society.
Without GDS, we would have needed to rely more heavily on contract support in key roles. As a relatively new unit, we are still building our DDaT capability so the Resourcing Hub was able to support us at a crucial time. I particularly valued their in-depth understanding of the DDaT Profession which meant our needs did not require translation and that in turn led to better matching.
- Nayeema Chowdhury, Head of Digital Transformation at NHSX
GDS also made and ran the DDaT COVID-19 services dashboard. This provided a detailed live picture of what was happening across government in its digital, operational and user-facing activities. We used this information to help collaboration, avoid duplication of work and identify any blockers.
Welsh Government has been an active member of the COVID-19 DDaT working group established by GDS and was instrumental in helping establish the devolved administrations/GDS/Cabinet Office comms collaboration group. We have found both groups an invaluable source of help during the current pandemic. Establishing these groups has set the groundwork for more effective intergovernmental collaboration.
- Caren Fullerton, Former Chief Digital Officer, Welsh Government
The collective power of the DDaT teams
The DDaT Function built more than 150 new and augmented COVID-19-related services, to date. Teams created high profile services at pace that met security, data and design standards, stood up to record traffic and that required cross-functional collaboration.
One example is the Vulnerable People Service. The service enabled the delivery of more than 4 million food boxes to clinically extremely vulnerable people by early August. It required collaboration between central government, local authorities and the private sector. Taking a function-wide approach meant the right people were in the right place to make decisions, set up data sharing agreements and make sure help reached the people it needed to.
Another prominent service was the Business Support Tool. It let private sector companies offer support to the government, and took just 4 days to establish and recruited 40,000 offers of support.
The DDaT COVID-19 Working Group's efforts facilitated the creation of these services by making sure DDaT experts had the right tools to build the services, the right channels to talk to one another and access to the right information. 
Our digital response was 10 years in the making
Digital is at the heart of the government's response to coronavirus because of our existing strong digital foundations. Since 2011, GDS has created digital tools, products and policies, and developed DDaT capability - all infrastructure and talent that was leveraged during this crisis.
For instance, the GOV.UK Design System - a library of GOV.UK styles, components and patterns - meant accessible services were designed rapidly.
Already in place were GDS's suite of Government as a Platform (GaaP) products. These tackle common challenges that service teams face - like how to communicate with users or take payment. GOV.UK Notify, the government's communication tool, saw a 700% increase in usage, with organisations like NHS Business Services Authority using it to send 17 million text messages to vulnerable people in its initial coronavirus response. Another GaaP tool - GOV.UK Verify, which lets people prove they are who they say they are - saw a 900% increase in demand. And, GOV.UK Pay let some local authorities set up services the same day in order to securely take donations for crisis funds and food banks.
The UK government has had a single trusted domain since 2012: GOV.UK. It became the centrepiece of the government's communication campaign for coronavirus. It held up to record traffic - peaking at 132 million page views in a single week - cementing the importance of having one canonical source of information. This figure is only counting users who accept cookies that measure website use, so the true figures would be even higher. The UK's digital policies and governance were also already in place to enable this rapid scaling.
And, all of this response would not have been possible without the huge effort of the people who made it happen. The response relied on digital capability and expertise to make policy into reality quickly - often going from concept to live in just a few days. Like the GOV.UK coronavirus landing page, a page that received 750,000 views in its first 24 hours of going live, and was set up in under 5 days. 
What we learned
Coronavirus has not disappeared and our digital response continues.
We can look back on our initial work to see what we've learned. GDS's position in the Cabinet Office lets it take a holistic and systems approach to digital transformation and means it can enable interoperability, let services be set up quicker and solve common problems.
It's important to continue to build digital capability, work in the open and share learnings to make sure this is addressed. What is shared across organisations - the digitally mature to those at the start of their transformation journey - is this desire to share experiences and learn from others.
The importance of user-centred design (UCD) should not be underestimated. Our users need clear, simple and trusted services to help them in hugely challenging times. Its value is recognised across the Working Group and it's clear the difference it has made.
We want to retain the collaboration that happens when everyone is working together towards one all encompassing issue. It makes government work better for users when conversations happen across different teams, organisations and sectors to continuously refine our shared understanding of the user needs we must meet.
We'll keep working hard to make sure digital teams across the public sector can deliver and improve the critical services needed and relied upon by millions of people during coronavirus.