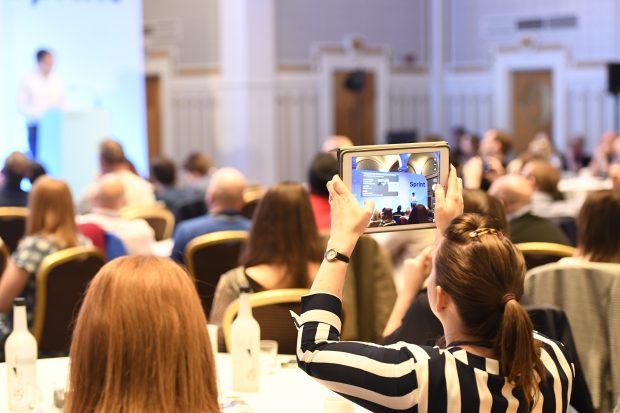 Over the past few weeks we've been running a series of 4 Sprint events around the UK, in collaboration with the governments of Scotland and Wales as well as the Northern Ireland Civil Service and Leeds City Council.
These events have put a spotlight on the great digital transformation projects happening across the UK and have celebrated the organisations – and the people – delivering them.
For us at GDS, it's been an opportunity to work closely with our colleagues across the UK and to get a better understanding of their work and ambitions.
Watch our video to see the highlights from the 4 regional events:
As we prepare for our Sprint 19 event in London in September, here are 4 things we've learned from the 4 Sprint events we've held so far this year.
At the end of this post, you will also find information about how to register for the London event.
1. We all have a shared ambition
One thing that came through clearly in our work with our Sprint partners is that we all have a shared ambition – to make things better for users.
At all the events, there was talk of digital transformation, of digitising services and of increasing efficiencies in our organisations. But the overarching theme – the reason for all this transformation work – was to improve things for the people we serve.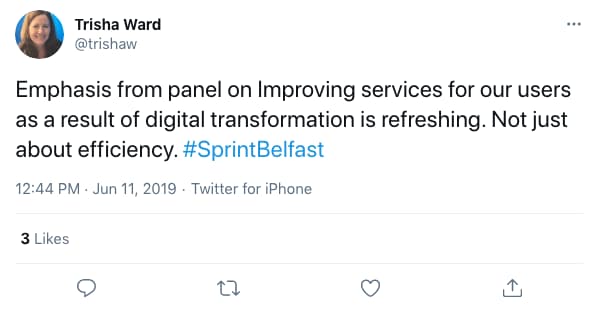 This 'users first' approach was summed up by Leeds City Council Chief Executive Tom Riordan, who said the council had moved from thinking about what services children need to thinking about how to make Leeds a better city for children to grow up in.
2. We face similar challenges
As well as this shared ambition, we found plenty of common challenges and issues across the 4 events.
Building culture and building capability were 2 things that were seen as hugely important steps towards our goal of making things better for users. The subjects came up at all the Sprint events.
Communicating well, working in the open and sharing our progress (including at events like Sprint) were seen as important ways to build culture. The work of the GDS Academy and the Scottish Digital Academy were hailed as vital for building capability.
The importance of tools and standards was another common theme. Sessions on GDS's common components, including payments platform GOV.UK Pay and notifications platform GOV.UK Notify, were well received. At Sprint: Edinburgh, the Scottish Government shared an update of its Digital First Service Standard on the same day that GDS published the newly updated Service Standard for UK government services.
The GDS National, International and Research (NIR) team, who work to build closer links with our national and international partners, were a big presence at all the Sprint events. Our NIR Director Chris Ferguson co-hosted Sprint: Edinburgh, and National Lead Helen Wall co-hosted Sprint: Belfast. Sprint: Cardiff was co-hosted by our South-West and Wales Regional Relationship Manager Sarah Hoy, while Lisa Jeffery, our Regional Relationship Manager for the North, co-hosted Sprint: Leeds.
3. There are some unique circumstances
While there are plenty of shared ambitions and experiences across the UK, there are also some unique circumstances that we can all learn from.
At Sprint: Cardiff, a big theme was the use of Welsh language in communication and digital services. Event co-host Mari Stevens, Deputy Director of Visit Wales, presented much of the event in Welsh, while Jeremy Evas, Head of Welsh Language Promotion for the Welsh Government, gave a presentation on the importance of developing bilingual digital services.
There were learnings too at Sprint: Leeds, where much of the focus was on the challenges and opportunities faced by local government. In a panel discussion on the subject, Leeds City Council Chief Digital and Information Officer Dylan Roberts was asked about what central government can learn from local government. His response was that local government is closer to the user, and is also able to see the whole picture, rather than looking through the lens of a single department.
4. It's about people, not technology
There was plenty of talk about technology at all the events – including the newly launched Government Technology Innovation Strategy, and the GovTech Catalyst. But these discussions were framed around how technology can be used to help people – both the end users of services and the civil servants delivering those services. Transformation is about people.
It was fitting then that Sprint provided an opportunity for people from across the UK to get together and share their experiences and ambitions. Feedback from the events shows that one of the things that attendees most appreciated was the opportunity to network, meet new people, and build the links that will help us all work together to build better public services.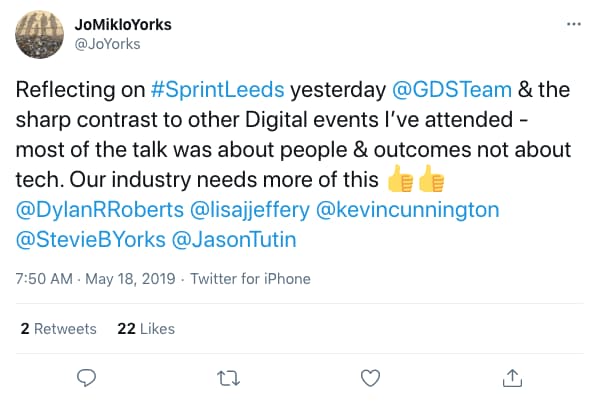 On to the next event
We'll be holding our next and final Sprint event of the year on 19 September at London's Southbank Centre. We'll pick up on some of the themes we've discussed in our Sprint events so far, and share more about GDS's work and future priorities.
We'll be announcing more news about Sprint 19 soon on the GDS blog, so make sure you sign up for updates.

In the meantime, you can register your interest to attend Sprint 19 if you're a civil servant and also register your interest if you work outside the Civil Service.