The search engine optimisation landscape is changing. As I have blogged previously, we are doing our best to make sure we use the same search terms as our users to make content easier to find. Now that Directgov and Business Link are no more, and GOV.UK has shaken off its beta-warning shackles, it's time to see if we've achieved this.
The number of visitors from external search remained stable at about 4.2 million for Directgov in the week prior to launch, and totalled 4 million to GOV.UK in the week after launch. This is good news because it shows that GOV.UK is attracting the same level of search traffic as Directgov and Business Link, but with far fewer pages.
Note: I haven't focused on comparisons with Business Link as the site received under 500,000 visitors per week, while Directgov received closer to 5 million.
The redirects worked
Usually you'd expect to see a significant drop in referral traffic after a site is replaced, as both people and search engines take some time to find the new pages. But for GOV.UK, immediately post-launch, people were presented with the old familiar Directgov results and then redirected to the closest-related GOV.UK content. Bravo to the transition team, whose redirection plan meant that they captured the Directgov and Business Link search rankings and sent people our way. The redirects ensure that the high search rankings earned by Directgov and Business Link are transferred to GOV.UK, so it's a double-win. You can read the transition team strategy here in the blog post No link left behind. The mappings have worked, as users coming from search were redirected to 2,380 different pages.
How are people from search interacting?
| | Directgov | GOV.UK |
| --- | --- | --- |
| Average visit duration | 2.3 mins | 2.4 mins |
| Pages per visit | 2.5 | 3.5 |
| Bounce rate (only one page viewed) | 55% | 13% |
So what do these figures mean? On a conventional site these figures would suggest that GOV.UK is performing better than Directgov - more pages viewed means more interest in the site. But with GOV.UK's 'in and out as quick as possible' philosophy it's not that straightforward. The higher number of page views could be due to how we format our guides.  This format chunks down information previously on one page into separate pages. We're planning to look into this in more detail. Hopefully the stats will show that people are finding what they need on GOV.UK and then choosing to explore the site in more detail. At the very least they're not bouncing out after a couple of seconds and going straight back to a search engine. This is largely due to the work of our design and content teams who are committed to ensuring that GOV.UK inspires trust.
The battle of Directgov and GOV.UK - keyword comparisons
Below is a comparison of the top referral terms leading to Directgov a week before launch, compared with GOV.UK's performance for the same search terms a week after launch.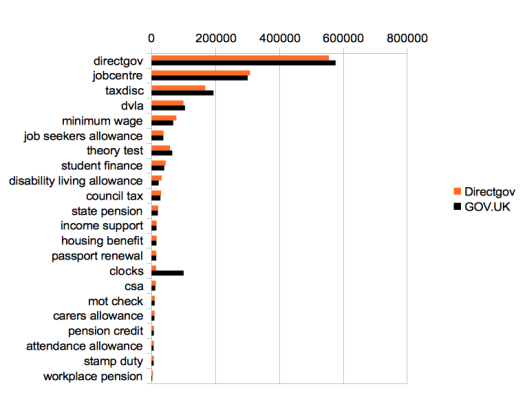 We can see that traffic from each referral term has remained pretty consistent. The spike in 'clocks' for GOV.UK was expected as the clocks went back that week. Bear in mind that this is more than just an SEO hit list - these are GOV.UK's top user needs and although they may change slightly throughout the year, they generally remain pretty fixed. It's worth remembering them because services and content related to these keywords are reaching our biggest audiences.
GOV.UK rankings are looking good for most popular searches
We now need to keep monitoring to ensure that our content shakes off its shiny-snake skin of redirects and retains its high search rankings. Just over a week after launch I manually typed some popular searches into Google to see how we ranked. Apart from one, GOV.UK URLs ranked first or second for the top 20 Directgov and Business Link terms. So it looks like we're in good form.