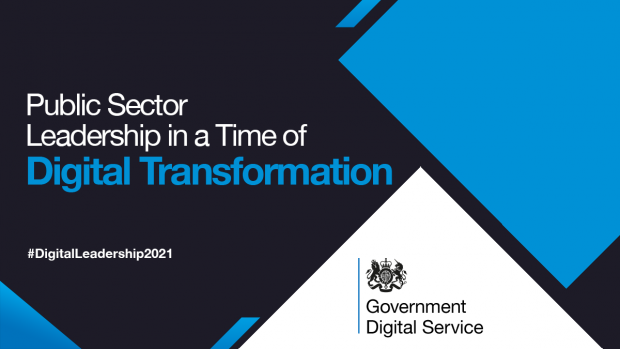 On 10 February 2021, the Government Digital Service (GDS) International team collaborated with the Foreign Commonwealth and Development Office (FCDO) to host a virtual conference for European public sector leaders. "Public Sector Leadership in a Time of Digital Transformation" was attended by more than 70 senior public officials across 14 countries.
The conference focused on digital maturity and was opened by FCDO Director of Europe, Sarah Taylor. The opening keynote was given by Chris Ferguson, Director of GDS's National, International, Research, Service Design and Assurance and DDaT COVID-19 Hub.
Chris shared his experience of what it takes to create and sustain a resilient digital estate. Maturity markers such as digital by design, leadership buy-in and governance, institutional funding and capacity were then explored further in a series of case study presentations and panel discussions.
Doing digital differently
A highlight of the event was a case study presented by a former GDS colleague, Janet Hughes, now Programme Director at the Department for Environment, Food and Rural Affairs (Defra). Janet gave a fascinating insight into how Defra co-designs services in partnership with farmers, to ensure they are user-centered and fit for the digital age.
Janet was candid about the need to be ambitious, going beyond user-centred design principles to co-design services in partnership with the users themselves, using digital ways of working to achieve this.
Digital ways of working, thinking and operating should be applied to everything you do. "It's not just about doing the same things more simply, more clearly and more quickly - it should be doing completely different things: re-imagining the way government operates and does things for the public… that are fit for the digital age."
Janet was followed by guest speaker Janne Viskari, Director General of Finland's Digital and Population Data Services Agency. Janne shared how Finland approaches digital transformation as a process, rather than a project and maps services to life stages: "It's about making life better using digital tools."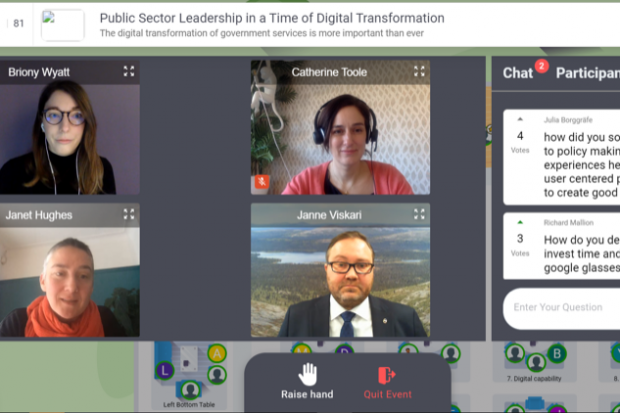 Increasing skills; reducing legacy IT
The middle session of the conference focused on 2 key digital transformation challenges: building digital capability and tackling legacy IT.
Chad Bond, Deputy Director of Standards and Assurance at GDS, spoke about the scale and risk of the UK's legacy infrastructure and the long-term strategic funding models needed in order to make strategic decisions.
"Legacy presents a critical security challenge to government and critical national infrastructure, as well as acting as a barrier to transformation and modernisation."

Director of Digital, Data and Technology (DDaT) Functional Strategy Rox Heaton then made the case for building DDaT capability within the public sector. She argued that without this, organisations pay a premium for consultants and external experts, lose organisational knowledge and ultimately become outdated and ineffective. Introducing a pay framework in the UK has already provided financial savings but perhaps more importantly led to greater retention and capability.
Government as a platform (GaaP)
The final session of the day was a GaaP panel discussion chaired by Rox Heaton and supported by Ben Welby, Digital Policy Analyst from the OECD; Pete Herlihy, Lead Product Manager for GOV.UK Notify; and Anna Eriksson, Director-General for the National Agency for Digital Government in Sweden.
Rox started by defining what GaaP meant to her ("it's the ultimate in build once, use many") before asking the same of panelists. Anna felt an important element of GaaP was moving from vertical to horizontal ways of thinking. Ben saw it as bringing everything together "to enable service teams to focus on the needs of their users".
Pete highlighted the use of GaaP services in the UK during the pandemic and how this meant being able to build services "in hours and days" rather than months. He argued that having GaaP products "isn't a luxury any more, it's a necessity."
Networking in a virtual world
In between sessions, delegates were invited to network and swap in-country experiences on small virtual tables. Discussions were facilitated by GDS experts in digital by design, capability-building, GaaP, global procurement reform and legacy IT.

Poll results and takeaways
The conference ended with a survey of senior leaders, who acknowledged that "senior leadership buy-in and appropriate governance" is one of the biggest blockers to digital transformation. Capability-building, institutional funding and being data-driven were other key areas delegates voted as hard to achieve.
The conference was closed by Trisha Doyle, Head of Product and Proposition for GDS International. Trisha explained that GDS International's core mission is to help governments to do digital government better for all citizens. At GDS International we believe that good digital government means the provision of information and services that are inclusive, transparent, sustainable and delivers on users' needs.