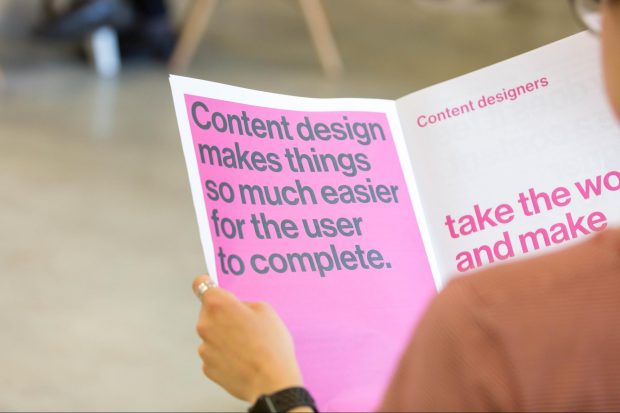 Earlier this year, we did our first public run of the 'Introduction to content design' course hosted on FutureLearn, and we had more than 11,000 learners sign up. This month, we're doing a second run of the course and you can register now for the 21 September start.
'Introduction to content design' is great for those starting out in the content design profession, those who would like to move into it, or those in related disciplines who think content design can improve the way they work.
In this post, I'm going to talk about why and how we built the course, what people learnt from it, what surprised us and what we're doing next. If you prefer, you can watch an extended version of this post in video format.
Pre-online learning times
Until 2019, the content community team at the Government Digital Service was delivering 2-day introduction to content design training to colleagues in other government departments.
We quickly found that our training model wasn't scalable. There was a limited number of people we could train face-to-face. We had to be there in person every time, which was time-consuming and costly.
We also knew that classroom-based learning limited the potential for knowledge sharing. Any ideas that came up during sessions would be taken away by only a limited number of people who may or may not share them with others. Content design practices evolve constantly, though, so the best way to share them is to connect the whole community.
And, finally, we knew that there was demand for learning about content design beyond the traditional content design community, for example, among our communications colleagues or others who believed content design principles could improve their work.
So, there were some clear user needs that we needed to meet. And to do that, we knew we needed to scale our approach. We decided to explore online learning.
Making online learning social
Online learning seemed like the obvious choice to address our challenges. The thing about traditional self-study online courses, though, is that they don't always allow for interaction, discussion or sharing of ideas. And we knew that that was something our community needed. Content designers would regularly get in touch to ask for opportunities to learn and share. We also ran a test through our newsletter to see how many people would be interested in signing up for a course if we made one.
So, we decided to go for what's called 'social online learning' – an environment where learners can interact with us and with other learners, have discussions, comment on things, share their own experiences and learn from other people's experiences.
We built a closed pilot for 150 learners in 2019.
Earlier this year, we iterated the course based on what we learnt during the pilot, and we opened it up. We had more than 11,000 learners sign up.
Getting our learners to do the work
The course ran for 4 weeks and included things like the principles of content design, user research and testing, performance analytics and accessibility.
We taught the basics but also some more advanced tips that many people were not aware of, such as creating prototypes in the browser.
We designed the activities in a way to help our learners apply their knowledge. For example, we asked them to share their own user stories or prototypes, and hundreds of examples were shared.
We had polls and discussions to keep our learners engaged more than video or written content would. We also used quizzes and tests to test their knowledge and help them consolidate their learning.
What people learnt
In terms of outcomes, we had learners say they're starting projects to improve accessibility on their websites, including more types of user personas in their user research, doing user research for the first time, or working on systems for reviewing and archiving old content.
It was great reading about these things. If we can help even one organisation make their content clearer and more accessible, that's a success for our team.
What surprised us
We learnt a lot from the first public run of the course, which helped us prepare the next iteration of the course ready for the September run. Here are some of the things we learnt.
Content design is not just for content designers
We knew that people in related disciplines would be interested in the course but we hadn't realised quite how diverse our learners would be. We had communications professionals, media managers, designers and website managers sign up.
If your job doesn't include the term 'content designer' but you think your work could benefit from content design principles, you should definitely join the course this month.
Content design principles are universal
We discovered that content design principles are adopted and often well established across different sectors and even in different countries. Our learners shared many examples of this, such as using style guides that are very similar to the GOV.UK style guide, or following similar processes for getting content published.
Learners like stories more than theories
Our learners liked the many practical examples and stories we shared in the course, and they preferred them to just being presented with theory.
We felt that using stories and examples of real work can help our learners better understand the rationale behind the different principles.
Experienced or not – everyone can benefit
We found that the course's level of challenge was right despite our learners' varying levels of knowledge and experience. Some people who joined the course were completely new to content design, which meant they could learn the basics. Others were very experienced but still told us they'd benefitted from the course as it showed them different perspectives and applications of the theory. They also benefited from the discussions – from reading other people's comments.
What we're doing next
As I mentioned before, we're running the course again this month and you can sign up now. We will be doing another run early next year.
We're also working with other communities of practice, running pilots and exploring areas that may lend themselves to the social online learning model.
If you work in government and you'd like to find out more about our work and learn about new courses as they launch, sign up to the content community newsletter.