Equality and diversity matters a lot to me, and to everyone here at GDS. I wrote about it a couple of weeks ago in my role as Cabinet Office LGB&TI Champion:
Making the department one of the most inclusive and diverse organisations in government is something I care passionately about.
There is a gender diversity problem in the digital industry. There are still many more men employed in it than there are women, a problem that's made (and looks) even worse at the conferences and events we host and attend. Too often, the speakers on stage at those events are mostly, sometimes even entirely, male. That has to change.
Taking action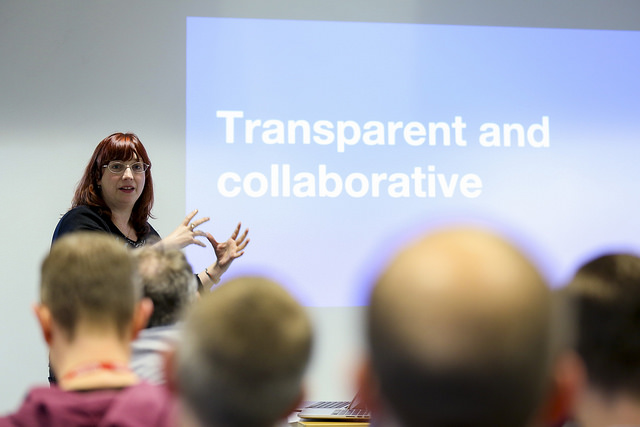 Today is International Women's Day, and I'm committing, in public, to the first of several actions that GDS is going to take to help improve gender diversity.
So. In future, no-one from GDS will take part in a panel discussion of two or more people unless there is at least one woman on the panel, not including the chair. (Yes, that comes from Owen Barder's Pledge).
In future, no-one from GDS will speak at an event unless the event's organisers are clearly working hard to address gender diversity on stage. It's hard to put a number on this sort of thing, so we will make that decision based on what we see on each event's draft agenda.
We'll hold ourselves to the same standards where GDS is the host, for internal events and public ones too.
Ideally, when GDS is invited to supply a guest speaker for an event, we'd like to send women to speak just as often as we send men. That means that sometimes, some of our male staff (especially those on our management team) will be encouraged to step aside and suggest a female colleague to speak instead of them. There are plenty of women at GDS who are excellent speakers and experts in their field - but the opportunities to speak need to be present for them.
Our Sprint 16 event in February had some women as speakers and panel members on the main stage, as well as leaders of break-out sessions and discussions. But not enough. We want to do better. The theme of the day was "Transforming government together," and that's impossible without meaningful diversity. (Not just gender diversity, but also diversity of ethnicity, age, ability, sexual orientation and more. There's work to be done in all those areas. We won't ignore them.)
For our next big event - whether it's Sprint 17 or something else - we aim to have an even gender split, 50-50.
Our new GDS advisory board, announced by the minister at Sprint 16, is evenly split like that from the start. A sign of how we want things to be, and how they will be.
This is not tokenism. This is important. This is us doing our bit, and taking action.
Join the conversation on Twitter, and don't forget to sign up for email alerts.