We're in the middle of a significant change in how people use digital services. Use of mobile devices such as smartphones and tablets is exploding. People should be able to use digital services wherever they are, on the device of their choosing (see Design Principle No.7 Understand Context).
Users now expect to be able to change the date of their driving test while on the bus, or pay their VAT while lying in bed. Here's how government services have been responding to mobile growth. To note for later: none of these examples are apps. GOV.UK is a website that adapts to mobile screens In its final months, the separate mobile web version of Directgov was attracting around 10% of the visits to the standard site. Both the standard and mobile versions of Directgov were replaced by GOV.UK in October 2012, which uses responsive design to adapt its layout to different screen sizes.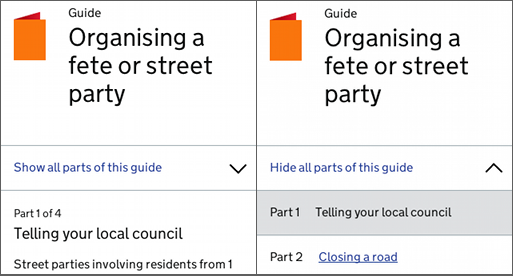 In the run up to Christmas, GOV.UK saw around 20% of visits from mobile devices.  Since Christmas this has jumped to nearly 25% This change was also noted by the BBC. Nearly half of e-petitions visits are from mobile devices In March 2012, just over 20% of those visiting the HM Government e-petitions service were using a mobile device. In the spring of 2012 its design was made responsive.  The graph below shows the trend since then. It's now over 45% mobile.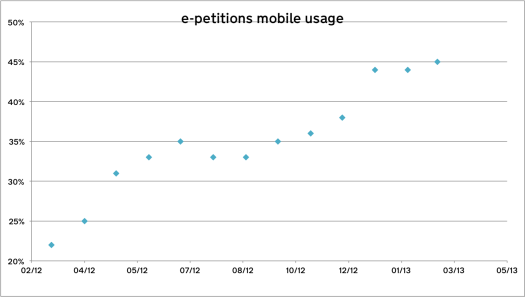 You can now book your driving test on the bus Meanwhile, up in Nottingham, the Driving Standards Agency has just redesigned its practical driving test booking service.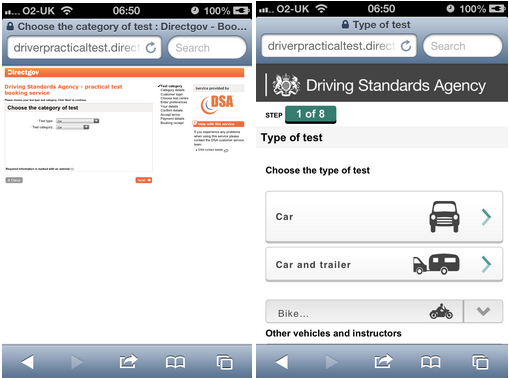 Results? Over 23% of those booking and 27% of those changing practical driving test bookings are now doing so from a mobile device. (Overnight it hits nearly 60% - hypotheses welcome!) Booking your driving test is not a trivial process. Users  have to choose a date, a venue and give contact details and the like. Yet give people a decent mobile-optimised experience, and they'll lap it up on their smartphones or tablets. If you want to learn more about DSA's test booking redesign, I suggest you follow @johnploughman - he's an excellent source of knowledge and happy to share.
Bring on all the apps, surely!
So mobile web usage is exploding, and the sooner we have all our transactions responsively adapting to mobile screen sizes the better.  The forthcoming Digital by Default Service Standard will require it. But does it follow that the government should also be investing heavily in mobile apps? No. Our position is that native apps are rarely justified. Action 6 of the Government Digital Strategy states:
Stand-alone mobile apps will only be considered once the core web service works well on mobile devices, and if specifically agreed with the Cabinet Office.
Since November 2012, central government departments and agencies have to get approval from Cabinet Office before starting work on apps. For government services, we believe the benefits of developing and maintaining apps will very rarely justify their costs, especially if the underlying service design is sub-optimal. Departments should focus on improving the quality of the core web service.
A couple of weeks ago, I gave a presentation to the Digital Leaders Network, sharing the rationale behind this 'by default, no apps' approach, and offering guidance on when Cabinet Office may allow exemptions for apps to be developed.
View the presentation on Slideshare
When it comes to mobile, we're backing open web standards (HTML5). We're confident that for government services, the mobile web is a winner, both from a user and a cost perspective. Apps may be transforming gaming and social media, but for utility public services, the 'making your website adapt really effectively to a range of devices' approach is currently the better strategy. It allows you to iterate your services much more quickly, minimises any market impact and is far cheaper to support. The points we'll be making to anyone in central government wanting permission to start work on a mobile apps are:
- government's position is that native and hybrid apps are rarely justified - make sure your service meets the Digital by Default Service Standard and it will work well on mobile devices (responsive HTML5) - make your data and/or API available for re-use and you will stimulate the market if there is demand for native apps
The 5 questions civil servants should ask before contemplating asking for an exemption are:
1. Is our web service already designed to be responsive to different screen sizes? If not, why not? 2. What is the user need that only a native/hybrid app can meet? 3. Are there existing native/hybrid apps which already meet this user need? 4.. Is our service available to 3rd parties via an API or open data? If not, why not? 5. Does meeting this need justify the lifetime cost of a native or hybrid app?
We are not 'banning' apps outright.  For example, the NHS-funded 'Change 4 Life' healthy lifestyle apps rely on a persistent 24/7 presence on users' mobiles to try to persuade people to eat and drink more healthily. But we are backing open standards, in this case the Web. So expect more blog posts from us about responsive design, progressive enhancement and their ilk, and an imminent treatise from some of my wiser colleagues on my sloppy use of the word 'mobile'....