One of the GDS design principles is 'design with data'. Front end developers need to know what the current browser landscape looks like and in which browsers they should be regularly testing new features.
To help us do that, I created a tool, which extracts statistics from analytics and displays them as a nice line graph or as a data table.
When I used the tool I expected to see a collection of straight lines. What I actually saw had me scratching my head and wanting to delve further into the data. I thought I'd share some of the more interesting trends.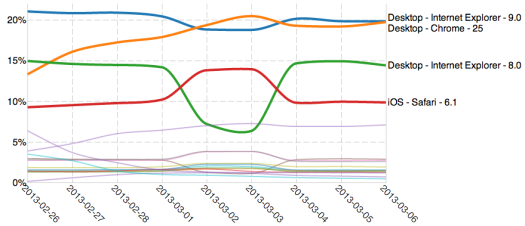 What you can see here is a graph of 1 week's worth of traffic to the whole of GOV.UK. I've highlighted the interesting results. This could be any week of traffic - I've compared several and they all follow the same trend. Traffic from Internet Explorer browsers all dip at the weekend and traffic from all other browsers, most notably Chrome and iOS Safari, increase. So for 2 days a week, every week, Google Chrome is the most used browser on GOV.UK. We think this is due to people accessing the site during the week from work or publicly available machines, for example in libraries. We will continue to look into this.
The other interesting trends looks like this: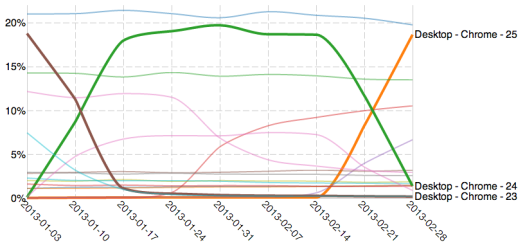 What you can see here is the effect of the 'auto-updater' built into Chrome. This lets Google update all of its users to the latest version of the browser without users knowing. On or around 23 February 2013 Google hit the button to auto-update all of their users to the latest version ie Chrome 25. Within a week you can see most of the visits to GOV.UK from Chrome were from the new version, now that's a pretty impressive uptake. If you look lower in the graph you can just about see a  similar trend with the Firefox updater.
These are just a couple of interesting things you can see from our stats. You can access this tool via your own Google Analytics account to see what the browser landscape looks like for your users. Feel free to use this browser matrix tool on your stats and share with us any interesting trends you find.