A year ago today we launched the beta of Inside Government on GOV.UK - a working, public demo of a product which to many people had previously seemed unimaginable.
The site was a live test of what multiple departments sharing a single platform could look like, with 10 departments actively re-publishing all their content to the beta site over a 6-week period.
It was the predecessor of today's Inside Government section which, with DCMS, HMRC and the Office of the Advocate General for Scotland having joined this week, is now the main corporate web presence for 14 departments.
Here's a reminder of how it looked this time last year, alongside the equivalent pages today.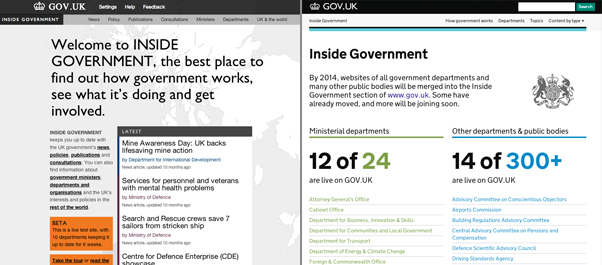 Left: beta Inside Government homepage; right: current Inside Government homepage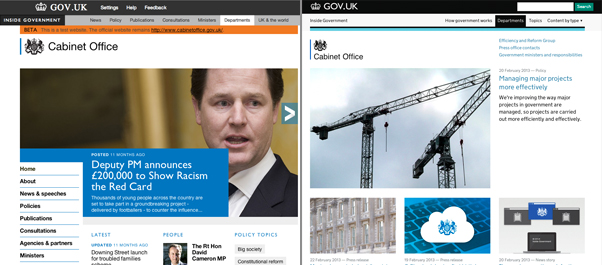 Left: beta Cabinet Office page; right: current Cabinet Office page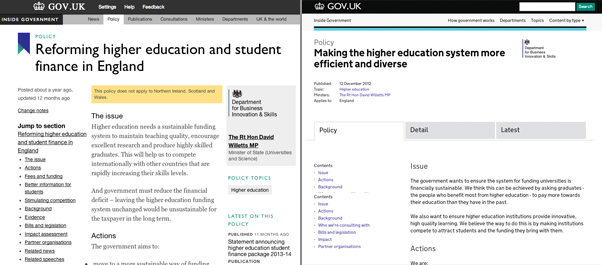 Left: beta higher education policy; right: current higher education policy
What we learned
Looking back, it's fair to say we and the participating departments learnt a lot from the beta.
We learnt that users got the 'single domain' proposition and wanted the product, but that featured content on the lists of topics, consultations and publications got in the way of users finding what they needed.
We learnt that writing consistent, clear policies met users' information needs more directly than the content on departments' sites, but that users also wanted more detail - feedback which you can clearly see incorporated in the policies on the site today.
We also learnt about the benefits of agile software development - starting small, getting user feedback early and iterating fast based on evidence of real need. To give a small example of a possible many: before the beta several of us thought a WYSIWYG text editing interface would be essential for departments to format their content. But by building working software and unleashing it early we discovered that editors quickly came to like the simplicity of markdown and, a year on, more than a hundred people around Whitehall are happily using it. Developing something more complex would have been a waste of time.
How far we've come
From being unimaginable to many people a year ago, Inside Government is now a reality and becoming better known among its users.
At our most recent round of usability testing, for example, many participants came to the sessions already aware of the project. Several of them said amazing things about how it was making their working lives easier as well as teaching them things they never knew about government (some even said they'd like to spend spare time just clicking around). In the round before that, the research company told us it was the most positive response to user testing they had ever experienced.
What we are building is not only world class, but a world first. The governments of New Zealand, Croatia, Sweden and Norway have told us they intend to reuse aspects of what we have built, from the design down to the entire codebase.
Listening to users and putting their needs first has led us to take the product in some surprising directions. For example, profiles of government organisations on today's Inside Government have been stripped back to just a single aggregation page with a handful of corporate information pages beneath them. You can trace this change back to the beta, in which we found that having a second layer of navigation to view each organisation's documents confused users and made them feel 'lost' in the site. Compared with the separate sites that departments have had for many years, this is a radical innovation.
We're also seeing departments make the mental shift from thinking about 'their content' to thinking about 'government content'. People across Whitehall who previously had never spoken are now working together to present a unified explanation of what the government is thinking and doing.  During the beta, there were times when it felt like this was an impossible dream. And yet, here we are.
A year from now
Reflecting on how far we've come, it's exciting to think about where another year might take us.
Developments you can expect in the coming months include a new section about UK government activity around the world, a section on the history of government, and a showcase of ways to participate in government and society. We also have plans to amalgamate government blogs (including this one) and provide easy ways to find them all from Inside Government.
As the public-facing product matures, we'll also be able to turn more of our attention to improving the publishing tool to make it even more efficient for the many writers and editors around government, monitoring content quality (on a massive scale!) and providing APIs for all the rich data we are accumulating in the site.
Beyond that, who knows. But the opportunities are many and far-reaching in terms of opening up access to government, increasing trust, enabling participation in open policymaking and joining up the journey of a policy from an idea, through Parliament, into law and back round again.
We'd love to hear your ideas of where to take the product in future. Let us know via the comments and usual channels.
Meanwhile we'll keep on iterating, testing and holding firm to the design principles so that the site continues to meet users' needs as it grows. You can follow our progress both here and on the Inside Inside Gov Tumblr.