Last week our new digital service GOV.UK moved out of public beta and replaced the two main government websites, Directgov and Business Link.
As my colleague Mike Bracken explained at the time, GOV.UK is focussed on the needs of users, making it simpler, clearer and faster to find government services and information.
Today we are releasing the beta version of our performance platform which is how we will use data to measure whether GOV.UK really is simpler, clearer and faster for users.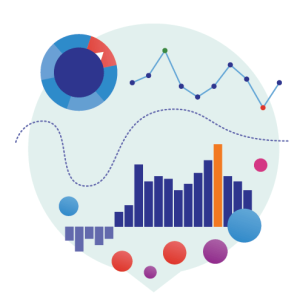 Knowing that there were 1.1 million visits to GOV.UK on 17th October, each one lasting on average 2 mins 46 seconds, is interesting in itself, but that isn't enough to tell us whether this is a good level of performance.
More importantly, if there are areas where we can improve, what should our product team do to make it better?
The GOV.UK performance dashboard
Building on the prototyping work we did in the summer we are starting with one dashboard containing five modules of information.
Each module has a clear purpose; a decision or an action that we can take depending on what is shown.
Our weekly visits and weekly unique visitors modules are simple but important. They allow us to see very clearly if those people who used Directgov and Business Link are now using GOV.UK.
If the weekly GOV.UK visits and unique visitors end up being too low then we need to understand where people are getting lost and improve our redirects and search engine optimisation.
Right now our focus is on the transition to GOV.UK and listening to feedback, but very soon we will begin to use that qualitative and quantitative data to look in detail at how to keep improving GOV.UK, how to make it even simpler, clearer and faster.
Defining success
The 'Format usage last week' module is one of the ways our product teams will be able to do this.
'Formats' are how we refer to the templates that each page of GOV.UK uses and we have four main formats in use on the site right now.
Our product managers and analytics team have worked together to define success criteria for each format by looking at existing data and feedback from user research to estimate what behaviour contributes towards a successful visit.
Sometimes it's as simple as the time it takes to read a few sentences of text while on other formats we need to check additional criteria such as which navigational links are being used.
The initial criteria are shown below but a lot more work is required to validate these and we will also be looking at other forms of success data such as the level of trust or satisfaction that a user feels about their visit.
Guide format
e.g. Get a passport for your child
Success = user spends at least 7 seconds on the page, or clicks on one of the left hand section headings, or a link within the body of the page.
Benefit format
e.g. Jobseeker's allowance
Success = user spends at least 7 seconds on the page, or clicks on one of the left hand section headings, or a link within the body of the page.
Quick answer format
e.g. UK bank holidays
Success = user spends at least 5 seconds on the page.
Smart answer format
e.g. Maternity pay entitlement
Success = user clicks on 'Start now', answers all of the questions and then arrives at the final result page.
Each time a user visits a page on GOV.UK we record this as an 'entry'. If the success criteria for that format are met then we also record a 'success'.
By adding up the 'entry' and 'success' counts within each format we calculate the percentage of visits that were deemed successful and plot these points on our axis.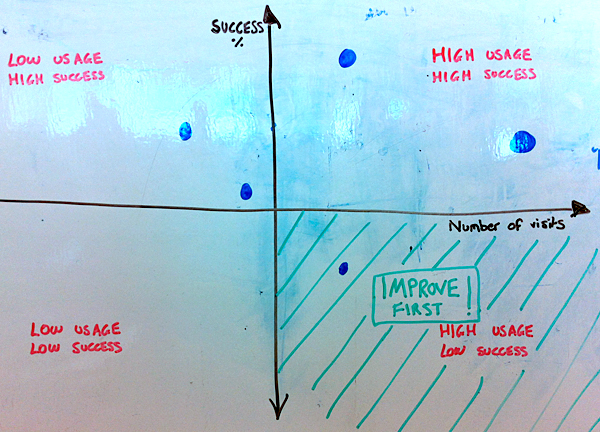 We then use this to prioritise which format we should be examining in more detail to understand how it can be improved.
How smart is a smart answer?
Our first set of weekly data shows that around 80% of visits to Guides, Benefits and Quick Answers results in a successful visit.  Smart Answers appear less successful, with only 50% of visits resulting in a completed journey.
So, what does this mean and what are we doing about it?
The criteria to judge a successful visit could be wrong, and Smart Answers in particular may have more demanding success criteria than for other formats.  A 'conversion rate' of 50% is lower than for other GOV.UK formats, but conversation rates of 50% for many private sector transactions would be seen as highly successful.
From the four rounds of user testing we did before launch, we are confident that Smart Answers are a more effective format for helping users to find the answer to complex queries.  Directgov previously relied on a large quantity of text, often across multiple pages, which users struggled to navigate successfully.
But we will be looking at the data for each individual Smart Answer page to see if there are specific improvements that can be made to the layout, navigation or content.
The success rates for all the formats will inevitably go up and down in the coming weeks. The most important feature for us is that we have a specific and transparent measure of success, which gives us a way of assessing the improvements we will make to the site.
Whatever happens, we'll be blogging about it in a couple of weeks to let you know what we find out.
What next?
We are releasing the performance platform as a public beta because we want to share with everyone our approach to measuring performance.
Our criteria for determining success will need to be refined as we learn more about how GOV.UK is being used and we will then be able to use this method to measure how sections of content are performing on the site.
We already have another thirty modules on our to-do list and it's not all about web analytics for GOV.UK - we will look at other data sources and create dashboards for other products and services that benefit from this approach.
However, the purpose of our performance platform is clear - our teams need to make decisions and improve products by using data that tells them which things to examine first and how.