We've already written about how we've worked to identify user needs for GOV.UK, so now I'd like to explain a bit more about what happens next - how does a need become published content or a tool on the site?
Broadly speaking a need goes through the following stages before anything is published:
1. Initial need analysis
2. Research and content planning
3. Content creation
4. Editorial review
5. Fact check
6. Publication
This produces the first published iteration of the content, which may then be added to or amended over time based on data and feedback.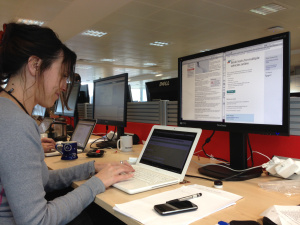 Step by step
The research and content planning is done by a content designer in the GDS team. For the initial set of needs the main source of information has been Directgov or Business Link.
Once it's been decided that GOV.UK is the right place for the need to be met the content designer looks for the key steps or facts that a citizen or business needs to know to complete their task successfully. For launch this has been based on the information presented on the two existing sites, but has also been informed by search logs and usage data. Based on these inputs the content designer produces a content plan - for example deciding which of our content formats would work best to meet the need, and how many distinct pieces of content or tools are needed. For complex areas, e.g. tax, they'd work with experts in the relevant government department or agency to refine the plan.
Content is created in the Publisher tool and then sent through to a more experienced content designer for a "second eyes" review - this is where the content is checked against our style guide, and any editorial concerns can be fed back and addressed.
Once the senior content designers are happy with the content it's sent out to the relevant government department for fact check. Each department has a dedicated fact check coordinator in their digital team who passes the content on to their policy experts for review. This process is managed by the Publisher tool, which sends an email containing a link to the latest version of the content. When policy experts reply to this email with suggested factual amends their feedback is logged by the system, and automatically assigned to the relevant content designer for their attention. In some cases, if extensive amends are needed, the team may send the content out to policy experts again, for a further review.
Once any necessary amends have been made the content goes through a final editorial review (the 'second eyes') before publication.
And that's not the end of the story
Everything about GOV.UK is iterative, and this applies to the content and tools we've published as well as to the underlying code. Our main focus in the days since launch has been to systematically work through the feedback we're getting, from both users and government departments. They've been usefully flagging typos and broken links, as well as occasional factual inaccuracies that have got through the formal fact check process. Where this is the case we're addressing these as a top priority.
Once we're confident that all of our existing content is complete and accurate we can move on to optimise it further based on usage data and more general feedback from users.