Local government is facing many challenges in providing digital services to citizens and a significant barrier to that is identity assurance.
In order to understand these challenges, GDS commissioned a small sample review. You can read the full report here.
Objectives of the Review
The aim of the review was to provide an overview of the ways in which citizens register and identify themselves to their local authorities online.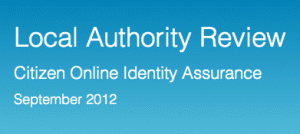 Findings
Our findings indicate a varied landscape within local government. A number of local authorities (LAs) are looking at the market place for solutions but are keen to share knowledge and collaborate with the GDS Identity Assurance Programme (IDAP). They are also keen that their plans are scalable and align with the national approach.  This will ensure that LAs don't have to re-engineer solutions in the future.
Benefits and Barriers
The review identifies several benefits for citizens including greater user satisfaction, security and convenience.  Local authorities would benefit from improved efficiency and reduced costs. Barriers include organisational silos, costs, data matching, citizen trust, accessibility and usability.
Next steps
IDAP would like to hear from any LA taking a similar approach to identity assurance, which gives people a choice of how to login to services.  It would also like to hear from any LAs interested in speaking at the Open Identity Exchange (OIX) about their supplier requirements.