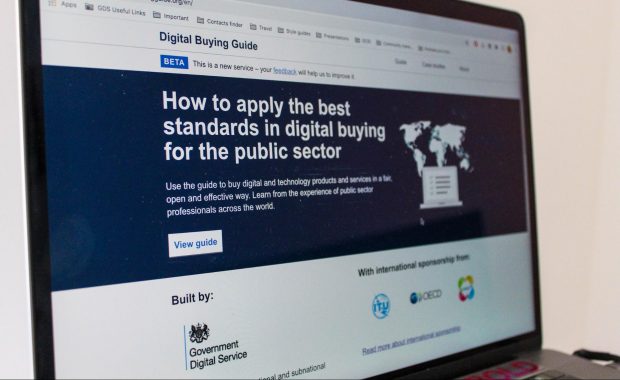 Improving procurement globally has benefits for citizens, civil servants and governments around the world. It helps tackle corruption and improves services for users. With the global cost of corruption being more than an estimated US$2.6 trillion every year, and with businesses and individuals paying more than US$1 trillion in bribes every year, it also has potential to save vast sums of money.
The Government Digital Service (GDS) is a leader in technology procurement processes. We've partnered with national, state and local governments across 5 emerging economies through our Global Digital Marketplace Programme, to make procurement more open and effective. This work is possible through our successes including the Digital Marketplace, standards-based assurance of spend and service delivery, and the Crown Commercial Service buying digital community, which are collectively helping to transform the way the public sector buys digital and technology.
As coronavirus (COVID-19) pushes more governments everywhere towards digital, data and technology solutions and opportunities, it's imperative that we continue and scale our efforts to improve public procurement.
This is why we have been working to create the Digital Buying Guide, supported by the Foreign, Commonwealth & Development Office (FCDO). It launched in public beta last week at the annual Organisation for Economic Cooperation and Development (OECD) E-Leaders (virtual) meeting.
What the Digital Buying Guide is
The Digital Buying Guide's aim is to present modern approaches to public procurement that are fair, open, transparent, effective, multidisciplinary, and focused on meeting users' needs.
This means buying digitally, with social purpose. By working to make procurement open, we're helping to make governments better. This work is sponsored by the OECD, the United Nations' International Telecommunication Union (ITU) and its United for Smart Sustainable Cities (U4SSC) initiative.
The Digital Buying Guide is for anyone who buys for the public sector in their country - whether that's for local, regional or national government organisations. We've started by focusing on digital and technology products and services, and information is intended to be internationally relevant and not specific to any particular regulatory environment.
The guide aligns with the UN's Sustainable Development Goals (SDGs), and standards and guidelines on corruption prevention and gender equality in public procurement.
The approach we've taken
The Digital Buying Guide contains practical steps to take, with a growing collection of illustrative case studies from governments around the world, because understanding and researching in context is important. It's initially available in English, Spanish and Bahasa Indonesia versions, which were prioritised because of GDS's work in Latin America, South Africa and Southeast Asia.
The Digital Buying Guide beta has evolved from the 'ICT Commissioning Playbook' alpha that the Global Digital Marketplace Programme delivered towards the end of 2018, with help from partners and supported by the OECD.
At the beginning of 2020, we began to iterate the alpha. The multidisciplinary team drew inspiration from both the GOV.UK Design System and NHS Digital Design System, as well as other design styles used by multilateral and non-government organisations that work on international development.
We've been speaking to lots of users and stakeholders, in national and local governments around the world. This has been mostly face-to-face, but when the COVID-19 situation began to escalate internationally, we switched to full remote delivery. We quickly adapted to using a range of online tools and virtual techniques to support remote research, analysis, user testing and live language interpretation.
The private beta design went through a number of iterations based on feedback gathered throughout the testing with users and stakeholders.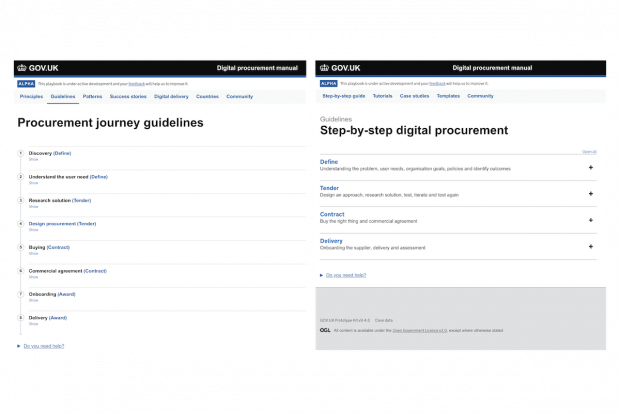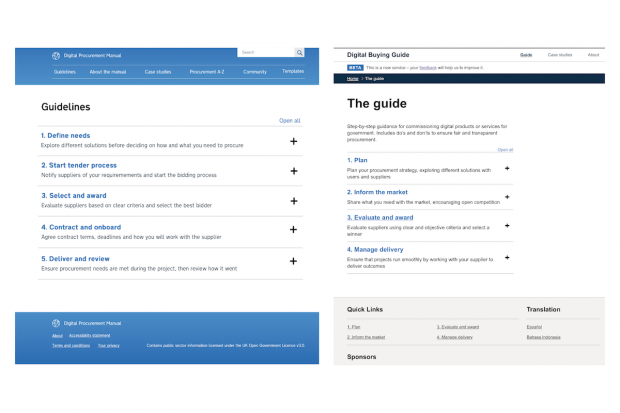 In parallel we also worked with our partners Development Gateway and Oxford Insights, whose research, analysis and recommendations has informed the Digital Buying Guide content and case studies:
In July, the Digital Buying Guide was externally audited for accessibility, and it's fully compliant to 'AA' standard with the Web Content Accessibility Guidelines (WCAG) version 2.1.
What happens next
We're currently testing the emergency procurement content and developing additional case studies, which will be added to the Digital Buying Guide soon.
Our work with Development Gateway and Oxford Insights included creating indicator frameworks for emergency procurement, and gender equality and social inclusion in public procurement. These indicators can be used to assess maturity and define incremental actions to take for improvement.
Additional user needs have emerged during research and testing. To meet these needs, we've a prioritised roadmap to develop new features, including:
community elements - for officials around the world to connect, share experiences and better practices, and learn from each other

resources - such as templates for simplified ICT contracts, standards for assuring ICT investment plans and service delivery

more indicators - for assessing maturity and actions for incremental improvement on a number of digital buying themes
As I said at the beginning, now more than ever, public sectors globally are looking at the opportunities provided by digital, data and technology.
Buying digitally with social purpose is critical to support this, as it helps:
address people's raised expectations for simpler, clearer and digital public services

build trust between governments and their communities

increase transparency and access to information

reduce inequalities in society and stimulate local economies by increasing participation of under-represented groups, such as women-owned small and medium-sized enterprises (SMEs)

contribute to successfully achieving the UN's SDGs
We would like to hear from more public sector users and stakeholders around the world who support these principles. If you would like to share your perspectives, please complete our short survey.