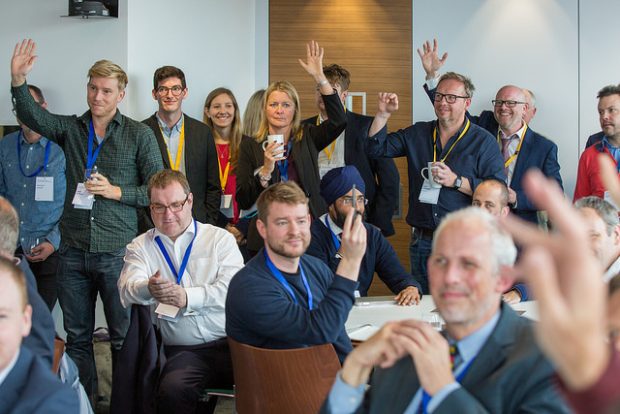 On 11 September, GDS and Crown Commercial Service (CCS) hosted the 'Open Procurement for a Digital Government' event.
Hosted at Digital Catapult, the event brought together digital, data and technology specialists from across the public sector and industry.
We talked about how procurement and contracting could be made more effective for a digital government.
I wanted this event, and the work that it's supporting, to follow the lead and principles of the OneTeamGov movement to:
work in the open and positively
take practical action
experiment and iterate
be diverse and inclusive
care deeply about citizens
work across borders
embrace technology
So long, silos.
John Manzoni, Chief Executive of the Civil Service, gave the introductory talk. He stated the need for government to transform and innovate.
Transformation is at the heart of the changes we want to enact. We must break down silos and work more collaboratively, with a more focused approach to sharing data.
The discussion continued in a Q&A session.
The audience asked how government procurement data could be opened up. They also asked how to improve opportunities for micro, small and medium-sized enterprises (SMEs) to sell to government. Many of these questions formed the themes for the day's sessions and provided further scope for discussion.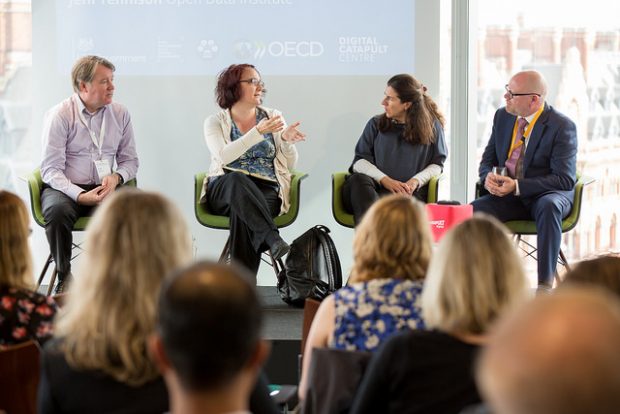 Going global
Caroline Nokes, Minister for Government Resilience and Efficiency, gave the keynote. She highlighted the continued need to provide "easy and accessible routes" to selling to the public sector for SMEs.
She also spoke of the importance for government to attract the "right suppliers": ones who work in the right ways, providing the right products, services and skills to deliver successful public sector programmes and projects together.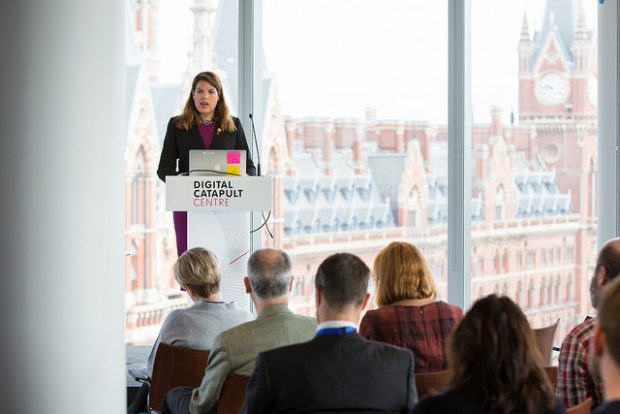 We also celebrated the potential global expansion of the Digital Marketplace as funding was secured from the Foreign and Commonwealth Office as part of their work on anti-corruption.
This development should support emerging economies to deliver better public services and reform their digital and technology procurement. It will also create more business opportunities where UK suppliers can export their expertise. I'll talk more about this in future blog posts.
An unconference
The rest of the day took the form of an unconference. We had 16, 45-minute breakout sessions to tackle issues, questions and topics including capability building, tackling corruption and fraud, supplier engagement and innovation.
The unconference proved engaging and useful:
"The event showcased the need to develop better 'digital' ways to interact with suppliers, before, during and after the procurement process. As a result of this day I'd like to see a published set of recommended practices for digital engagement in the procurement process."

Paul Drake, Head of Procurement, Hertfordshire County Council
"Hearing about HS2's approach to procurement at the event definitely gave some food for thought. I had some good conversations with people I don't see too often - and the whole day reminded me of GovCamp! The event confirmed that there remains much enthusiasm for the topic and that everyone seems willing to try new things. I hope that there are more events like this, more regularly, and more tightly scoped to figuring out the answers to specific problems - otherwise we're at risk of discussing the same stuff over and over."

Harry Metcalfe, Founder and Managing Director, dxw
"The event was my first experience of an unconference- and I thought the format was great. With all attendees being able to contribute to the agenda, as a policy maker it was a fantastic window into the experiences of a wide range of suppliers, large and small (whom I don't come into contact with much at Treasury).

And as well as breaking down 'the problem', there were lots of new ideas and put forward at the event about how to make sure the interface between Government and digital businesses is as dynamic as it needs to be. Overall, really informative and interesting."

India Barker, Policy Adviser, Public Spending Group, HM Treasury
International trade
The day ended with a session run by Dylan Thomas, Director of Technology and Smart Cities at the Department for International Trade.
He talked about the huge overseas opportunities for the digital, data and technology suppliers who are successfully delivering to the UK government through the Digital Marketplace.
Dylan's working to promote these companies, to help them win business in overseas priority markets such as Singapore, Australia and South Korea.
Wider discussions and practical actions
Every year, the Organisation for Economic Co-operation and Development's (OECD) Working Party of Digital Government Officials (known as 'E-Leaders') gather to discuss opportunities, priorities and strategies on how to improve and boost digital government in member and partner countries.
Last week, Chris Ferguson (GDS Director for the National, International and Research Group), Chad Bond (GDS Deputy Director, Standards Assurance) and I attended the OECD E-Leaders 2017, which focused on the digital transformation of the public sector.
The 'E-Leaders' thematic group I lead is drafting a playbook for procurement reform. It will help public sector organisations to approach digital, data and technology procurement as commissioners. It will be open source to allow updates.
Chad and I presented the high-level findings from our group's discussions so far with our counterparts in Australia, New Zealand, Canada and Chile. This was very well received and followed by lively questions, answers and recommendations.
What's next?
We are now looking over our findings from the events in the UK, New Zealand and Canada to further develop the procurement reform playbook.
I want to make sure that we do this openly in ways which benefit buyers and suppliers. I'll be creating a working group with representatives from across the governments and industries of the contributing nations, to critique and inform our decisions as we work towards a first draft. We'll aim to publish public consultations in our respective nations in the coming quarter.
If you would like to be involved in the working group, get in touch by filling in this form or comment below.