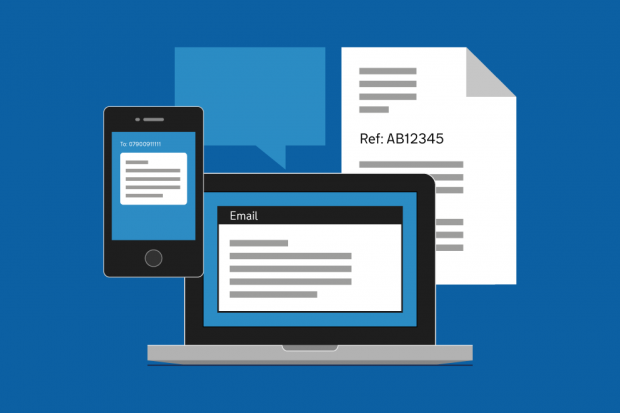 In the past 4 years, the public sector has sent 1.5 billion emails, text messages and letters using GOV.UK Notify. We built Notify to make sending messages easier. Now we want to improve the messages we send.
Better content design means a better user experience. A well-written message makes things easier for the recipient, but it can also save the sender time and money.
We're running a short discovery to help us work out how Notify can support better content design.
Over the next few weeks we want to learn:
how teams write content that meets the needs of their users

what challenges they face

how they measure the impact of the messages they send

what support they need
If you work for a team that sends emails, text messages or letters and you'd like to take part, let us know. Perhaps you've already found ways to improve the messages you send, or maybe you need advice and support. Either way, you don't need to be a Notify user to volunteer.
How we'll measure 'better'
What is 'better' and how do you measure it? Well, we're not sure yet - that's one of the things we want to learn.
Our hypothesis is that better means shorter, easier to understand and more engaging. When it comes to sending messages, these are all things that can save departments time and money.
A shorter text message takes less time to read and costs less to send. An email that's easy to understand means fewer people will phone your call centre for help. An engaging letter is less likely to be ignored, so you don't need to send a second reminder.
We've already heard from one team who used to get a phone call for every letter they sent, asking what it meant. This is a good example of how bad content design frustrates users and costs more in the long run.
Using data to plan our research
To help us work out what research questions to ask, we did some data analysis.
First we looked at how different parts of the public sector use Notify. We compared the average:
number of emails, text messages, and letters sent

length of text messages and letters

number of replies to text messages
We've already seen some trends that we need help from our users to fully understand. For example, a third of teams that let recipients send them text messages never get any replies.
Until we know if the senders actually expect a reply, we can't say for certain whether this is a good or bad thing.
There are other limits to what we can find out from the data. We know if an email was marked as spam by the recipient, but we don't track email open rates and click-throughs. Tracking users without their permission could breach General Data Protection Regulations (GDPR).
How we're going to help our users
We want to know if our team has a part to play in improving the content of messages sent using Notify. If we can identify a common need, we'll run an alpha to test some of the ideas that come out of the discovery.
Maybe we'll write some new Service Manual guidance. Maybe we'll design some reusable content patterns for Notify message templates. We could even pilot a Notify content support service or set up a community for Notify users to help one another.
There are a lot of possible outcomes for this work. But before we start thinking about how to help our users, we need to understand their needs – and that's where you come in.
If you want to take part in the discovery or try the solutions we design for the alpha, let us know or leave a comment below. You don't need to be a Notify user already.