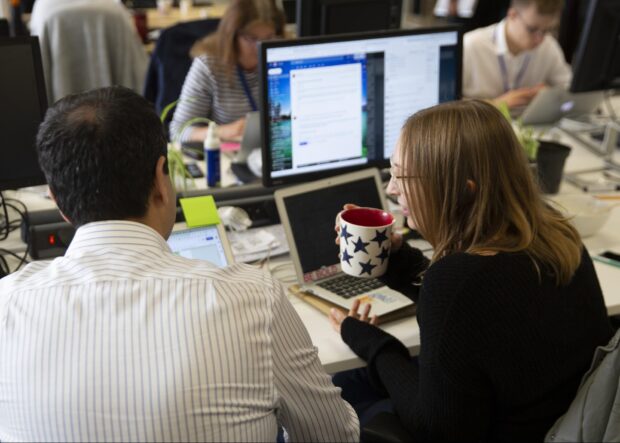 I recently returned to GDS after a year leading the Data Policy and Governance team at the Department for Digital, Culture, Media and Sport (DCMS). DCMS manages the policy around open data, data ethics and data sharing and – while I was there – brought in the Codes of Practice to make the data sharing powers in the Digital Economy Act operational.  
I was excited to get stuck into a role that's so challenging and full of opportunity. I've been back at GDS for 3 months now and I've certainly been kept busy. 
In June, we launched the Government Technology Innovation Strategy and published a guide to using Artificial Intelligence (AI) in the public sector with the Office for AI. 
The innovation team at GDS is working hard to bring the objectives we outlined in the strategy to life, and looking for new opportunities across government. So I'd like to share our next steps here. 
Building data science capability
Data underpins innovation, and it has been a significant area of interest for me over the past few years. 
Although I have policy running through me like a stick of rock, I first got the opportunity to look at data while working at the Cabinet Office in 2013, when the UK had the G8 presidency. 
One of the big issues at the time was transparency and open data. I led a small, agile team to develop what's become the International Open Data Charter, and helped organise the programme for the Open Government Partnership Summit. 
The GDS Innovation team and I are now working with colleagues at the Office for National Statistics Data Science Campus on a data science capability audit. It's an exercise to understand what capability there is: what organisations across government and the wider public sector are already doing with data, and to see how mature they are in this respect. 
From this, we'll be able to see how we can best support them in terms of training, development, recruitment, tools, and any other challenges that might arise. We hope to publish our findings before the end of this year. When data is properly understood and managed well, it can have a transformative effect on how government serves its citizens. 
More than data
Of course, data isn't everything we do. The focus for us over the next 6 to 12 months is doing what we set out in the Government Technology Innovation Strategy. This means looking at AI and continuing our work on GovTech Catalyst, as well as studying data science capability. 
The Innovation team is using the Government Technology Innovation Strategy and guide to using AI in the public sector to identify projects we can support more. 
Collaboration
Collaboration is central to our work. We're looking at the spectrum of innovation right across government. I spend probably half of my time going out to Whitehall to learn from others and talk about what we're doing in our team. It's important to understand what's happening across the public sector, and feed that information back to the team. 
We're building a strong relationship with the data team in DCMS and its AI team. For example, we're collaborating with the Office for AI to further develop the AI Guide, including a piece of work with the World Economic Forum to develop new guidelines for AI procurement. This way of working is replicated across the whole team. We know that we don't have all the answers or all the resources, so if we collaborate and take on a range of views, we are more efficient and produce better policies!  
Collaboration is important internally, too. I feel lucky that I've come back to such a lovely team – some that I've worked with before, and some that were brand new when I returned to GDS 3 months ago. Everyone is really interested in and motivated by their work. 
I'm excited to be directing such a wide variety of projects within the Innovation team, helping the public sector gain confidence in taking risks and trying out new things. 
To hear more about innovation at GDS, join as at Sprint 19 on Thursday, 19 September at the Southbank Centre. You can register your interest to attend Sprint 19 if you're a civil servant and also register your interest if you work outside the Civil Service.

If you have any views or feedback you would like to contribute to the next stage of the Innovation team's work, email the Technology Innovation Strategy Team.