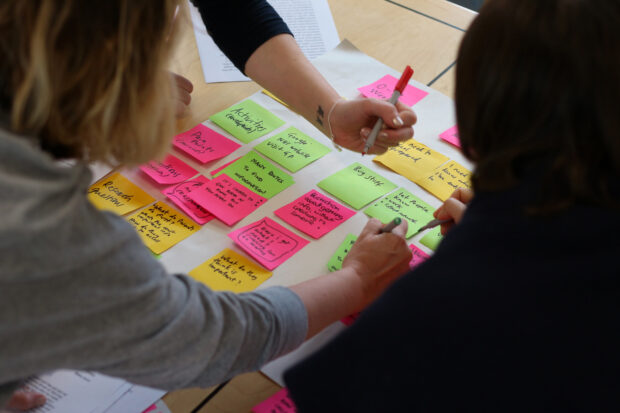 Service communities are networks of people from across the public sector who work together to design and deliver an end-to-end service, like start a business or get health benefits. Communities meet regularly to collaborate and share things like policy and legal issues, user research, the types of data they hold that relates to the service and the technology they use.
Anyone who works on a service can be a part of a community, whether they work in policy, delivery, operations or other areas. Anyone should also be able to set up their own community. There is guidance to help you do this in the Service Manual.
Here are the benefits that setting up a service community can bring.
Connect with others who work on your service
Setting up a community will enable you to get a full overview of who does what in the wider context of your service. This is helpful because it will let you understand where your work fits in and how it affects others.
It can also let you do things like reduce duplication, merge content on GOV.UK, or share research. Sharing research with other teams means you can learn from each other's successes and failures or ask for help when you need it. 
Make your service better for users
When users interact with government, they want to do things like learn to drive or get benefits, which most often involve more than one part of the public sector. Since the 'start a business' community started in 2017, service communities have been trying to make it easier for people to complete these tasks. They do this by bringing together people who work on them and adopting a user-centred approach to collaboration.
For example, community members have improved the navigation on GOV.UK by publishing step-by-step guides to their services, like Set up a limited company. They have also reduced duplication in government by reusing resources from one another. Read more about what service communities have accomplished.
Shape the direction of your service
Running a service community makes it easier for you to influence the direction of your service. Having an awareness of what everybody in government is doing on a given end-to-end service makes it easier to spot opportunities for improvement. 
Most often, communities build this awareness by creating something called a service landscape. It's a visual representation of what each bit of the public sector offers in a service and it's a great way to understand where to focus your efforts. Read more about how to make a service landscape.
Work towards meeting the updated Service Standard
Point 2 of the updated Service Standard says services should solve a whole problem for users, while point 3 says they should provide a joined-up experience across all channels. Both these points aim to ensure that users can do the thing they need to do without having to understand the structure of government or a department's internal processes.
Setting up a service community in your area can be a great way to start a conversation around this and increase your understanding of the whole problem you're trying to solve.
Get started
Service communities can help you do all of these things and more. 
There are currently communities looking at services like starting a business or getting health benefits. They include people from more than 15 organisations, making services easier to use for users and less costly to provide for government. 
If you'd like to set up your own community, visit the Service Manual to find out how.