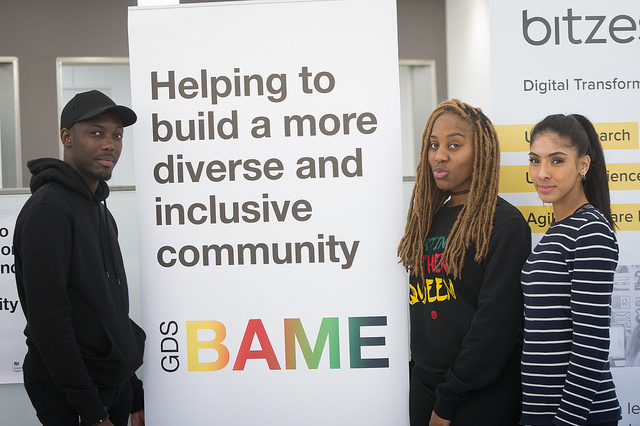 UKGovcamp is an annual unconference that's dedicated to digital in the public sector. The GDS Black, Asian and Minority Ethnic (BAME) network ran a stall and a session at this year's UKGovcamp on 21 January.
Gender balance is a recurring theme at UKGovcamp, and it provides opportunities for everyone to talk more about diversity. However, it was noted that there is still a lot of work to do in terms of addressing the cultural make-up of the attendees.
One of the UKGovcamp sponsors, Richard Barton from CIO Portfolio, offered the GDS BAME network the chance to attend and have a stall at UKGovCamp.
Committing to diversity
Attending UKGovcamp was a reflection of the network's commitment to diversity. We had no expectations of the day, but we wondered whether there would be an appetite for discussions around ethnic diversity.
Having a stall was a great opportunity for us. It increased the visibility of our group and allowed us to directly engage with a greater number of UKGovcamp attendees in the digital and technology community on the topic of diversity. We spoke to people who didn't know about the GDS BAME network, so it was a great opportunity to promote what we're doing and share our aspirations.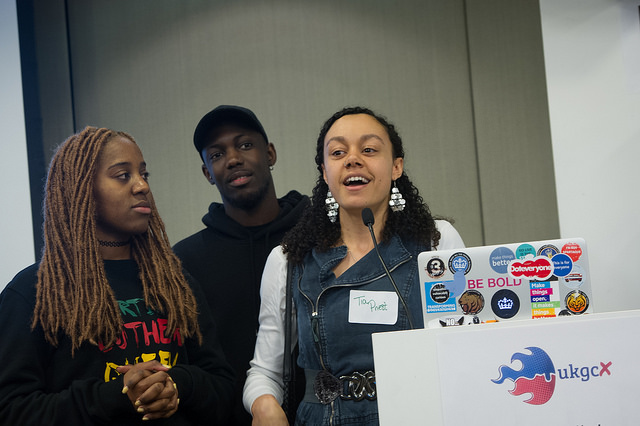 The atmosphere was welcoming, and those who wanted to pitch an idea or discussion point were encouraged to do so at the morning session of the unconference. There were a variety of great pitches, including a few that weren't related to digital and technology. Some pitches were about diversity and inclusion in organisations. From the GDS BAME network, Tia Priest, Daniel Sintim and Samantha Bryant pitched: 'How to attract and retain BAME talent in the tech and and digital industries.' The audience was energetic and accepting. Our pitch was successful. 
Running a session at UKGovcamp was the highlight of the day. Our session had a great turnout with lots of people from different departments and organisations feeding into our session. You can see what was said in the write-up of the session notes.
More discussion, more diversity
Overall, it was a thought-provoking experience, with lots of discussion and points to take away from the day. UKGovcamp is now looking into treating ethnic equality in the same way as gender. They've asked the GDS BAME network to help inform this discussion.
It is clear that simply being present at events like this can have a big impact. It can result in organisers and attendees addressing issues such as lack of diversity within the workplace. The GDS BAME network hopes to attend many more events with the support of GDS and its Diversity and Inclusion manager.
Special thanks to Richard Barton for giving us the opportunity to attend UKGovcamp and to have a stall, and also to Tia Priest for referring the BAME network to Richard.