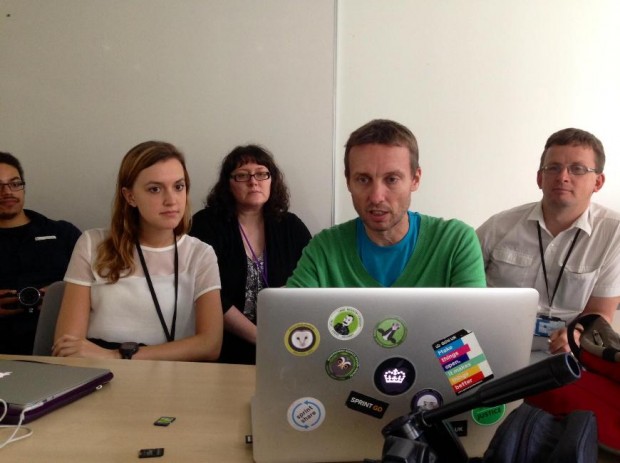 We recently held our first ever video production workshop with a small group of participants from the Office of the Public Guardian (OPG). The aim was to pass on what we've learned about making films in the last couple of years. We went through our list of basics (last spelled out in How we make films at GDS) and added a practical session too. Since it was our first attempt at a workshop like this, it was as much a learning opportunity for us as it was for the OPG team.
Do it yourself
The easiest way to make a short film is to pick up the phone and call in a professional production company. That gets great results, but is usually very expensive. You can easily spend £1,000 per minute of finished film.
When we started making our own films, we wanted to help spread the word about agile working around the rest of the civil service. We also wanted to explore agile filmmaking. We thought: what if we do it ourselves? What kind of production values could we achieve? How good could our own films be?
We soon learned a few things:
1. Stick to interviews. They're quick and easy to turn around. Talking to clever people about what they're working on is a really good way of passing on that knowledge.
2. When video works and when it doesn't. It works well for sharing experiences, or the feel of doing something. But if you need to go into detail, video isn't the answer. A film of someone talking, together with a detailed blog article or some guidance (like in the Service Manual), adds a human element that can really help demystify a new or complex subject.
Making good decisions
One of the points I made at the workshop was the importance of good decision making.
The first things I do when setting up the camera for an interview are:
decide where to put the camera
how to make best use of the available light
how to compose the shot
How do you learn to do these things? It gets easier with experience. But you can also improve by thinking ahead, trying to anticipate the challenges you may face. One of the things I've found myself getting better at is seeing the light; I've worked on this by doing things like looking at people's faces and studying the work of artists like Vermeer and Rembrandt to see where the light falls.
Don't neglect sound. Always use a good external microphone, and monitor it through headphones while you're recording.
It's all about the sensor
In the afternoon practical session, we got the attendees to conduct a short interview in front of three different cameras, so we could compare the footage from each.
The cameras were, from cheap to expensive:
a smartphone with an external microphone (iPhone 4 & Rode smartLav mic)
a semi-professional camcorder (Canon XA10)
a full frame DSLR with a professional quality lens (Canon 5d Mark iii & 70-200mm L lens)
(Note: we're not endorsing or recommending these particular products. They just happen to be the ones we use for our films. Many equally good alternatives are available.)
This exercise confirmed to us and the workshop participants that you get what you pay for. The external microphone for the smartphone is only £35, a fraction of the cost of a DSLR, but the quality of the final product takes a hit. The DSLR gives you that better quality, and will quickly pay for itself if you're not hiring a production company.
On the one hand, the workshop attendees were really impressed with the look of the footage we could get with a DSLR. On the other hand, everyone (myself included!) was surprised at how well the video from a smartphone held up against the semi-pro camcorder. As a result, I can see us using a smartphone more in some situations (always on a tripod though).
Learning from mistakes
For me, the main thing to take away from the workshop is that, yes, you can make films yourself - but you need to give yourself time to do it.
People often say that one of the good things about agile is that it's very tolerant of failure. If something doesn't work out, you improve it. The same is true for making films: the way to improve is to practice and make mistakes.
We're planning to do more workshops, and we want to improve them too. One piece of feedback from our workshop attendees was that the practical session should be longer and be more hands-on. We've taken that on board and we'll change things next time.
If you think you or your team would like to attend a future version of this workshop, please get in touch via my colleague Alexandra Kelly: alexandra.kelly@digital.cabinet-office.gov.uk
Follow Graham on Twitter, and don't forget to sign up for email alerts.
---