This week we released a performance dashboard for the service to get a lasting power of attorney - a complicated transaction which is pushing and pulling our dashboards into new areas.
Are you, like me, worried about your ongoing capacity to make decisions? Then you might want to create a lasting power of attorney - a legal document which lets you appoint someone to make decisions on your behalf should you fall ill or become incapacitated.
Having checked with my manager, it turns out that nominating an attorney to make all my work decisions for me 'would not be appropriate', but I am delighted to say that on Monday we launched a performance dashboard for the Lasting Power of Attorney (LPA) service run by the Office of the Public Guardian.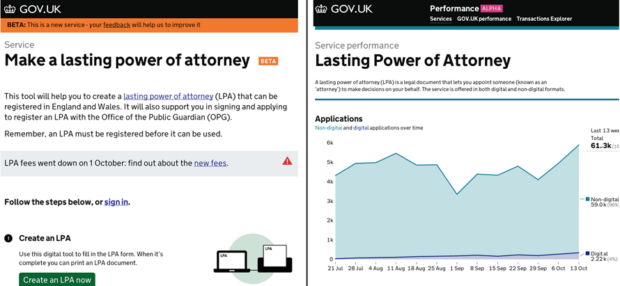 Left, the new online service to get a Lasting Power of Attorney (LPA), with right, the new dashboard showing how the service is performing both on- and off-line
The dashboard is designed to show the LPA team the information they need to improve the service. So, the dashboard shows amongst other things:
how the digital service is already beginning to be preferred by users despite no promotion at this stage
information on the different steps users go through
where users are clicking for extra help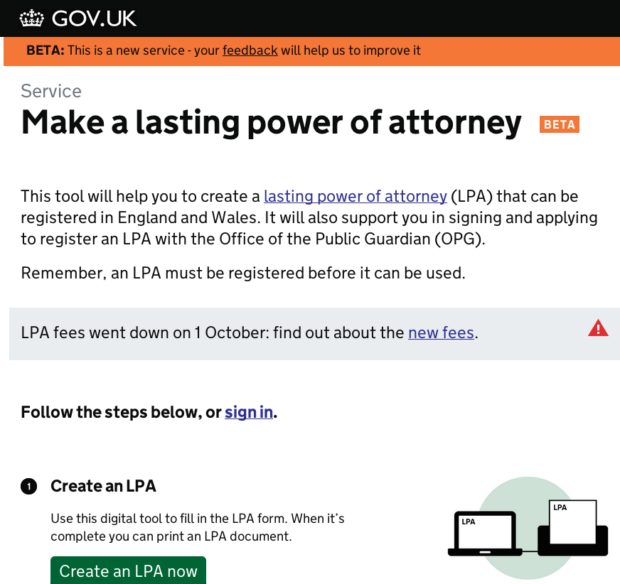 Fees and reductions, the first button you come across, is by far the most-clicked help button
As with all dashboards at gov.uk/performance, the dashboard is also fully open to the public.
As I mentioned in a previous blog post about conversion funnels, getting a lasting power of attorney is a relatively complex thing to do, and representing it has pushed the platform to its limits; sometimes slightly over them. In particular, the 'journey stages' module has struggled. This transaction has a lot of stages in it and is in two quite distinct phases: first you have to make your LPA, and secondly you have to register it, which includes gathering physical signatures and (alas!) actually paying £110. Furthermore, users may return to individual stages having gathered more information, meaning that visitor numbers do not look like a classic conversion funnel with the largest number of visitors at the start and the smallest number at the end.
After discussions with the LPA team and some serious wrestling with how best to represent this, we have for now concentrated the module on the Make an LPA phase only, removed the easiest stages, replaced percentages with numbers, and removed the comparative information from the previous week:
Draft 1 of the drop offs graph for the Lasting Power of Attorney above; versus go-live draft 234.1b below
This information is more readable than before, and certainly more useful than not having a module: showing the number of visitors to each section can help identify which are getting the most use, or are being returned to frequently. However, it can be improved further. It doesn't tell us is what the user was previously doing, nor if significant numbers of users dropped out of the transaction at one of these stages. This is a really interesting area which we are actively exploring, and we will write more on it soon.
The LPA dashboard brings us up to 10 dashboards on the Platform and I look forward to learning more about this service and how it compares with the others. I would also like to take this opportunity to thank the wonderful Performance Platform team who worked very hard on this, and the team at the Office of the Public Guardian who not only threw their considerable brainpower and energy at this dashboard but were also a pleasure to work with.
Follow Phil on Twitter: @philbuckley5