The Government Digital Strategy described a new role crucial for helping create digital services so good that people choose to use them - the service manager. We've started an induction and development programme for those people, prototyping and learning as we go in the finest tradition of GDS.
What service managers need from GDS
The high-level goal is pretty clear; we are trying to transform services. This means designing, improving and running services that can meet the demanding Digital by Default Service Standard, which requires experienced and skilled people.
We undertook a discovery phase to help define user needs during the Spring, which helped us to develop and outline ideas for what the programme should include. It was clear then that the focus needed to be on equipping service managers with information and guidance for meeting the Service Standard, as a well as practical tips on how to get things done in government.
We pulled these together into a series of workshop sessions and ran an alpha of the programme with five people, before iterating on that and progressing it to a beta with a further group of six service managers. Here is what some of them had to say about the programme;
A few even mentioned it on blogs, including this one by Rohan Gye from the DVLA.
What the programme covers
We took feedback from those prototypes and have now launched the live programme, which currently covers 8 days of targeted sessions run over 4 weeks. These are structured around three main themes and a number of topics: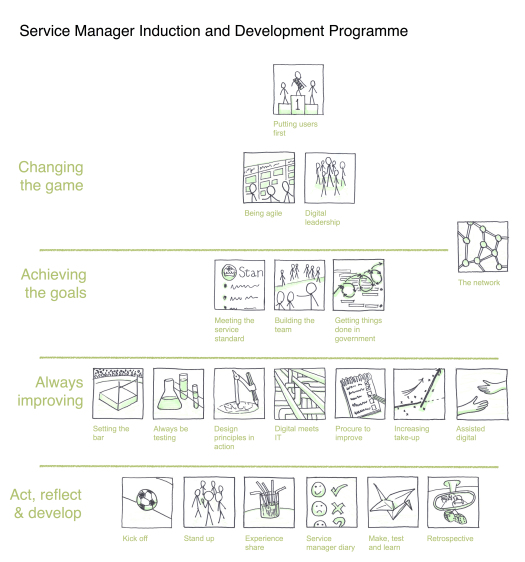 Each of the sessions are run by leading specialists; many are from GDS but others are experienced leaders in and outside government to help service managers with the challenges they face.
And it isn't just about self-development; over time this community will help further shape and develop the Service Design Manual, providing practical guidance and advice for future service transformations.
How we're developing the programme
We will continue to iterate the programme based on the feedback we get from participants. At the moment for example, it's clear that the time commitment is significant. We think that, given its potential for improving government service delivery, the investment is well worth it, but it's something we are actively looking for feedback on.
We'll extend the programme so all newly appointed service managers can attend and become a part of the developing service manager community, and we'll also be looking to see if we can adapt some of the sessions to use them more widely to cover other people's digital training and development needs.
Follow Paul on Twitter: @pjwslade