Last week, Go ON UK kicked off their digital inclusion programme in the north east, part of a series of regional efforts to get people online. So it seemed like the ideal time to give you an update on the work of the digital inclusion team as we get set up at GDS.
The challenge we're facing
Go ON UK's event brought together organisations from all corners of society to Gateshead, to launch their north east digital inclusion programme. We heard from Martha Lane Fox, local government leaders, business and charities about the major digital inclusion challenge we face and the great work that's already under-way to help people, small businesses and charities get online.
Go ON UK estimates there are over half a million adults in the north east lacking basic digital skills, and Martha issued a challenge to reduce this number by at least 25% in 12 months. Local authorities, charities and businesses have signed up to this challenge and the work now begins. This programme builds on a successful pilot in Liverpool and is the first in a regional series being rolled out by Go ON UK to improve digital skills across the UK.
With 18% of adults in the UK still offline, a significant proportion of the population are not reaping the many benefits of being digital - socialising, saving money, having the skills to get and find a job, selling products online, and the list goes on. This is both a social and an economic challenge and it's in all our interests to do something about it.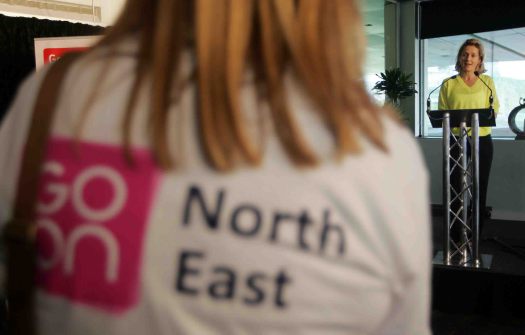 Where government comes in
So what's central government's role in all this? There's already important work going on, including the Department for Culture, Media and Sport's roll-out of superfast broadband to 95% of the UK by 2017, the work the Department of Business, Innovation and Skills are doing to support small businesses and the upcoming campaign from the Home Office on staying safe online to name a few.
In June we also announced in the government's information economy strategy, that we will be creating a new cross-government digital inclusion team based here at GDS. We are setting up the team as we speak and will be working with partners both within and outside of government to improve digital inclusion for individuals, businesses and charities.
What the digital inclusion team will be doing
We will focus our efforts on three main things:
review the evidence that's out there and carry out some new research, to help us better understand what works and how to measure it
coordinate efforts in government departments and work closely with the devolved administrations, so they add up to more than the sum of their parts
partner with Go ON UK and local, public, private and voluntary organisations to improve and scale up existing efforts
One of the first things we'll be working on as a team is a digital inclusion strategy which we will publish early next year. This will set out the nature of the challenge, the scale of our ambition and a clear plan of action. We want this strategy to be used as a call to action that everyone (government and beyond) can unite behind.
There will be more on this soon as we will be seeking views from as many of you as possible as we develop this strategy over the coming months. Watch this space...
Follow Anna-Maren on Twitter: @anna_maren
Images courtesy Go ON UK and ncjMedia