If we want to carry on doing amazing things here at GDS then we need to carry on building up the world-class digital talent in Government. We already have some excellent people in the team and there's more on the way, but we know some of you find our application process a bit daunting.  So we've put together this simple guide to making a great application to GDS. It applies equally well to all our jobs, although right now it's especially relevant for software developers.

The first thing to know is that we have a fair and open process that's designed to help us recruit really good people and that these people are selected on merit.  What it comes down to is that there's a job description for each role, which tells you what we're looking for, and the application form which we use to assess applicant's suitability using some simple criteria.  Once we've sifted the applications, we'll call some people for interview; everyone who gets through to the interview stage gets asked a consistent set of questions for that role.  The interviews are pretty searching, but we find that the really good candidates tell us they're also quite enjoyable.
Finding the job description and the application form
You'll need to head over to the Civil Service jobs page. From the Department section, pick "Cabinet Office excl agencies". Then, click the Search button. However here is a link to a pre-filtered list of Cabinet Office jobs: here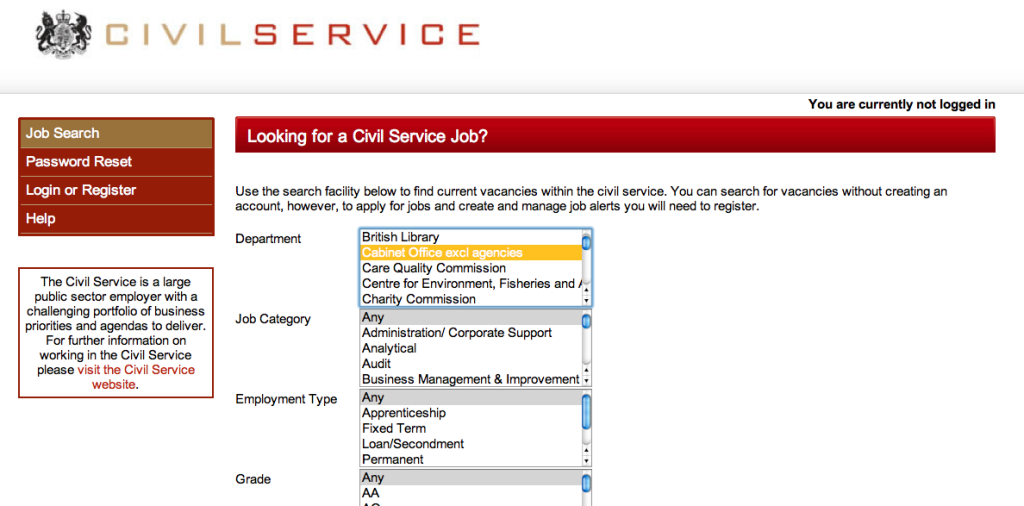 Now you'll see a page listing all the Cabinet Office vacancies. Click on the one you're interested in, and you'll see a summary of the job location, the financial package, and so on. Now scroll all the way down and you'll see some links to the "supporting files" at the bottom of the page (it's the red text). Click on these links to download the files.

How to write a good application
The Person Spec file is where you'll find details of the requirements we're looking for which you need to provide evidence for in the application form, and that's the key to a great application.

The text shown above is from a post we recently advertised, showing the essential requirements for that role in the category of Leading and Teamworking. (In the Civil Service, these categories are known as competencies.)  When we read your application form, we want to see specific example(s) for each category of how you personally have met the requirements we're looking for. Some people like to structure their answers into Context, Actions and Results (CAR). We need to see clear evidence that you meet the requirements listed as "essential" for each category; if you can also show how you meet the "desirable" requirements then it will help you to stand out against other applicants.  This isn't the time to be shy - tell us what you did, not what your team or your company did, and make sure you've given us clear evidence that you meet the requirements for each category.
Pay particular attention to the Specialist Skills category.  Most of the roles GDS is recruiting for are "specialist roles", which means that when we're marking the applications we assign extra points to really good specialist skills. The rules of the application process are that we don't get the opportunity to see your CV, so the specialist skills section is your chance to prove that your experience is better than the other applications we'll receive.  If you just list your skills or the technologies you've worked on, without examples of what you've actually done or how you contributed to specific products or projects, then your chances of getting an interview will drop significantly.
When you're done, run it through the spell checker and then ask a friend to read it through carefully. They need to check whether you've given clear evidence of how you meet the requirements in each category. Make any changes needed, read it again once more, and then email it to the address given at the end of the Person Specification. Make sure you get it in before the closing date!
What happens next
When the job advert reaches closing date we will be sent all the applications for that role. We don't have access to your application before then, nor do we process any of them before the closing date.  We'll sift all the applications and then get in touch to let you know whether or not you've got an interview. We'll aim to get interviews done within two to three weeks of the application deadline - some roles include a written assessment or a presentation, and if you're called to interview then you'll get more information about what to expect well in advance.
If you've got any questions, please post a comment and we'll do our best to reply. Best of luck with your application to GDS!
Key files to download and read
• Person Spec: Tells you the application deadline, what we're looking for in each category (the essential requirements), who to email if you have any questions about the role, and how to return your completed application.
• Application Form: to be completed by all applicants, this is where you provide examples demonstrating your suitability for the role.
• Diversity Form: to be completed by all applicants, this is part of our equal opportunities policy. We won't use this information to assess any applications.
• Guaranteed Interview Scheme (GIS) Form: This is important to you if you are disabled and wish to apply for a role. Under the Civil Service GIS, the Civil Service guarantees to interview anyone with a disability whose application meets the minimum criteria for the post.
• Information Pack: GDS is part of the Cabinet Office, and this file has general information you may find useful about working for the Cabinet Office.