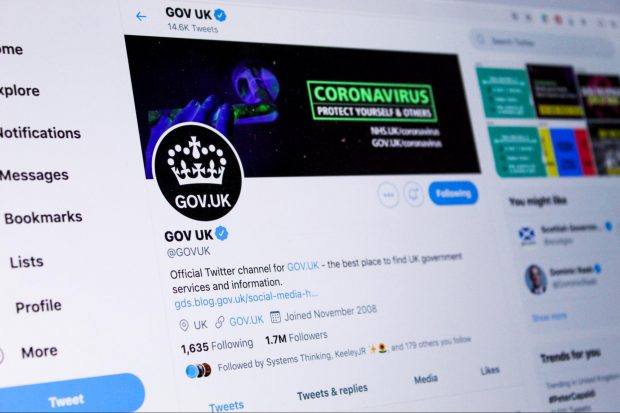 The @GOVUK Twitter account is one of the most popular Twitter accounts run by a central government organisation with 1.7 million followers. For context, @HMRCgovuk has 392,800 followers; @hmtreasury has 416,800 followers; @ukhomeoffice has 959,000 followers; and @foreignoffice has 975,700 Followers.
Coronavirus (COVID-19) had a significant impact on people using @GOVUK to find out more information. From mid-March to mid-April, in contrast to the previous reporting period, we saw a huge increase of people engaging with @GOVUK. Our total engagements, the number of interactions on a post, increased by 12,500%; total followers grew by 3.3% with the largest increase of 6,312 in one day; and people tagging @GOVUK into messages increased more than 5 fold from 11,000 to 70,000.
The Government Digital Service (GDS) manages @GOVUK in line with our Social Media Playbook. We respond to queries by linking to guidance on GOV.UK or to other government Twitter accounts. We use Sprout Social to track user queries.
Here we share how we changed our community management techniques to cope with the huge increase of user queries and what our top tips to other organisations are.
Creating standardised responses 
We already had a standardised set of responses to user questions, such as passport renewal queries or advice for Fast Stream applications. This helps ensure consistency in messaging and tone of voice.
From early March 2020 we saw a huge increase in user queries. A peak came on 24 March, after the Prime Minister's address to the nation, where @GOVUK received nearly 5,000 messages in one day. We quickly realised we needed a specialised set of responses related to COVID-19, that were agreed with cross-government colleagues, accurate, and able to change depending on policy announcements.
We did this by categorising our user queries and found the responses fell into 7 groups: protecting yourself and others, employment and financial support, business and self employment, consumer rights, benefits, housing, and scam and hoaxes. We worked with the central COVID-19 communication response team in Cabinet Office to create and agree responses. It was critical we had quick sign off and a good relationship with this team to work at pace. 
There are now more than 70 responses to standard queries, such as guidance on pregnancy and the virus, and more information on being furloughed.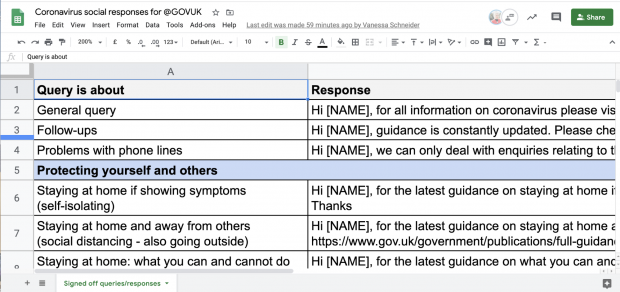 There were 2 peaks of similar numbers on 30 March and 2 April. After the initial peak, we were more prepared for these queries and able to put out proactive messaging quickly.  
Proactive messaging
Alongside standardised responses, proactive messaging was also needed.
We have a clear and distinctive GOV.UK style. It is minimalist and uses simple icons. We adapted these after discussions with our cross-government colleagues for coronavirus messaging, to a question and answer format.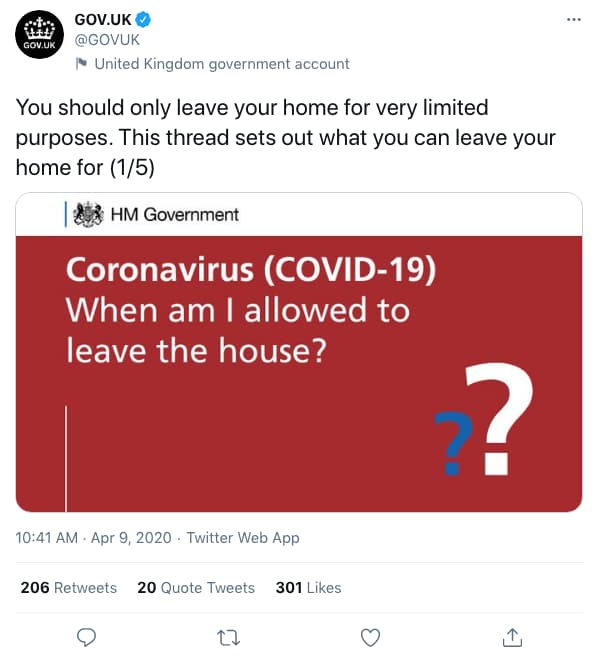 We also worked with colleagues across government to run paid-for activity from the account.
Upskilling colleagues
It was also clear that this huge increase in workload could not be managed by one person. So, we upskilled other colleagues in GDS's Communications and Engagement Team on community management.
We ran a training session on how to use Sprout Social and how to respond to queries. As the COVID-19 response continued and GDS moved to be a completely remote organisation this training had to be tailored to be virtual. This was important as more people had to be trained as we moved to weekend working.
However, as this was outside people's normal day jobs we set clear expectations. Shifts are 2 hours long to let people continue with their normal work, people volunteered on the rota so it was a time convenient for them and it was completely fine to leave queries that were complex to someone more experienced.
At times of crisis there is also an increase in derogatory comments. A dedicated Google Hangout was set up for people to share concerns about abusive or abrasive imagery and messaging. This also helped keep up morale as seeing these posts relentlessly can affect a person's wellbeing, so it was important to support colleagues.
Top tips for community management during COVID-19
For other organisations doing community management during coronavirus, here are some of our top tips:
create a standardised set of signed-off responses 

know who you need to sign off content and make sure you have clear communication lines to them 

keep up morale in the team, as it can be disheartening to be on the receiving end of negative comments or graphic imagery 

create a channel for community managers to feed back concerns or queries 

be responsive to your followers' needs, monitor the queries coming in so you can be flexible in your responses
This is a changing situation as coronavirus develops. We will continue to be creative, reactive and resilient to best help our followers. And, we will be updating our Social Media Playbook in the next few months to take on these learnings.