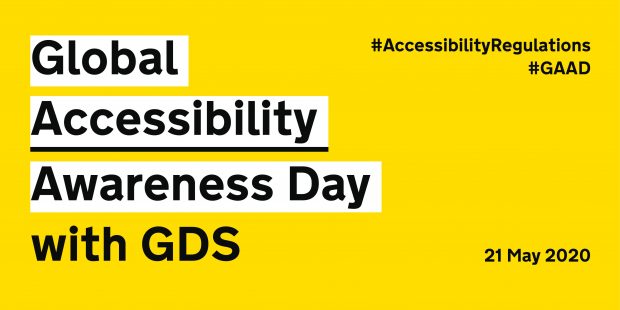 Accessibility is considered in all aspects of the Government Digital Service's (GDS) work. Whether it's testing on assistive technologies, using persona profiles to simulate different users or providing subtitles for films; GDS works to the sixth Government Design Principle of 'This is for everyone'.
Everyone must interact with government, there is no option to shop around for a different provider. This means it's critical that we remove as many unnecessary obstacles as we can. Public sector organisations also have a legal duty to make sure websites and apps meet accessibility requirements.
One way to make services as easy to use as possible is to raise awareness of accessibility. This is why we're celebrating the ninth Global Accessibility Awareness Day (GAAD) on 21 May 2020 with a whole day of virtual activities. Alongside this agenda, we're encouraging people to raise awareness within their organisations by hosting their own internal events, so we've created a downloadable resources pack to help you promote and deliver training sessions for colleagues on the day.
What we're doing on the day
On the 21 May we're hosting a number of webinars. These sessions are for digital professionals, anyone working in the public sector, suppliers for public sector organisations and those interested in digital accessibility. 
Please note registration has now closed. However, we are planning to record all workshops and make the videos available on our YouTube channel after the event. Details will be shared on our blog, Twitter and LinkedIn pages when the playlist is live.
Here's the agenda for how GDS is celebrating GAAD.
9.30am to 10.30am
An introduction to digital accessibility regulations
Richard Morton, Head of Accessibility for Government, and Joseph Jones, Policy Officer at GDS, will talk you through the accessibility regulations and how they may impact your work.
Please note registration has now closed.
---
11am to 11.45am 
How to avoid common accessibility statement fails
Join Chris Heathcote, who is running the team responsible for the enforcement of accessibility statements, to learn more about this requirement. Plus, Accessibility Consultant at the Home Office, George Rhodes will discuss his extensive research into this subject which highlighted some best practice examples and easy-to-avoid mistakes.
Please note registration has now closed.
---
12.30pm to 1.30pm 
How to carry out basic accessibility checks 
Checking the accessibility of websites is one of the first steps to compliance with the digital accessibility regulations - but where should you start? During this interactive session Beverley Newing will introduce you to the fictional 'Record a goose sighting' service their team created and demonstrate how it can be used to develop the skills to carry out basic accessibility checks. Plus, Head of Accessibility for Government, Richard Morton, will be on hand to answer your questions.
Please note registration has now closed.
---
2pm to 2.30pm
Building digital services that work for everyone
In this talk, Oliver Byford (Senior Frontend Developer at Government Digital Service) will walk you page-by-page through a fictional GOV.UK service, highlighting some of the things that he's learnt about building digital services that work for everyone.
Please note registration has now closed.
---
3pm to 3.30pm 
Making accessibility accessible: the secret to engaging your workforce
In this session, Helen Wilson (Digital Designer at Worcester County Council) will share the framework she developed to help successfully engage Worcester County Council's workforce on digital accessibility. Plus, she'll reveal how you can use it to empower your colleagues to improve the accessibility of content on your website.
Please note registration has now closed.
---
4pm to 4.30pm 
What would Marie Kondo do? How to clear your website of inaccessible PDFs
Leeds City Council reveal how they have taken inspiration from popular tidying philosophies to prepare for the accessibility regulations. Content Strategist Lammy Jones and Website Project Manager Sally Boyes will share how they've cleared their site of more than 3,500 PDFs in the past year and the lessons they've learnt along the way.
Please note registration has now closed.
---
How to get involved
There are 3 different ways to join GDS in its GAAD celebrations. 
Firstly, join a webinar session from the above agenda. We will be running them through Zoom, which you can join via your preferred internet browser.
Secondly, host your own celebrations. Some ideas to promote accessibility within your own organisation are: run a virtual drop-in session, show how an assistive technology works or present an introduction to accessibility. We've created a downloadable resources pack that has a presentation deck and promotional assets to get you started. 
Thirdly, share your activities on social media. Use the hashtags #AccessibilityRegulations and #GAAD so we can connect with each other on Twitter, Instagram and LinkedIn.
We're excited to hear from you
Let us know in the comments or @GDSTeam if you need more information, help with setting up your own event or want to share what you're doing to celebrate.
We're looking forward to raising awareness about accessibility with you.