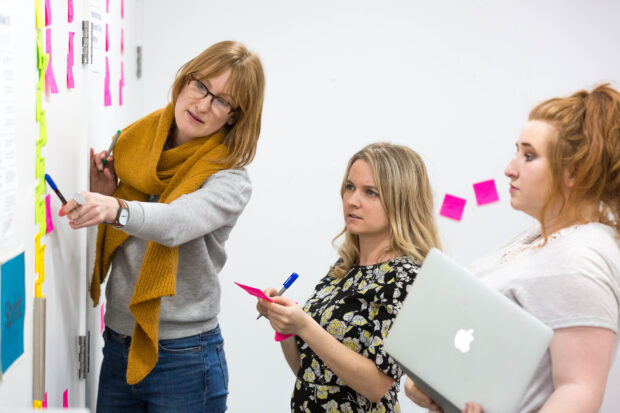 At GDS we regularly invite all of our staff to celebrate what we have achieved and what is coming up for us next.
As well as having monthly all-staff huddles, where we gather and the members of our executive team share news, we usually hold off-site events every 6 months where we have a full afternoon together.
But these off-sites don't always give people the chance to interact and there isn't much time to focus in depth on a lot of areas of work.
Staff had told us that they wanted to hear more about what their peers were working on so I proposed that we replace one of our off-site events with an unconference-style all staff.
How we ran our event
At a typical unconference, the agenda is decided on the day of the event. Attendees stand up and pitch what they would like to talk about. People then vote on which talks they would like to attend. The most popular sessions take place.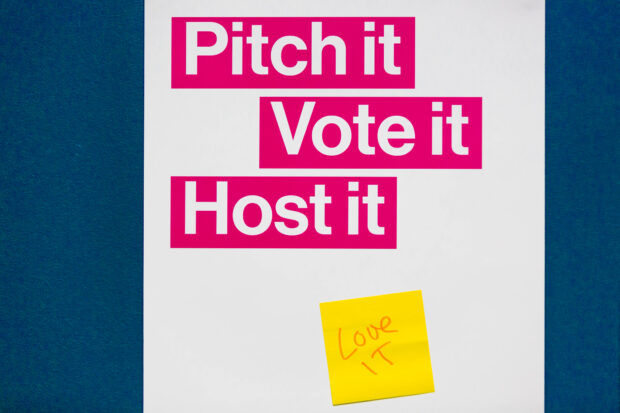 But I wanted our unconference to be as inclusive and accessible as possible. I knew not everyone would be working in the office that day, so wouldn't be able to join in with voting in person, and that pitching to a large group wouldn't appeal to everyone.
I also wanted a reasonable amount of time to plan the agenda, to make sure the popularity and format of sessions best matched the size and layout of rooms. Making sure the event met user needs was my priority over running an unconference in the 'proper' way.
So a small project group prepared a blank agenda, with 4 session slots of 30 minutes each, across 16 rooms. We left time in between for people moving between sessions, and scheduled a welcome and close from MCs at the start and at the end of the day.
Two days before the event, we invited people to pitch using a Google form, and after a day of pitching, people had a few hours to vote on the ones they were interested in attending, using Sli.do. We displayed live voting on a screen in our social spaces to encourage people to get involved and to build the energy of the event.
Once voting closed – the afternoon before the event – we matched pitches to rooms, and shared the agenda with everyone, so that the people who had been pitching knew when and where they were presenting the following day.
What people talked about
Across the day, 59 sessions took place, some of which were repeats of the ones that got the most votes. Everyone was free to attend whichever of these they wanted. If they found the session they hoped to attend was full, they were encouraged to try something different.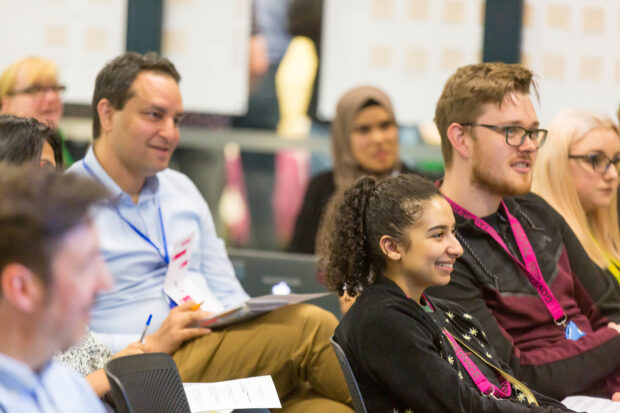 We made some sessions available on Google Hangouts so that remote workers could participate. And we asked someone in every session to take and share notes so that people could read afterwards on the sessions they hadn't attended.
There was a huge variety in the topics covered, including: the future of GOV.UK, career progression, making data accessible, artificial intelligence, better collaboration, and wellbeing.
Members of GDS's Introverts' Network participated in the event with an online Q&A on Slack, which all staff were welcome to join. They had discussions on how to enjoy a busy unconference, what is good about being an introvert at GDS, and how to make meetings better for introverts.
The MCs closed by bringing everyone together into our main space and invited people to share what they had learned during the day.
What did we learn?
I sent a feedback form to everyone who attended so I could find out what people thought worked well, less well and what they took away from the day.
Overall people said very positive things. Many enjoyed the change from the usual style of all staff event and liked the variety of topics covered. More than half said they want to try out something that they learned on the day. 100% of people said they would recommend pitching and presenting at a future event of this kind.
Hopefully, we will run another unconference, but there are changes that we will consider making. Lots of people said they would have liked a 5th session slot because there were more than 4 they wanted to attend. Some said it would be great for them all to have been filmed so that people could watch what they missed. Others said they would have liked the agenda to be shared earlier, so it's good to see that our decision to not follow the structure of a typical unconference, by pitching and voting on the day of the event, was a popular one.
I'm now speaking to the presenters of the sessions we ran to find out if they have any actions or outcomes from the day that they plan on taking forward, to make sure the momentum and energy from the day isn't lost.
The aim is to engage our staff more widely with those, so it's not just the attendees from each session who will be involved.
I'll also be thinking about how to make the next GDS unconference even better. If you have any ideas or tips for running successful unconferences, let us know in the comments below.