The Scottish Digital Academy exists to build capability to deliver digital transformation; we want to equip people with the right digital skills. The Scottish Digital Academy is working in partnership with the GDS Academy.
Since its launch in January 2018, we have grown from a team of 1 to a team of 7, delivering training to 34 Scottish public sector organisations to date. We run 7 different courses but our work doesn't stop there – we support public sector organisations in a range of different ways.
In this post, I look back at how the Scottish Digital Academy has transformed into its current form, from beginning over an informal chat over coffee in Leeds to having over 900 graduates.  
The beginnings
It all began when we had a discussion at the DWP Digital Academy, which was what the GDS Academy was formerly known as.
We met the team there as part of a discovery to understand how other public sector organisations were upskilling their employees in digital skills.
It was quickly agreed that trialling Digital Academy courses at the Scottish Government would be of mutual benefit to both organisations and a great example of cross-government collaboration.
The key aim of the trial was to see if the courses met our particular user needs and if the Scottish Government should and could set up its own Digital Academy.
Trialling the concept
Over the next 6 months, we trialled venues and courses through the Digital Academy to see how our users would respond to a Scottish Digital Academy.
We had lots of positive responses from participants and realised it was clear that this was something that was needed and wanted in Scotland.
We also discovered challenges during these months. These included us needing to have our own distinct identity as the go-to Digital Academy in Scotland, while still collaborating with the GDS Academy to ensure consistency and best practice was maintained.
What we needed to get started
We found the following things were crucial to setting up:
staff: we had to recruit our own agile coaches to deliver courses in Scotland

venue: we wanted a flagship venue with plenty of wall space and room to move so a number of different places were trialled

branding: we needed to ensure the look and feel of the course materials and any marketing made it clear that we were the 'Scottish' Digital Academy

local case studies: the training had to be relevant to the participants so we looked for specific Scottish examples to use on the courses

collaboration: it was essential to continue with the cross-government collaboration already developed, while being mindful of adapting training for Scottish organisations and their user needs

reach: we needed to ensure we reached organisations across the breadth of Scotland – from Shetland to Berwick, and beyond
We officially launched as the Scottish Digital Academy in January 2018.
Where we are now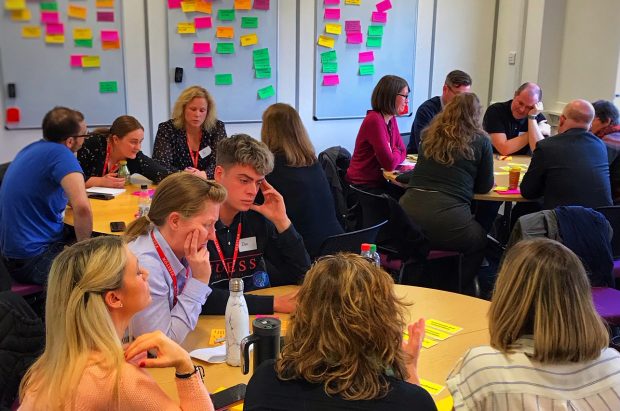 After the trial, and since our launch, we now offer a range of courses on a monthly basis. They range from a 1-day Discover Digital and Agile course to a 10-day accredited Digital & Agile Foundation course.
Our team of 7 work across Scotland and deliver courses and workshops in different locations. The team includes 3 agile coaches who deliver training in the classrooms, develop the programmes and help participants throughout the process. We are now looking for 2 more coaches to join our team.
We're not just focused on delivering training in the classroom. We work with programmes end-to-end, from having initial consultations to understand their training needs, advising on the best approach to training, right through to helping our graduates embed their learning and providing post-course support.
We offer a consultancy service, where our coaches can provide tailored courses and deliver on-site training for organisations.
We have also had growing requests for ad hoc coaching activities in digital transformation teams, where agile coach expertise can add a lot of value in a very short space of time.
All of our team have attended a Scottish Digital Academy course, so they can understand what we have to offer, and we work in an agile way.
We are now also running working-level courses for business analysts, delivery managers and product managers, after identifying a growing need.
It's been fantastic to see the Scottish Digital Academy grow, and there are exciting plans ahead to expand our proposition.
Measuring our impact
It's important for us to be able to measure the impact of the Scottish Digital Academy training and support on participants, who subsequently are delivering or leading on digital transformation programmes.
That's why alongside the usual management information collated, we are looking to build case studies to show how we have helped across the public sector.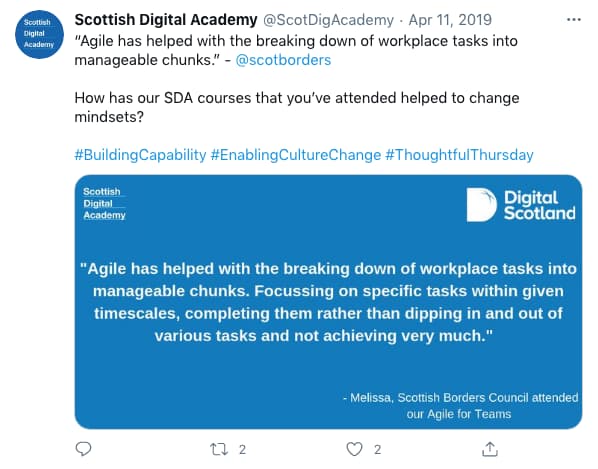 We're also working to make sure we have the support of leaders within the public sector. Without leaders on board to understand new ways of working and support their teams when they complete training, the culture change needed to drive digital transformation may never happen.
That's why it's great to see some of our senior leaders like Sarah Davidson, Director General Organisational Development and Operations, and Anne Moises OBE, our recently retired Chief Information Officer, attend our leaders course and feed back very positive comments on their experience.
Learn more
We will be giving a workshop at Sprint: Edinburgh on 8 May. You can follow the hashtag #SprintEdinburgh on Twitter to find out more.
We are currently looking to expand our proposition to offer Digital Transformation training on one platform, supporting not just the Digital, Data and Technology profession, but all those working in the public sector, too.
You can tweet us on @ScotDigAcademy, visit our Scottish Digital Academy website or, for questions or to discuss your requirements in more detail, email digital.academy@gov.scot.