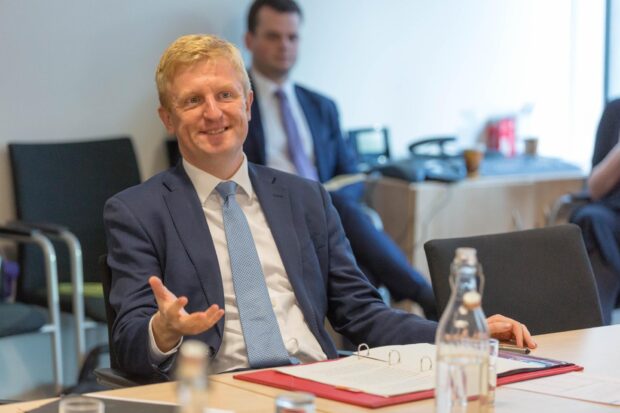 At GDS, we want to help all of government use emerging technologies in the right way to address the right problems.
The Technology Innovation in Government Survey, which we published earlier this year, found there's great work happening in organisations across government. This includes the Ministry of Defence exploring augmented reality and the Ministry of Justice looking at robotic process automation to improve the courts system.
Our next step is to set the direction for how government should use emerging technologies. We want to make sure we can share best practice across organisations and can scale the good work that's already happening.
This is why we're developing an innovation strategy for government, which we will publish next year.
Getting expert input into the strategy
As we work on the strategy, we want to hear from experts in industry and academia - as well as the public sector. This is so we can get valuable input and talk about issues that affect all our sectors.
That's why we're holding a series of 'innovation mornings' with Minister for Implementation Oliver Dowden and tech experts from across the industry.
We held our first innovation morning at TechUK in London last month. The minister and GDS representatives were joined by delegates from large organisations like IBM and Amazon Web Services, as well as smaller start-ups like Famiio and CognitionX.
Here's what we talked about and what we'll be doing next.
Emerging technologies bring huge opportunities for government
We already know that emerging technologies can help the public sector.
The GovTech Catalyst programme, run by GDS, is linking up private-sector innovators with public sector challenges. For example by helping Defra track waste movement across the country or helping Mid and West Wales Fire Service track firefighters while on calls.
It was clear from the conversation at the innovation morning there are huge opportunities to use new technologies to drive efficiencies and improve people's experience using government services. And we can already see examples of this happening.
What was also clear is there are things that the innovation strategy should address, in order to make it as easy as possible for government to use emerging technology.
Making it easier to innovate
Delegates identified 3 main potential barriers to using emerging technology in government:
a need to build capability and an innovation culture among civil servants
procurement making it hard for innovative startups to work with government
issues around combining legacy infrastructure with new technology
The delegates discussed potential ways to approach these challenges. They also acknowledged that work is already happening to address these issues - for example by building capability through the GDS Academy and tackling procurement through the Digital Marketplace.
These are things we will aim to build on as we develop the innovation strategy.
Our first innovation morning gave us lots of food for thought and many offers of help from the experts present. The next morning is planned for January and we are excited to see what that one holds.
Izzy Watson is an innovation policy advisor at GDS.
If you have an idea about the opportunities and challenges around innovation and emerging technologies in government, or want to find out more about the innovation strategy, email the Innovation team.