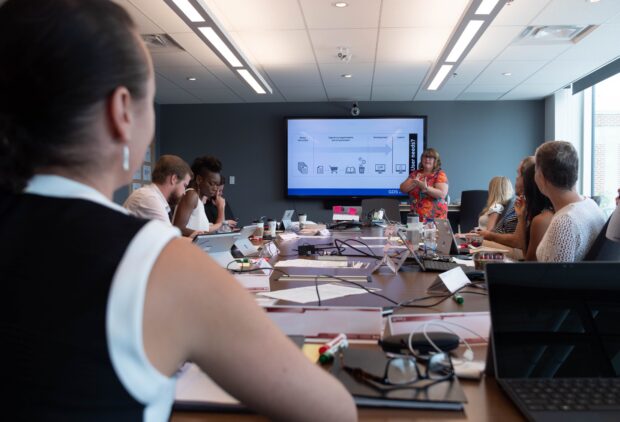 I'm a facilitator and the Head of the Digital Faculty at the GDS Academy. I've been part of the team for more than 4 years, helping the UK government achieve its ambition to have one of the most digitally skilled populations of public servants in the world.
I have recently returned from spending a week in Ottawa, Canada. Along with Elaine McKenna, another experienced GDS Academy facilitator, we were invited to upskill and collaborate with colleagues from the Canadian government.
The GDS Academy is increasingly sharing its expertise with governments in other countries, and our work has come to serve as an inspiration overseas. In December last year, we blogged about our international journey, in particular the visit from a Canadian government delegation where they attended our Hands on Agile for Leaders course, which led directly to this new collaboration.
What we did in Ottawa
Across the week, we ran courses, spoke to public servants and had some amusing misunderstandings with some British sayings and our accents - what does 'swinging the lead' mean?
I delivered 3 day-long digital and agile awareness courses to 50 attendees while Elaine delivered 2 one and a half day courses for leaders to 35 Canadian public servants. We adapted our existing GDS Academy course content to meet the user needs we had identified in advance and changed our delivery as we went along, depending on the reactions of the groups.
Aneeta Bains, Chief Digital Officer and Assistant Deputy Minister for Innovation, Science and Economic Development in Canada, spoke during both leaders' courses about the ongoing plans to take digital government forward in their country.
David Blair from the Office of the Chief Information Officer, took the opportunity to briefly introduce some of the new tools and frameworks they are developing. This resulted in some lively discussions and feedback that may influence their final products.
The feedback we received
We received very positive feedback from the students and those whom we met in Ottawa. Here's what some of them said:
"I was really impressed with the amount of information that was conveyed and, even more so, with the approach of the UK GDS facilitators. The activities helped us understand the roles involved in agile management, how to diagnose successes and risks and real-world application in many leadership domains." - Neil Bouwer, Vice President of the Canada School of the Public Service
"The Digital and Agile Awareness course was a fresh and well-constructed walk through of the importance of user-centric design, the core principles of Agile and how we can apply it in Canada. I walked away with several new insights on how to frame the roles of agile teams, despite leading one for the past several years." - Chris Allison, Director General of Digital Services at the Canadian government
"The course is giving me a much broader and comprehensive understanding of what it means to be digital, and also how they are actually working digitally in the UK. It's the theory plus the very practical look at how they are doing it." - Zoe Langevin, Economic and Policy analyst, Natural Resources Canada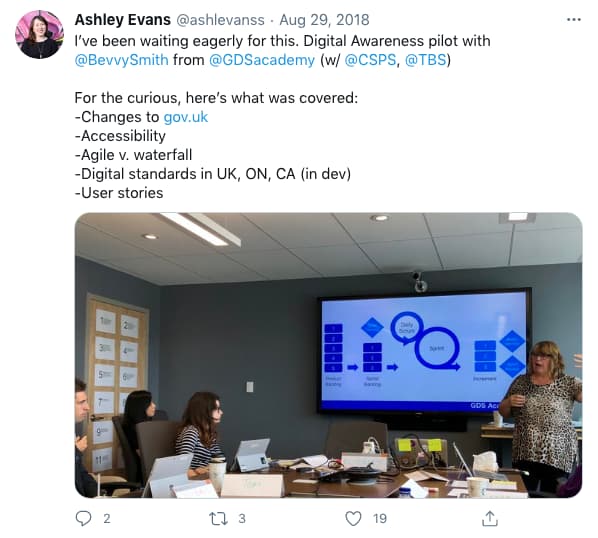 What we learned from our visit
Elaine and I found the experience to be very rewarding and thought-provoking. The key learning was about how both governments face similar issues and challenges. Another learning was the importance of engaging with partners across all levels of an organisation, which is something we did during our trip.
We also learned that no matter where you are, Lego and origami both go down well as interactive ways of embedding knowledge - learning by doing. And everyone loved the GDS stickers.
We also thought the Canadian government's approach to accessibility was very impressive.
One Team Gov Canada
I also managed a fleeting visit to a One Team Gov Canada meeting. It was great to make international connections and again identify the common challenges and opportunities that both Canada and the UK face.
I hope that we can continue the relationship with our Canadian colleagues by supporting the design, development and delivery of future learning interventions.
Since our return, we've been delighted to see the Canadian government has announced the creation of its own Digital Academy. We wish them every success and I hope that we can continue the relationship with our Canadian colleagues by supporting the design, development and delivery of future learning interventions.
To find out more about our learning offer visit the GDS Academy website.

For more information on how the GDS Academy helps foreign governments please email us.