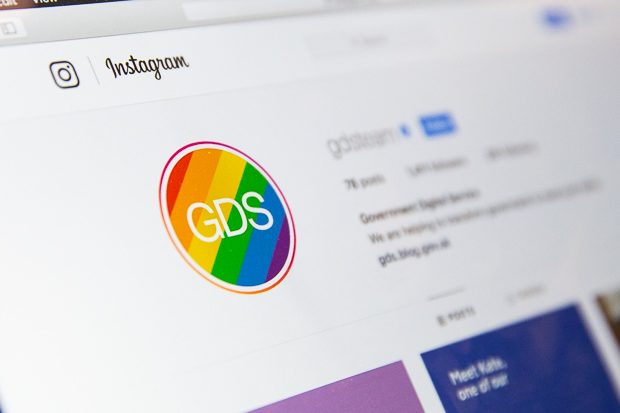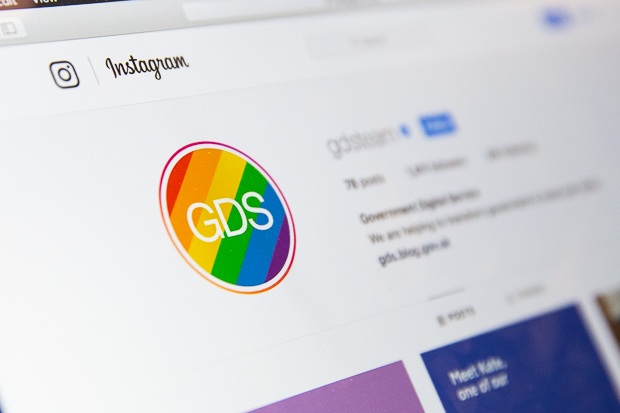 I'm the Community Manager at GDS and my role is to look at how we use our different social media channels.
GDS is very active on social media. We use it to talk to people about what we're doing - working in the open, to listen and engage with people online and to tell stories or publish content that would work better on these channels than in a blog post.
Our main social media channels are:
Twitter

- where we post regularly and talk to our followers

LinkedIn

- which we use to talk about job opportunities at GDS as well as give updates on our latest work and events

Instagram

- where we post images of our projects and show what it's like to work at GDS
Our Twitter and LinkedIn channels are reasonably well-established and the platforms are quite mature. Instagram, by contrast, is fast-growing . It hit one billion monthly users earlier this year. And new features such as Instagram TV offer lots of different opportunities for people to use it.
I wanted to share with you a bit about how we use Instagram and why we do it.
It's a visual channel
This is an obvious but very important point. The content on Instagram is predominantly photographs, graphics and video. This means that the types of things we post about tend to be visually led.
For example we post a lot of our graphic design work, such as these posters we made for the ConCon7 event:
And films about our events and projects - like this film about Sprint 18 from earlier this year.
We're very fortunate to have an in-house creative team who work on photographs and films for us. You can see some of their work on our Flickr and YouTube accounts.
But even if you do not have this resource, good content can come from anywhere. Alex Torrance, one of our designers, took this photo of one of his early sketches for GOV.UK.
And while images are obviously very important on Instagram, do not forget the power of words too! It's very important that each post has a clear and descriptive caption and we're using the right hashtags to make sure our posts can be seen by as many people as possible who might be interested in them.
It helps us showcase events
At GDS we organise and speak at a lot of events, and we find Instagram is a really useful channel to help us showcase these events.
For example, it helps us to promote events we run, such as Sprint 18, and it also helps us showcase what we've done at them.
We often produce collateral for events and Instagram helps us shine a spotlight on them. Many of these posters and stickers can be downloaded from our Tumblr account and reused, so Instagram is a good way of showing people what's available.
We recently posted images of the posters we created for the International Design in Government conference.
And Instagram also offers a great way for people to continue conversations after events or to revisit what was said. Hashtags, like #Sprint18, can gather together all the conversations around an event.
We can go behind the scenes
With any channel you use, it's worth thinking about what particular type of content suits it best. With Instagram we find we get a lot of engagement (likes and comments) on behind-the-scenes type posts.
These show what day-to-day working is like at GDS or show the work that has gone into a project. Successful posts have highlighted internal events that we've held such as a BAME Network lunch.
Or even just what people have drawn on the walls:
This is the type of content that might not work quite as well on Twitter or might not be substantial enough to write a whole blog post about. But for a short, visual post on Instagram it's perfect.
We use it with other channels
I've talked about how we can use Instagram as a standalone channel, but it's also really important to think about how it links to your other channels. Just like our blog posts or any other form of communications, Instagram posts are often just one part of a bigger, multi-channel campaign.
For example, when GOV.UK marked its fifth birthday last year we ran Instagram posts alongside lots of other content such as Tweets and blog posts. There were also articles in the press.
If you're running multichannel campaigns it's important to think about what content you're using where and also the hashtags you're using in each place. With Twitter there are obvious restrictions on the number of hashtags you can use because of the word count, but on Instagram there is opportunity to use more. We used quite a few to talk about Sprint 18.
We can have a conversation with our audience
Instagram - and in particular the Instagram Stories feature - gives you the chance to talk to your audience and for them to talk to you.
We're currently using Instagram Stories to host a series of conversations about what it's like to work at GDS. The people taking part in this are service designer Kate Ivey-Williams, technical architect Maisie Fernandes and senior developer Ruben Arakelyan.
Anyone on Instagram can ask questions about their work and they'll then take to Instagram Stories to record a short film answering them.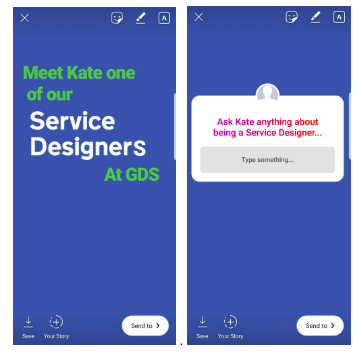 You can follow this series on the GDS Instagram page. 

Subscribe to this blog for updates.