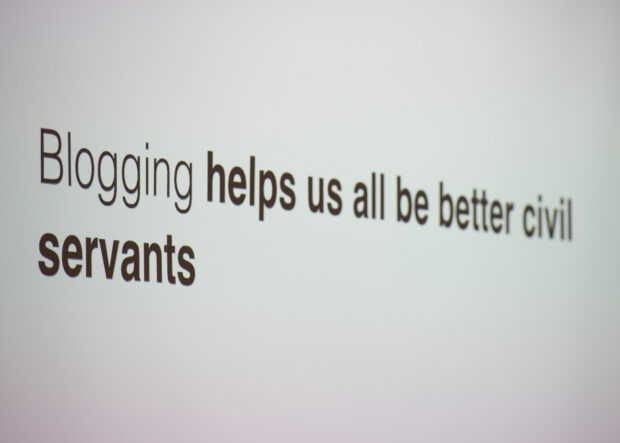 A couple of months ago, I blogged about some changes we were making to our blog channels to make sure they meet user needs, and how we're improving the internal blogging process at GDS.
As I said in my previous post, we ran some retro sessions at the end of last year to find out what was working well and what wasn't working. In this post, I'm going to talk about what we've done so far to address the feedback to make it easier to blog at GDS, and what's coming up next.
New step-by-step process for blog authors
When we ran the retros to get feedback on our old publishing workflow, we found that many people at GDS were confused about:
what they needed to do if they wanted to publish a blog post

who they should speak to if they wanted to kickstart the process

what the different stages in the publishing process involved
Each of the blogs that GDS runs has an editor, who is in charge of what goes on each blog. The editors worked together to come up with a new step-by-step process for blog writers that would show how to take a blog post from idea to publication.
These guidelines are now published on our intranet, and we've already done some internal comms and workshops with teams to tell people about them as well.
The first step in the publishing process: talk before you write
In the last 12 months, we've found that blog posts that are discussed with blog editors at the idea stage – before they're drafted – take less time to publish and tend to require less editing.
So, the first step in the new publishing process is not actually about doing something, but it's about not doing something – not writing before the initial conversations with the blog editor have taken place.
We ask authors to do that so that:
we can work out whether the proposed blog post can be tied in with a bigger campaign that we're running or be linked to a specific event (like

this post

, which was published on International Mental Health Day, or

this one

, which was a write-up of a conference talk our colleagues gave a few days before the post was published)

the blog editor can liaise with press office ahead of time so that colleagues are aware of what's coming up on our blogs, and with our social media team so that we can plan for how we publicise it

we can support the author to highlight as much of the amazing work they're doing as possible
This way of working is similar to how other teams at GDS work. You could say that a blog post is like a piece of code. Code is not written in isolation but created within a context – in response to something that our users need and usually as part of a service that has a number of different components. Similarly, blog posts are part of a bigger picture made up of other communications activities we run – something I already discussed in my blog post about making sure our blogs meet user needs.
The idea behind the 'talk before you write' principle is also to get things right the first time round – avoid unnecessary editing further down the line or any other issues that may slow down a blog post's publication.
Questions to consider before drafting a blog post
We now also ask blog authors to consider some questions before formulating their blog post ideas. This is meant to help them in their drafting process and to help the blog editor understand what the aim of the post is.
We also encourage authors to consider whether a blog post is the most appropriate way to communicate their message.
Here are some of the questions we ask:
Is a blog post the most appropriate way to communicate your message? Could it be communicated in a different way (for example, through a show-and-tell or on social media)?

What's the aim of the blog post? What's the user need?

Who's going to read your blog post and how will they benefit from it?

Is it time-sensitive? When would be the best time to publish it?
So far, feedback suggests that authors find it useful to answer these questions as it helps them formulate a strong draft.
The next step: writing your post
Once the initial conversations have taken place, we ask the author to draft their post. Most blog posts at GDS are written by their authors but we do have creative writers and technical writers who can support them or even write on their behalf. We use Google Docs to work collaboratively on blog posts when suggesting edits or additions, and when asking for feedback.
Blog writing tips
Our new step-by-step process also includes some advice on writing clear and engaging blog posts, including advice on:
structure

tone and style

titles

using calls to action
We also encourage authors to consider talking about the problem they or their team were faced with, how they went about addressing it and what the outcome was. We've found that this type of structure tends to produce the most engaging posts.
You can read our blogging guidance on GOV.UK.
Sharing our blog posts with our audiences
Once published, we share our blog posts on our official social media accounts. We also encourage their authors to do the same. This works particularly well when the author is an active Twitter user with a good following made up of people interested in a specific area. Twitter is our primary source of traffic when it comes to social media, but LinkedIn works well too. We've also had some traffic coming from Reddit recently.
How we measure success
Obviously everyone who publishes a blog post wants it to be read by as many people as possible. But page views aren't the only metric we use to measure the success of our posts. Some of the other things we look at include:
what proportion of people who read the post clicked through to specific guidance on GOV.UK that we linked to

how many people registered for an event we blogged about

how many people got in touch to join a user research group as a result of a call to action we included

how much and by who the post was shared on social media

whether or not the post was picked up by the press and what the coverage was
Looking at things like this helps us understand what sort of things we should be blogging about in the future. It also demonstrates that blogging can be a valuable tool to, for example, talk about guidance or build communities.
Monthly highlights
When we ran our retro sessions to get feedback on the old blogging process, another thing that came up was that our colleagues were interested in how our blogs were performing. So, we decided to make the stats more public by sharing them monthly on the GDS intranet.
We publish a lot – approximately 20 blog posts across all of the GDS-run blog channels each month. So, the highlights we produce only include a selection of blog posts. However, we encourage authors to get in touch with the blog editors they worked on their posts with to find out how their posts have performed.
Blogging drop-in sessions
The majority of people who want to publish blog posts on our blogs have not blogged on any of our channels before. That's why we know we need to support them with the process.
One of the things we're trialling at the moment is blogging drop-in sessions where authors can discuss and get some feedback on their ideas.
We ran our first drop-in session in May, for those interested in writing for our tech community blog. It was facilitated by the editors of the blog and technical writers, and it went well.
We're now hoping to roll out a similar approach for the rest of the GDS-run blogs.
What's next
We're continuing to speak to everyone in GDS about our new guidelines and monitoring their effectiveness. We'll be running further retros in the coming months as well, to see what's worked so far and what else we can improve.
Subscribe to this blog if you'd like to hear more about what we're doing in the blogging space at GDS.
Agnieszka Murdoch is the Head of Editorial at GDS. You can follow her on Twitter.