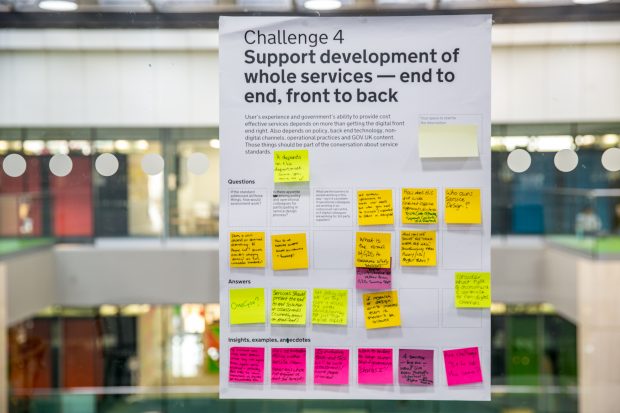 We're currently iterating the Service Standard. As it says in the Government Transformation Strategy, we need to transform whole citizen-facing services, to continue to make things better for users and for government.
To a user, the definition of a service is simple. It's something that helps them to do something, such as learn to drive, buy a house, or become a childminder. For those of us who work in government, though, understanding what a service is can be more complex. There can be a number of different definitions.
Is a service a single transaction or is it everything a user needs to achieve a goal? Is it just public-facing or does it include all the government-facing processes as well? And what about different channels (online, face-to-face, phone, paper)?
Before updating the Service Standard we need to be able to answer these questions. We need to settle on a cross-government definition of an end-to-end service. So we carried out research to do this.
Testing different definitions
We ran consultations with 150 people across government – mainly in the digital, data and technology profession – as part of the Service Standard update workshops.
For the in-depth research, we started by showing people 3 visual definitions of a service and asking them to either choose one, amend one or to create an entirely new definition that would fit their mental model.
The 3 definitions we put forward were:
the service as one or a set of public-facing transactions, whether online, face-to-face, over the phone or on paper

the service as an end-to-end service, including all the online and offline steps a user needs to go through to do a specific thing

a whole service: this is everything the user needs to do to achieve a goal, including non-transactional things, such as research and choosing how to achieve their goal; a whole service is also everything government needs to do to achieve an outcome, including delivering and supporting the service
We then did an exercise on identifying the elements people included or excluded in their service definition. For example, do internal systems, calculators, call centres as well the transactional service make up a service?
Finally, we asked participants to look at their definition of a service through the lens of assessments – does it remain the same or does their definition change?
The next step was to take the 3 service definitions to the consultation workshops we ran to get cross-government feedback on updating the Service Standard. The 4 workshops took place across the country and involved 150 multidisciplinary people delivering and assuring digital services and leading digital transformation across government.
Arriving at a definition – the whole service
We got people to vote on their definition of a service, the elements that make up a service, and to share feedback where their mental model diverged and where they felt we had got something wrong or missed something.
The research showed that our third option – the whole service definition – is how the majority of digital people think about government services now. This working definition will be used to support the work being done to pilot the implementation of the Service Standard. We will also work to understand how colleagues in Policy, Operation and Delivery define services, and colleagues who make funding decisions, to work towards a truly cross-government, cross-discipline definition of a service.
What does a whole service look like?
A whole service is everything the user and government needs to do to achieve an outcome, as initially described in Lou Downe's blog post from 2016.
A whole service is:
end-to-end:

from when the user starts trying to achieve a goal to when they finish

front to back:

it involves the citizen-facing service, internal systems and processes, supporting policy or legislation, and organisational, financial and governance structures of the service

across every channel:

including online, phone, paper and face-to-face
A whole service that solves a whole problem and can be made up of multiple end-to-end user journeys.
A user journey is all the interactions a user has that relate to a government service. Interactions include transactions, seeing campaign messages, asking questions or advice. These interactions could take place over any medium or device – online, over the phone, in person, on paper.
A whole service is everything required to make that journey work – content, materials, people, technology, policy, tools, processes.
Things that are part of a service – and things that aren't
As part of the research, we also asked people what specific elements make a service. The consensus was that services are made up of the following things:
The service and supporting content is:
the transaction itself (across all relevant channels)

service-related materials and content (across all relevant channels)
Things that support or constrain the delivery of the service are:
people providing and supporting a service

internal services and processes

tools (for example, APIs and calculators)

legacy issues
Things that nudge people to do a thing are:
informational websites and microsites

campaign content (across channels)
The purpose and effect of the service is:
Infrastructure, such as buildings, equipment and training, are also factors that influence whether a service is a success or not. However, most people didn't consider these to be part of the service, as decisions about these are made at the departmental level and not the service level.
Using this definition
For government to run better services, teams working on designing, building, supporting and delivering them will need to work more closely together – sometimes across departmental lines.
We will continue to iterate this definition. A definition of a service will become part of the updated Service Standard and Service Manual, based on our collective knowledge and understanding of what a service is now. We will, for example, further investigate what we mean by legacy and what part internal services and tools play.
We are piloting the implementation of the updated Service Standard, and using this definition will be part of this pilot. Implementing the Service Standard will help support building and delivering end-to-end services across government.