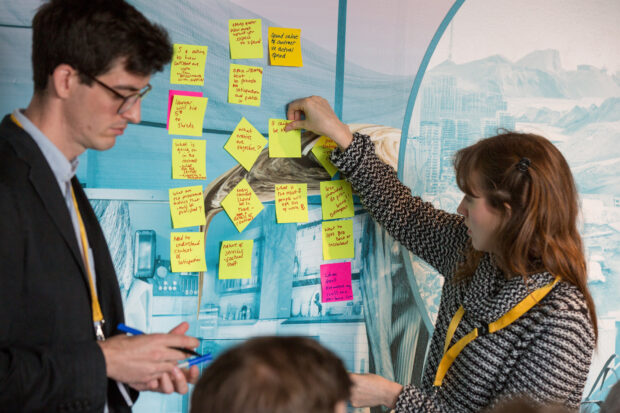 The Supplier Standard, currently in beta, describes what government expects from the digital and technology companies we work with and, equally, what they should expect from government.
As part of the development of the Supplier Standard, in partnership with Crown Commercial Service (CCS), we ran a consultation from September to December last year. We wanted to gather views on how the government and suppliers could work together to provide digital services which put users first. I've shared a summary of this feedback below.
We will now be running a series of workshops as part of a second round of consultations. They will focus on how the ideas that came up during the first round can be put into practice. We'll also be looking for feedback on whether there are any gaps or areas we hadn't considered before.
We also want to make sure that the updated Supplier Standard aligns with the Supplier Code of Conduct developed by the Government Commercial Function (GCF). The Code, published in September, outlines the standards and behaviours that the government expects of all its suppliers. We're working with the GCF to ensure the two approaches complement each other.
Get involved
We want to hear from you as part of the second round of consultations. We will be running 3 sessions around the UK in late November to inform our thinking, before we publish the second draft of the Supplier Standard in early spring 2018. We want to hear from:
micro, small, medium and large suppliers who currently sell to government

those suppliers who don't, or won't currently sell to government for whatever reason

procurement and commercial policy makers and practitioners
If you want to take part but can't make any of these consultation roundtables, you can also send us your thoughts by leaving a comment on this blog post or by joining the Supplier Standard Google group.
We have limited spaces available so make sure you register for one of our sessions now:
22 November, Stockport

29 November, Bristol

30 November, London
What you've already told us
We already have lots of valuable feedback from the first round of consultations. Here's a summary of what we heard from suppliers and buyers.
User needs first (and civil servants are users too)
Value for money for government isn't just about price. We need to consider how the Supplier Standard can ensure that the procurement process allows for balanced judgement between a series of factors, including the service offering itself, the quality of the service, the ethics of the company and the whole-life costs.
Questions were also raised about Open Book Contract Management (OBCM). The aim of OBCM is to promote collaborative behaviour between clients and suppliers through financial transparency. The outcomes should be a fair price for the supplier, value for money for the client and performance improvement for both over the life of the contract.
Data as a public asset
Government service data is a public asset. It should be open and easily accessible to the public and third-party organisations. To help us keep improving services, suppliers should support the government's need for free and open access to anonymised user and service data, including data in software that's been specially built for government.
The General Data Protection Regulation (GDPR) will affect everyone from May 2018 in terms of how we protect and manage data. We need to ensure that the Supplier Standard supports the broader standards and policies that affect suppliers' interactions with government. We need to consider how we can meet our legal obligations to protect data while ensuring it can be free and open.  
Services built on reusable components
When it comes to reusable components, we need to be mindful that different departments have different needs. We need your thoughts on how we can manage making this open while protecting suppliers' intellectual property.
We need to ensure that we encourage open competition in the market, and that a 'buy once for all' approach fits with that. So, we want to help buyers to secure contracts that save money across government while giving small and medium-sized enterprises (SMEs) the opportunity to compete for business.
Simple, clear, fast transactions
We had questions about whether the new Supplier Standard would apply to new or existing contracts, whether it would be mandatory, how the roll-out of those standards would be managed and whether there would be any support for staff.
These are considerations we want to delve into during the second round of consultations.
Linking up
We will investigate how we can link up the Supplier Standard with the Technology Code of Practice and the Digital Service Standard, especially around aspects such as accessibility and assisted digital.
We will also ensure that the Supplier Standard complements the Supplier Code of Conduct from the Government Commercial Function.
We are also looking at the wording in the Supplier Standard to determine whether it can be broadened to cover the government's transparency policies, and enhance the use of open contracting data.
We need your feedback
Don't forget to sign up for one of the workshops we're running as part of the second round of consultations. Please note that spaces are limited.
22 November, Stockport

29 November, Bristol

30 November, London
We will continue to talk about the developments to the Supplier Standard and our work to engage suppliers more widely around IT and digital procurement reform so make sure you subscribe to our blog.