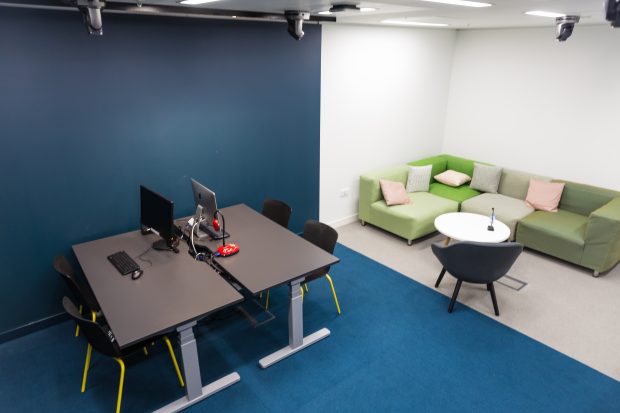 I manage the user research lab at GDS. We've had a dedicated user research lab for more than 3 years. We use it to carry out research into all the things we deliver, from guidance and standards to common components, such as GOV.UK Pay and GOV.UK Verify.
The lab is also open to the rest of government so that they can carry out research into their own projects and services.
GDS recently moved to a new office in Aldgate, east London. This move gave us the opportunity to redesign our user research lab. It gave us the opportunity to look at what user researchers from across government needed from the lab and to build something that would best meet those needs.
Researching the user research lab
I've observed close to 6,000 hours of user testing. During this time, I've watched user researchers and participants set up the labs, use the technology and interact with the space. Their behavioural patterns were the biggest influence on the new lab design. The user research labs aren't built around technology – they are built around the people who will use them.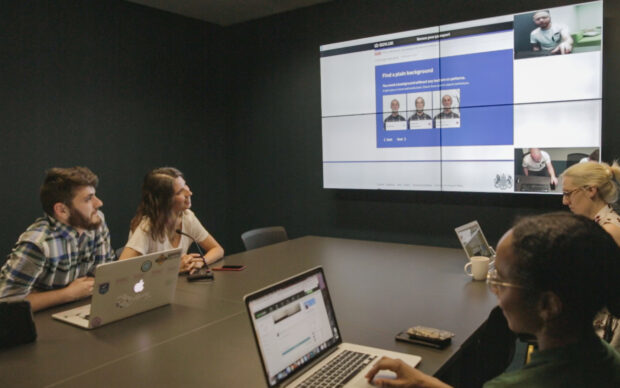 While developing the designs, I visited many user research labs around London, including Sutherland, Serco and Google, to understand how other organisations approached the design of user research spaces and to see people use them.
From visiting other labs, I learned a lot about technical set-ups, equipment and room designs. After every visit, I would go back and compare our lab's system and the ease of use. Almost every time, I would find things that could be improved – things like:
brighter and more controllable lighting

more detailed control systems

higher-quality recording

more flexible AV system design

more flexible room layouts
Applying all the learnings and findings from the site visits with years of feedback from the old lab has meant we can create a new kind of user research studio that incorporates different technologies and has loads of flexibility for participants, researchers and controllers.
What's new in the new lab
We now have a lab with two research rooms in the Aldgate office. While they share the same technology and recording equipment, they can run as separate entities. This means that we can hold parallel research sessions in each. It also means that if one lab goes out of action, we can still have another lab available.
We've added some new functionality to the user research labs, in response to user needs.
Research can now be streamed to both internal and external teams. And sessions are recorded and encoded to MP4, which means research videos are available as soon as the session ends. The videos are timed-stamped for researchers to reference findings back to the teams or to make editing easier.
Our research rooms can cater for all sorts of user research and usability testing, including card-sorting, focus groups and eye-tracking. Research participants can use Windows or Mac desktops with the latest operating systems. They can also connect their own devices to observation screens using wireless or HDMI.
Sit/stand desks in the research rooms allow for flexible testing sessions with participants that have desk height requirements. 
The observation rooms have their dedicated lab control surface, which means observers can easily control cameras and recording. A talkback mic in the observation room allows researchers to communicate with the team member in the research room during set-up. This is an idea borrowed from professional TV and sound recording studios, where it's used by teams to communicate on the other side of the soundproof glass.  
Watch the video below to find out more about the lab:
Making things better and saving money
The great news is that building the two new labs cost half of what the previous lab in our old office in Aviation House did. This was thanks to detailed analysis and design, which allowed us to carefully select the right equipment and avoid over-specification.
By involving the IT and networks team in the project, we no longer outsource the technical support. This also saved several thousand pounds.
Come and use the lab
Anyone working across government can come and use the user research lab. It is open from Monday to Friday, between 9am and 5pm, but you can arrive earlier to set up your session.
Other government departments can make bookings on Mondays and Fridays. Days in between are subject to availability, as GDS research operations take place mostly from Tuesday to Thursday.
More advice on setting up a lab
We offer advice and guidance on setting up big or small user research labs based on our experience with dealing with audiovisual companies, architects, networks and IT contractors.
If you're interested in booking the lab or finding out more, send us an email.