A quick walk around our offices and you'll see that vertical surfaces, whether wall or not, are both covered and coveted.
Project paraphernalia are our wallpaper. Sticky notes, images, screenshots, survey results, analytics and team photos name just a small selection of 'stuff that should be stuck up there'.
More than rambunctious interior decorating, our walls have purpose. They're vertical 'campfires'; places where teams connect, stakeholders gather quick insight, and passersby take inspiration and add to them.
As user researchers, our walls are an important and constant broadcast signal. A well-tended wall keeps research insights and user needs constant in the collective 'mind' of the project team.
But enough of this poetic writing about walls. Here's what you'll find on some of ours.
Carer's Allowance: mapping the service transaction
Many teams use their wall to map out end-to-end transactions for a service. The Carer's Allowance team have done just that.
The team stick insights and notes to individual screens in the transaction. These are often quotes or comments from GOV.UK user satisfaction feedback and feedback captured while observing live claims.
Ben Holliday, user researcher on Carer's Allowance says:
We try and post things up as they relate to each other and to understand relationships between insights, user needs and different parts of the transaction. Most importantly, everything is constantly discussed, pulled apart and updated by the project team, not just the user researchers.
User research is after all, a team sport.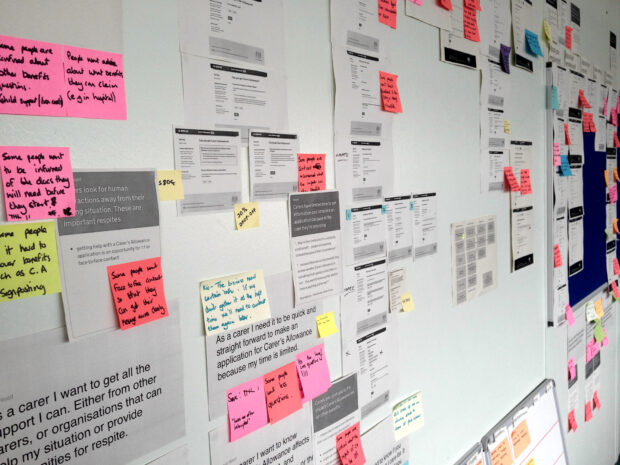 Performance Platform: keeping users front of mind
Walls are great for creating a visual link between user needs and features being developed. Creating this link helps ensure that the things we're making are grounded in users needs.
Researchers post user needs on their wall and the project team uses them to validate every story they're planning or working on.
The wall should prompt the team to ask: "Why are we working on this?". The team should always be able to point and answer: "Because it's helping us meet this user need."
User needs are the foundation of everything the team is doing.
By posting things that represent users on the project wall we're able to encourage a constant (and constantly refreshed) connection between the project team and its users.
User researcher, Will Roissetter says:
I produce lightweight personas and attribute real user quotes to them. I've also made a 'new' sticker, which I place on new personas or user stories. This encourages the team to notice when a new persona is up and draws fresh attention to the wall.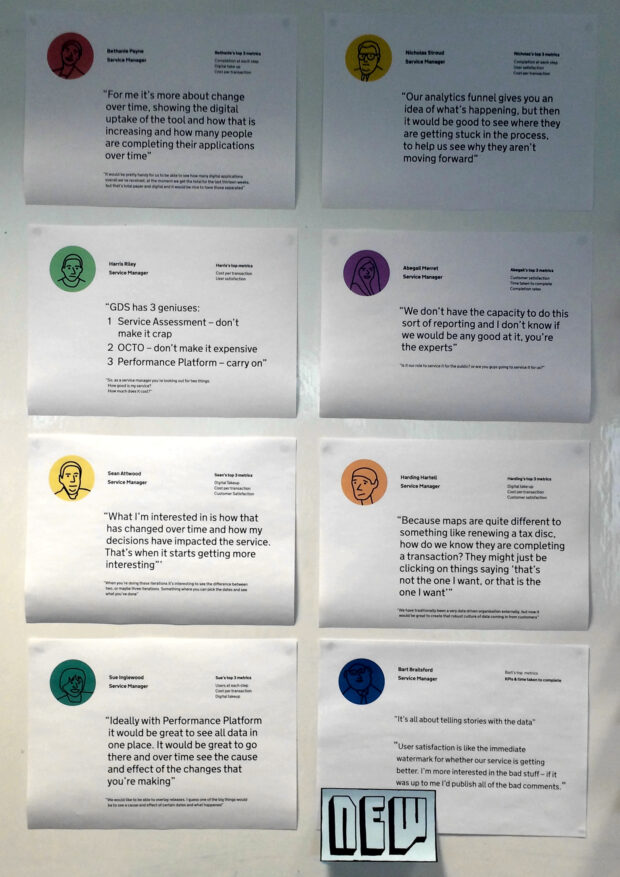 Identity Assurance (IDA): connecting with a big project team
The Identity Assurance team have used a high-traffic passageway as their wall. Everyone on the IDA project team passes the wall at least a couple times a day.
Pete Gale, user research for IDA says:
With a team our size, it's almost impossible to involve everyone in the collaborative process, so the wall means that anyone can take a few minutes, at any time, to catch up on the latest findings. The fact that it's in a really central location means people always see when it's updated.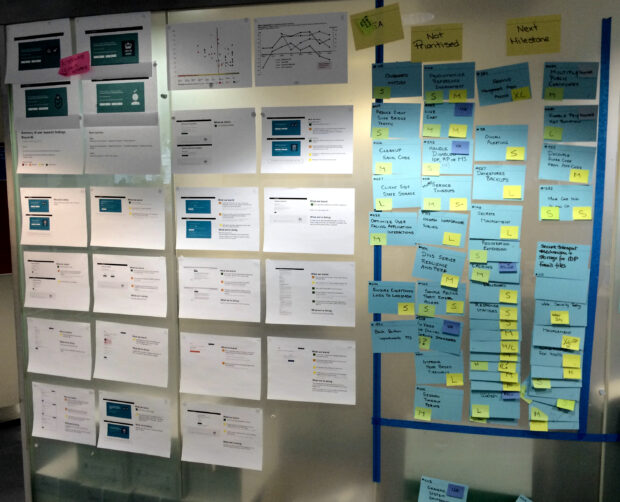 The wall shares what the IDA research team have been looking at and what they've recently learned. Most of the time, the team post an end-to-end user journey from the latest prototype, share supporting quotes from users and highlight issues they're addressing.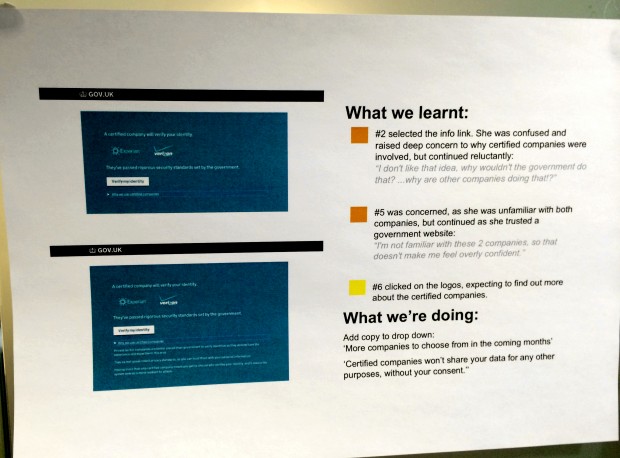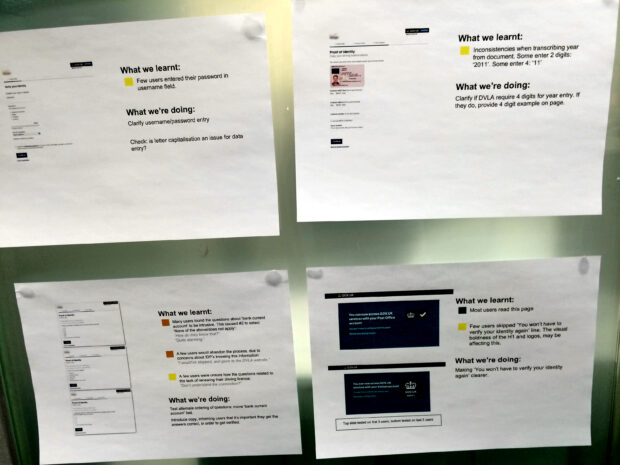 In coming months, we'll share more detailed 'what's on our wall' posts on the user research blog. Make sure you're subscribed.
Follow Kate on Twitter and don't forget to sign up for email alerts for the GDS blog. 
---