The transition team are the people responsible for helping hundreds more agencies and organisations move their websites onto GOV.UK.
They've started blogging about that work, and I wanted to explain a bit more about what that work means for GDS.
Where we are now
Moving all of government's digital content onto one domain was one of the suggestions made in Martha Lane Fox's 'Revolution not evolution' report. When the process is finished, anyone should be able to find the information they need from government without having to to understand how it works to get it.
We began by moving all ministerial department websites onto GOV.UK. More than one million people each week now use the site to find out information about government organisations and policy.
Very soon, we expect that number to be much bigger.
Meeting the needs of new audiences
We start with user needs. More specifically, our colleagues start with them. People from hundreds of government agencies and organisations making the transition to GOV.UK are looking carefully at what the needs of their users are, before working out how best to meet them on GOV.UK.
Those organisations include household names like Ofsted, the Environment Agency and HMRC, as well as others which may be known only to select groups of professionals.
The needs they meet for people are hugely diverse. What they publish might be for a parent looking for a report into the quality of teaching near them, or for a clinical psychiatrist to understand how to safely administer radioactive substances.
We're here to help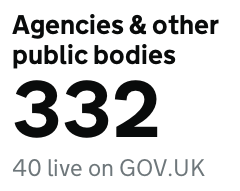 People across government are leading that work, supported by the transition team at GDS. That team is made up of content desIgners, agile coaches, product managers and delivery managers who are here to help.
Feedback on the transition process from government departments has helped us improve the approach we offer to agencies. We're building tools to make things like redirecting existing URLs easier, and which will help teams identify and sort their user needs.
In addition, the team helping out with the biggest transition, that of HMRC, are blogging about their work over on https://hmrctransition.blog.gov.uk/. The HMRC website currently has over 100,000 pages of detailed tax information, tools, calculators and manuals, and a large audience of tax professionals who rely on this site daily; it's a big piece of work with a highly engaged audience.
Follow the transition blog to stay up to date on what's happening, and keep an eye on the Inside GOV.UK blog as we welcome more teams into the GOV.UK family.
Follow James on twitter: @jthornett