One of the updates we've made to the Government Service Design Manual is to add video case studies. Video has been one of the best methods we've found for quickly and candidly sharing what it's like to work on a digital service.
Most of them take the form of short interviews with staff from GDS (and beyond) about what it is they do, like this one from Sarah Richards about the purpose of an Alpha...
Why use video?
We've been experimenting with video for some time now, from the regular week notes to these talks captured at SPRINT13.
Initially, it proved to be a great way of sharing what's going on within a growing team - especially as development on GOV.UK ramped up and GDS expanded. But we soon got feedback from colleagues throughout the civil service that they liked seeing how other teams talk about their work.
In the case of the manual, videos are a great way of giving a personal perspective to the huge amount of information and guidance we've published. People learn in different ways, and having someone talk about their experience of working on digital services can be a really valuable way of sharing information.
The staff's the star
Recently, we visited some staff at a DWP centre in Sheffield to find out more about their experiences with video. They told us that short pieces, in which people doing the work spoke directly about it, were the best way of finding out about new initiatives or techniques for working. No need for snazzy animation or scripting; just simple, candid conversation.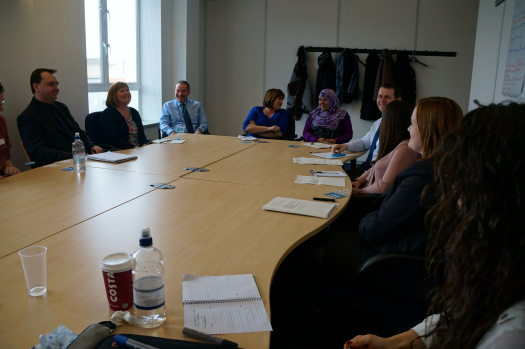 There are technical benefits to making videos like that: it means we don't have to spend too long on post-production, and also means we don't need to spend lots of money on high-end equipment or locations.
But, most importantly, it means the focus is entirely on the interviewee. Lots of people, when asked to talk about what they do, do a brilliant job of explaining it quickly and clearly. The interviewer just needs to find the right question to 'unlock' their insight and enthusiasm.
Making things open
As well as publishing these videos in the manual, they're also on our YouTube channel. We want to make sure that videos can be shared far and wide by anyone who finds them useful, whether those people are in government or not.
We also know that while video is a great tool for a lot of people, there are still plenty of people who can't access them. So we're making sure that each video is accompanied by either a transcript or a passage of text covering the same ground. We're still exploring new ways of doing that, and new options for embedding transcripts that cater better to those with accessibility needs.
We'll be adding more videos to the manual as users begin to request them, so if there are any topics you think could benefit from some first-hand insight, let us know.