Today we launched the Government Service Design Manual. It sets out the agreed Digital by Default Service Standard, and provides tools, guidance and code to help teams across government achieve it.
It meets one of our 14 commitments in the Government Digital Strategy. And it demonstrates the future of collaboration and governance in government digital and technology: browser-based, iterative, owned by many, and with a strong bias towards action.
Laying the foundations
GOV.UK was created as a high quality platform for publishing information. It works because it was built on a strong foundation - the Design Principles and the Style Guide - and produced by a group of people across government with the knowledge, imagination and skills to follow and adapt them.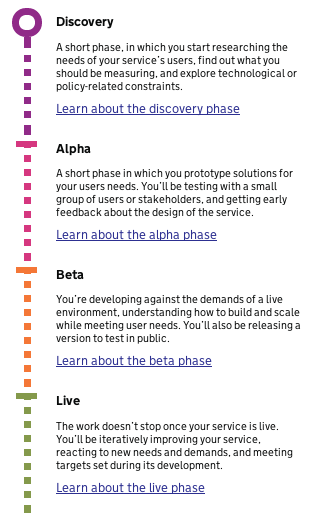 The service design manual is now doing the same job for the next big challenge - transforming public services. Government now has a clear set of guidelines for building services that are simple and intuitive enough for users to succeed first time and unaided. It provides a shared understanding about what good looks like, and a way of ensuring that every new or redesigned service that is launched on GOV.UK is of a consistent and high quality.
Supporting not imposing
The manual provides support for many types of people across government, recognising that it takes many skills and roles to deliver outstanding public services. Digital services depend on deep specialist subject matter, understanding of user needs, strong feedback loops with the ability to make responsive changes, and technology that's suitably agile to deliver those changes rapidly.
The manual is for all involved in that process. Service managers, analysts, designers, developers, finance team members and suppliers all have a part to play. Digital services can no longer be seen as the domain of the 'tech lead' anymore, although the CIO/CTO community have a vital part to play.
Over time, it will be a reference point for teams to learn from. And increasingly it will become something they own, improve and contribute to themselves as they blog about their progress.
A new governance model?
'Governance' is a top-down term. Monthly meetings, forests of paper, dozens of steering boards and the natural exclusivity, which comes with managers of large budgets making decisions for all - these are all indicators of a hierarchical approach. The centre of government's digital estate needs to free up departments and agencies to deliver; it needs to provide support, link up a sometimes divided community and help bottom-up, user-focused services to develop. Setting standards and managing them have their place, but this manual is designed to free up government from the dead hand of bureaucratic overkill. This browser-based service will accelerate decision making and remove the need for many boards and unwieldy processes. As our digital services become primarily digital, the tools and governance we use should reflect that.
Get involved
The beta version we released last month has been updated with more content, improved navigation and cleaner design. We wanted to add search but fell just short of time - this is coming very soon in our next iteration. We've had hundreds of feedback suggestions, and some very positive comments from supporters here and overseas. Today's launch is just the start of the process, and we are always looking for feedback to improve what's there. You can get in touch with the team by using the 'Feedback' link in the manual.
Guidance and standards mean little without delivery, and that has begun in earnest across the first of the 'exemplar' services that are undergoing radical transformation by government departments. What we've published today provides a foundation for making them a success, and a high bar for all of government to achieve and be held accountable to.