In 2010 the Prime Minister established the Northern Future Forum (NFF) with a different angle on the typical international summit. Instead of the usual set piece speeches and behind-the-scenes trading, NFF is a forum for leaders to learn from experts and a place for them to interact as well as listen.
From the beginning, the Forum has included the dynamic, progressive and open Nordic-Baltic countries. Now in its third year, it's proved to be a very popular and worthwhile gathering for the 9 Prime Ministers and its additional expert and official membership. Held this year in Riga the topics covered were 'bridging the digital divide in society' and 'competitiveness of the green economy'. The Forum heard presentations ranging from how to make shipping companies more efficient to creating a digital memory for a national network of museums.
The British delegation included Niklas Zennström from Atomico, Joanna Shields, CEO of Tech City, Tom Hulme from Ideo, Peter Boyd from the Carbon War Room, Nicholas O'Donohoe from Big Society Capital and me, representing GDS. I was there to present to 3 heads of government on the establishment of GDS, GOV.UK and how we're addressing the digital divide and the work on Assisted Digital.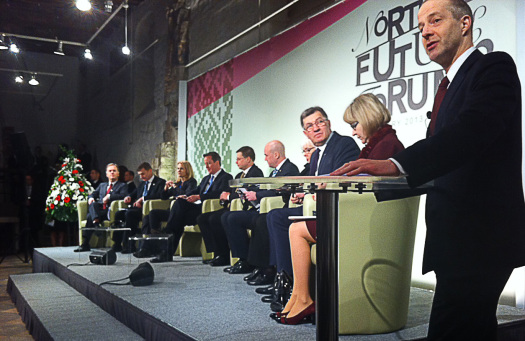 Given the imperative for service improvement and cost reduction it's no surprise that we're all doing quite similar things, and that the development of digital public services is a driving force for change in all our countries. Collaboration was also a common theme. It's striking to see the extent to which we're all focussed on designing user centric services, and how we're all moving away from individual departments delivering services to a more cohesive single-site approach.
This approach offers huge potential for cost savings. The GDS cost per transaction model was acknowledged as very progressive, and the fact that we can only declare a new service 'live' once the responsible minister has successfully completed a transaction, raised a wry smile from the Prime Ministers.
Since our successful visit to Estonia in 2012 and the informal co-operation with RIA (the Estonian Government Technology Authority), we've signed an agreement to formalise our technical co-operation. This 'Memorandum of Understanding' means that both GDS and RIA will share information, experience and even colleagues so that our governments can learn from our progress and pitfalls. Our Estonian colleagues are more advanced in many areas than the British government, so this is a good opportunity for us to catch up.
There's definitely an appetite for further collaboration among NFF member states around digital public services. And our collective enthusiasm for Open Standards and Open Source will make co-operation easier and cheaper. Perhaps the idea of creating a 'D8' to bring together the top digital governments may even become a reality? It's certainly something we are all keen to pursue after the Riga meeting.
Finally profound thanks to the organisers and our embassy colleagues in Latvia. This was a very complex multi-delegation event with ever-present security, diplomatic and logistical headaches. But it was so well organised you would never have guessed. It was straightforward and without fuss though this was only my second NFF as a delegate, it was the best so far. Good luck to the next delegates in Helsinki in February 2014.