Teams from across government are making the transition to Inside Government. Robin Riley, HMRC Head of Digital Engagement (and project lead for HMRC on Inside Government), writes about what it was like.
Yesterday the corporate web presence of HM Revenue and Customs went live on Inside Government, exactly one year to the day since the beta of Inside Government went live.
HMRC joins 13 other Departments who have moved across their corporate websites.
But I would argue that HMRC has had the longest journey of any Department to arrive at this point so far. Why? Because, bluntly, we started from furthest behind.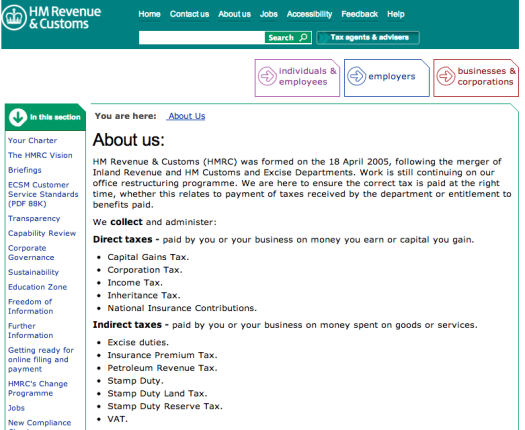 Take a look at the new home for HMRC corporate information, and then take a look back at the old home (pictured above, now archived).
The difference is dramatic. And much more than cosmetic. HMRC has re-engineered the way it publishes corporate information online. Taking just three examples:
HMRC now uses online news to explain what it is doing
We may not have news articles with the global import of the FCO, but news is a simple, accessible way to narrate what we are doing and why. Building our presence on Inside Government has led us to raise our game, putting news at the front.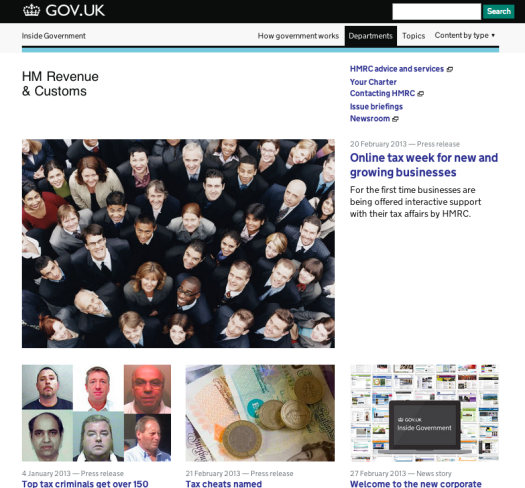 HMRC now uses images to illustrate its work
Admittedly, HMRC's news images are never likely to match MOD's for visual impact. But they still add value, and the discipline of assembling images for publication over the past year has helped us to think about new ways they can be used.
HMRC activity is now cross-linked to overall government policy
HMRC isn't quite like other Whitehall government departments; it is a non-ministerial department, with a sharply-focused mission and special governance arrangements backed by law. Does this mean HMRC doesn't need to put its activities into a policy context to the same extent as the Departments headed up by politicians? Of course not.
HMRC is a business with over 30 million customers, annual revenues over £400 billion, and UK citizens - arguably - as shareholders. We have a duty to explain our activities and where they fit into the bigger picture.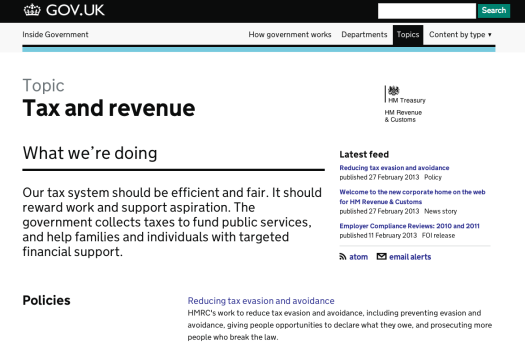 These examples, and Inside Government as a whole, have one simple overarching aim: better accountability, enabled by better understanding.
Our work is just beginning
I can testify that bringing HMRC up to speed to deliver a strong contribution to Inside Government has been challenging. It has meant making fundamental changes to the way we think about our corporate web presence.
But the actual transition from our existing website to Inside Government has been relatively painless, even enjoyable. We've been fully involved all the way. The move from departmental websites to GOV.UK is very much something that departments are doing - it is not something that is being 'done to' departments.
While HMRC's corporate presence on Inside Government is now live, it is certainly not finished. February 28th did not mark the day HMRC stopped working on the site – if anything, it is the day we began!
Please let us have your thoughts and feedback on Inside Government. With your help, we've changed our corporate site almost beyond recognition over the past 12 months.
What changes should we make together next?