I'm Andrew Francis and I'm a policy professional. So is my colleague Sheila Bennett. You might not have heard much from our profession here on the GDS blog recently, but its worth pointing out that the past few weeks have been a real milestone for us: we've been coding.
Those of you that have read the recently released Government Digital Strategy will know that it has a clear action to develop digital skills and awareness across all grades within the civil service.
Well at GDS we try to practice what we preach, and the development of the strategy itself provides an example of how some 'traditional' civil servants are already learning new digital skills, and crucially, different ways of working.
Coding policy
Sheila and I are not exactly digital novices - Sheila spent many years in senior management roles at Bromley Council where she was responsible for their website (amongst other things) while in the past I managed the UK website of a UN agency. We'd written for websites or about the use of websites, but neither of us had hands on experience in the construction of a website - such as determining the layout, formatting, links etc. We've always relied on specialists for that.
However, this strategy has been different. As Sir Bob Kerslake wrote in a recent blog post, digital by default requires civil servants to work in completely new ways.  This includes publishing strategies, such as the Government Digital Strategy, as a website rather than published on a website.
One of the most important reasons for that is so that government documents can become part of the web. That way, people can link directly to what we're saying, rather than forcing people to download long PDFs that aren't easily incorporated into the wider web.
To make this happen we had to develop new ways of working and eliminate the traditional gulf between 'policy' civil servants and the designers and developers. As Jack said in his blog post, we had to work together across disciplines to ensure that the strategy would be presented in a way that would meet user needs.
Pushing to Git
Sheila and I we were both involved in the lengthy drafting process and in shaping the strategy.  Much of the drafting was done via shared Google Docs. But when it came to producing the master version, we sat down with developers like Jack and learnt how to use GitHub.
We edited the document in Markdown, a simple markup language used on GOV.UK. This allowed us to add the copy with some simple additions (bullet points, links, etc) without having to worry too much about formatting it. This was exciting for us because we had already seen the GDS team's great work on publishing for GOV.UK.  This was our opportunity to learn how it was done.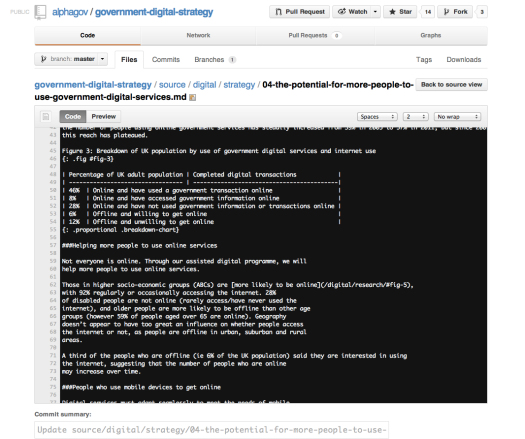 Although we were a bit apprehensive at first mastering it didn't take long, and from this point on we made all the necessary iterations to the strategy in the code itself.  This included adding and styling text, changing layout and adding links before merging the text using Git. In fact, Sheila and I became so comfortable using it that we wound up making more edits to the online version of the strategy than anyone else in the team!
This hands-on collaborative approach was critical to making the web publishing approach a success. It saved us time. Rather than spotting something that needed changing and then shouting 'help' at busy developers we could log on and simply make the edits ourselves. We were able to try out ideas on text presentation and preview it instantly. It also reduced the likelihood of mistakes when making changes because nothing was lost in translation.
Writing in Markdown and using Git wasn't hugely complicated, and it bridged the gap both Sheila and I usually experienced between policy and development teams.  In addition it helped us to think clearly about how these documents would 'live' online.
Where next for the policy profession?
I suspect departments will increasingly publish their own documents online in a similar way ie as web documents. The experiences of Sheila and myself could just be the start of what will be a new trend in the civil service.
And policy advisors shouldn't be scared - we can vouch for the fact that in this digital age mastering the skills needed to publish a strategy directly online is pretty straightforward and really worthwhile.